Crystalline waters, sandy shores, and the sweet-and-sour taste of king coconut water on the tip of your tongue—need I say more? Travellers from across the globe view Sri Lanka as an island paradise with sunny beaches that are perfect for unwinding from the stress of their daily lives.
That being said, not every beach is safe for a quick dip. If you do not do your due diligence, you run the risk of getting caught up in a rip current. This powerful stream of water may snatch you from the shore, pulling you into deeper waters before you even know it.
Since safety is our priority, we at Travellers Isle, have narrowed down the best beaches in Sri Lanka for swimming. Without further ado, let us dive in!
Best swimming beaches in Sri Lanka
Because Sri Lanka is touted as a year-round tropical paradise, not many of its tourists are aware that there are two seasons for travel: November to April and May to October. To make things easier for you, this list will focus on the best swimming beaches in Sri Lanka based on those two seasons.
The destinations mentioned below have public beach areas that are often patrolled by lifeguards. This makes them your safest options for swimming in the sea.
Always make sure to get the advice of your tour guide or hotel staff before you run into the water. Even in safe beach areas, there are spots where you should not swim because of rip currents.
During the period November to April - Best beaches in Sri Lanka for swimming
The period between November to April is best spent vacationing along the south and the southwest coastal stretch. Since the northeast monsoon is active, the southern part of the country stays dry and warm, and its beaches are calm.
If you are travelling to Sri Lanka during this time, consider paying a visit to any of the five beaches below.
1. Hikkaduwa
Of all the locations on this list, Hikkaduwa is definitely the most urbanized—so much that, if I had to describe this beach in one word, it would be "lively." With its sparkling waters, pastel blue skies and a thriving nightlife, it is no surprise that Hikkaduwa is popular among tourists and locals alike.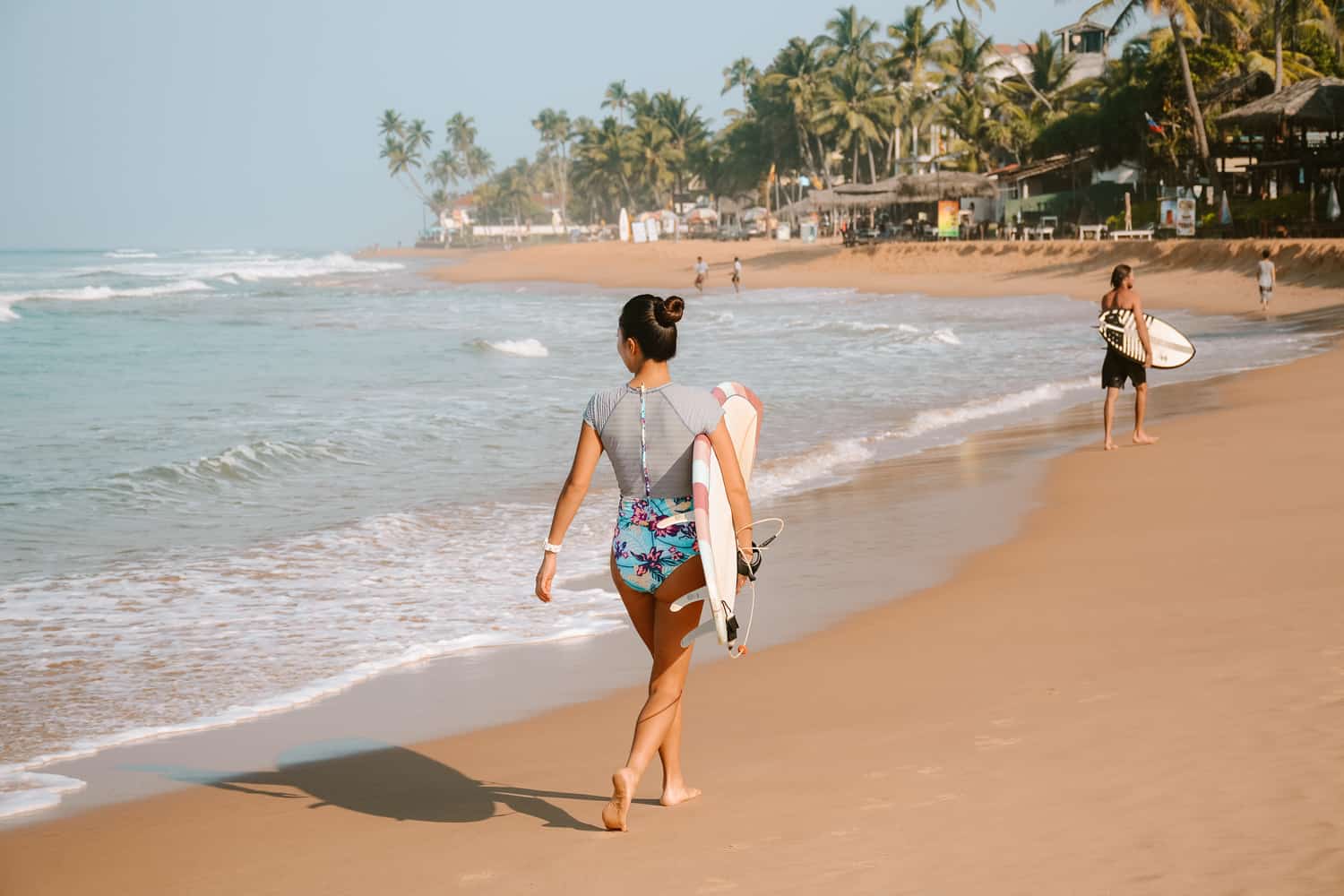 Only a short distance away from the city lies Hikkaduwa Beach, which falls right next to the main road. Its convenient location makes it ideal for anyone to drop by en route to another part of the country. However, as you may have guessed, it gets pretty crowded, so it is no destination for travellers in search of some peace and quiet.
Although Hikkaduwa Beach is a bit on the narrow side, it offers a wide range of activities for the laidback and the adventurous. You will have the opportunity to go swimming, surfing, snorkelling, diving and fishing, but it does not end there!
Since Sri Lanka has a reputation for its magnificent coral reefs, this beach offers glass bottom boat rides which let you observe what lies below the surface. From the island's rich aquatic life to its coral gardens, you will get to see it all. So, it is no surprise that many travellers complete the ride with a newfound love for the ocean.
If you stroll along the coast for a while, you will soon enter Turtle Beach, which offers a once-in-a-lifetime opportunity to feed marine turtles in the wild. As bizarre as it sounds, all you have to do is pick up some kelp and hold it out for a passing turtle to snatch out of your hands.
Once the sun sets on Hikkaduwa Beach, you will have an assortment of cafes, bars and restaurants to kick back and relax in. Feel free to down a drink and indulge in some local cuisine far into the night, because the fun never stops while the night is still young!
One last thing: because the beach is just by the main road, be sure to exercise caution during your travels. Be mindful while crossing the road, and cover up with a sarong if you are wearing a bikini since it is not culturally acceptable to wear revealing clothes on the main road.
2. Unawatuna
Home to Unawatuna Beach, the coastal town of Unawatuna is a popular tourist spot which boasts of golden sands, turquoise waters, breath-taking sunsets and fun in the sun!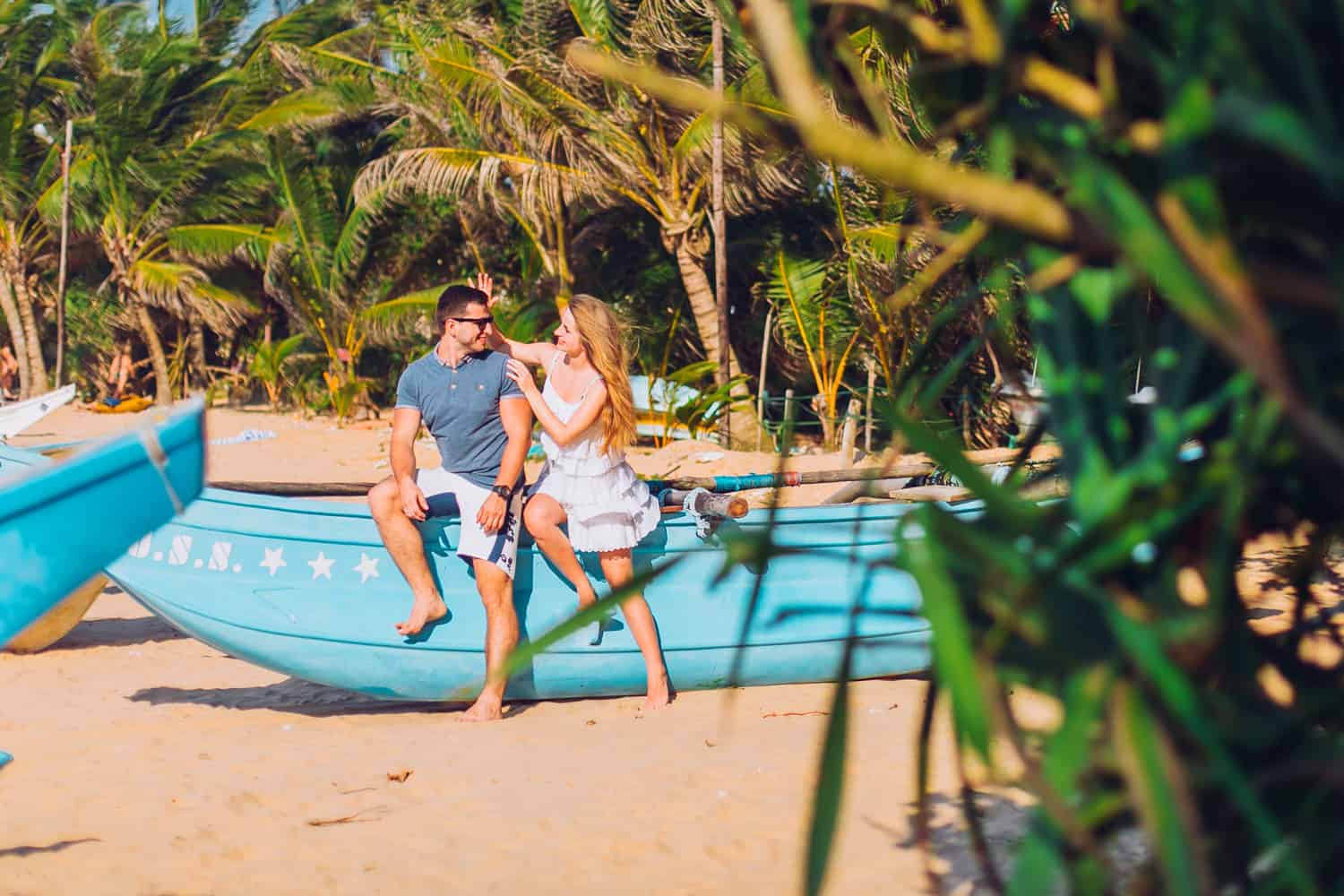 Truth be told, Unawatuna gets pretty busy during Sri Lanka's peak season, so it is no introvert's paradise. Even so, it is the perfect destination for those who wish to experience Sri Lanka's nightlife minus the crowds.
Far from the main road, the ruckus of vehicles and the chatter of the townsfolk lies the secluded Unawatuna Beach, which offers plenty of activities to make your beach stay worthwhile. Those who crave a bit of adventure may go snorkelling or diving to discover the secrets of the ocean, and others who prefer calmer waters may swim near its shores or even hire a boat to go fishing.
Although there is an ever-present risk of getting caught in a rip current, Unawatuna's surrounding coral reefs lessen the intensity of its waves on the beach. This makes it one of the best beaches in Sri Lanka for swimming.
But if the waves at Unawatuna Beach are too much for you, you can drop by Wijaya Beach—a popular guesthouse which overlooks a stretch of the sea. Even though it is privately owned, its beachfront is open to the public, and it features a natural rock pool formed by the coral reefs and the ocean. Since its waters are always calm, you do not need to worry about drifting away from the shore.
Once you have worked up an appetite, you can stop by one of the many restaurants and cafes along the coast.
Much like Hikkaduwa Beach, you will find many hotels and guesthouses lining the shores of Unawatuna. As most of them are within walking distance of the beach, consider booking a hotel nearby for your convenience. However, if you are running short on time, you can always make this beach a brief stopover while taking a day tour from Hikkaduwa to Galle.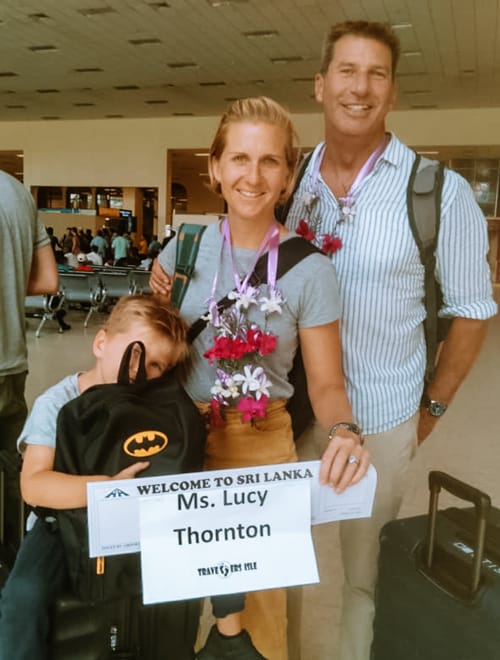 Would you like a Sri Lanka trip like Lucy's?
We had the pleasure of assisting Lucy's family on their two-week holiday in Sri Lanka, and they absolutely loved it. Would you also like a hassle-free family holiday? Please drop us a message specifying your requirements, and we will get back to you with a tailor-made Sri Lanka tour package within 24 hours.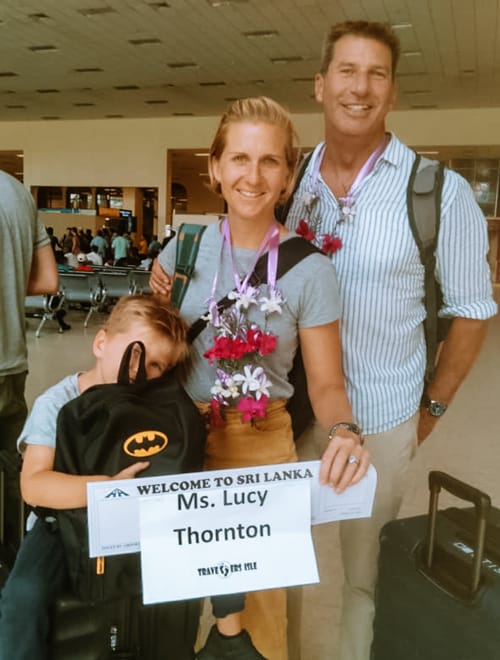 Would you like a Sri Lanka trip like Lucy's?
We had the pleasure of assisting Lucy's family on their two-week holiday in Sri Lanka, and they absolutely loved it. Would you also like a hassle-free family holiday? Please drop us a message specifying your requirements, and we will get back to you with a tailor-made Sri Lanka tour package within 24 hours.
3. Mirissa
The first time I set foot in Mirissa, I realized that no description of its beauty could ever compare to seeing the real thing in person. With powdery sand that is soft underneath your heel and crystalline waves which are refreshing against your skin, you can breathe in the salty air of Mirissa Beach and take a romantic stroll down a coast that is studded with coconut palms.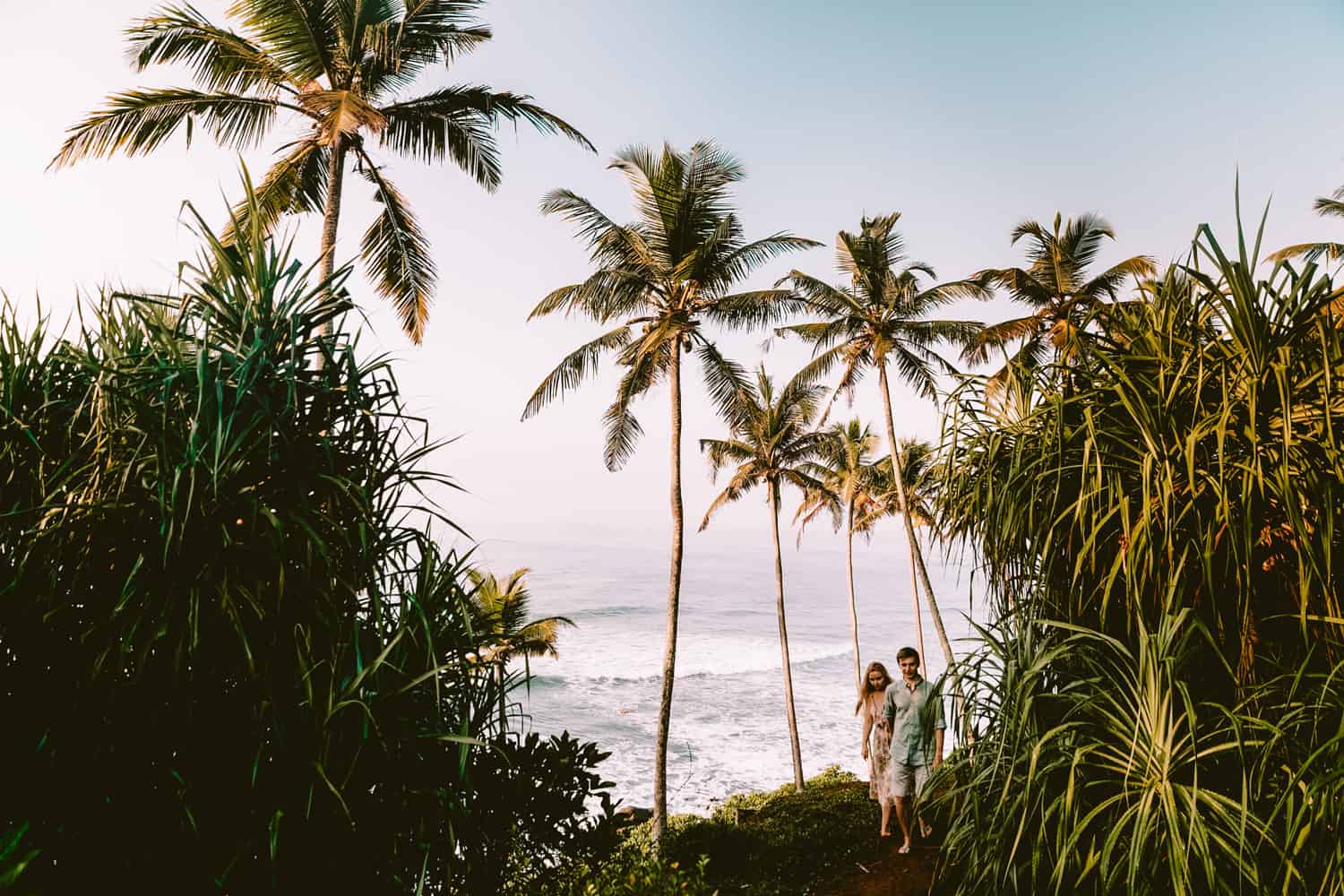 Just like the other destinations on this list, Mirissa offers a lot of activities for travellers who are looking to make the most of their stay. So, grab your snorkelling gear and your swimming fins to explore what lies beneath the surface, or dive into the depths of the ocean. You can even hire a boat and go fishing to see what you reel in from Sri Lanka's waters.
That being said, if you would like to have a whale of a time, you can check out Mirissa's famed blue whales during a whale watching tour. Conducted on boats which carry around 25 to 50 passengers, these tours are a great opportunity to spot blue whales, sea turtles, dolphins, flying fish and many other aquatic animals in the wild.
On that note, if surfing is a part of your to-do list in Sri Lanka, you can drop by Weligama Beach. Roughly 8 kilometres away from Mirissa, this bay stands tall as the perfect spot for beginner and intermediate surfers to hone their skills.
I speak from experience when I say that newbies to the world of surfing can even drop by a local surfing school to get the hang of balancing themselves on their board. With enough practice, you will be able to impress your friends back home by performing a cutback and many other surfing moves!
While the seaside town of Mirissa is not as urbanized as Hikkaduwa, it offers a vast selection of bars, cafes and restaurants that are open until the stars fade. So, feel free to indulge in some food and drink until the night becomes dawn.
4. Bentota
As you weigh the pros and cons of visiting each beach on this list, you may have noticed that Hikkaduwa, Unawatuna and Mirissa have one thing in common: their beachside activities target the laidback and the adventurous. The trend continues with Bentota, but with some uniqueness in its offering.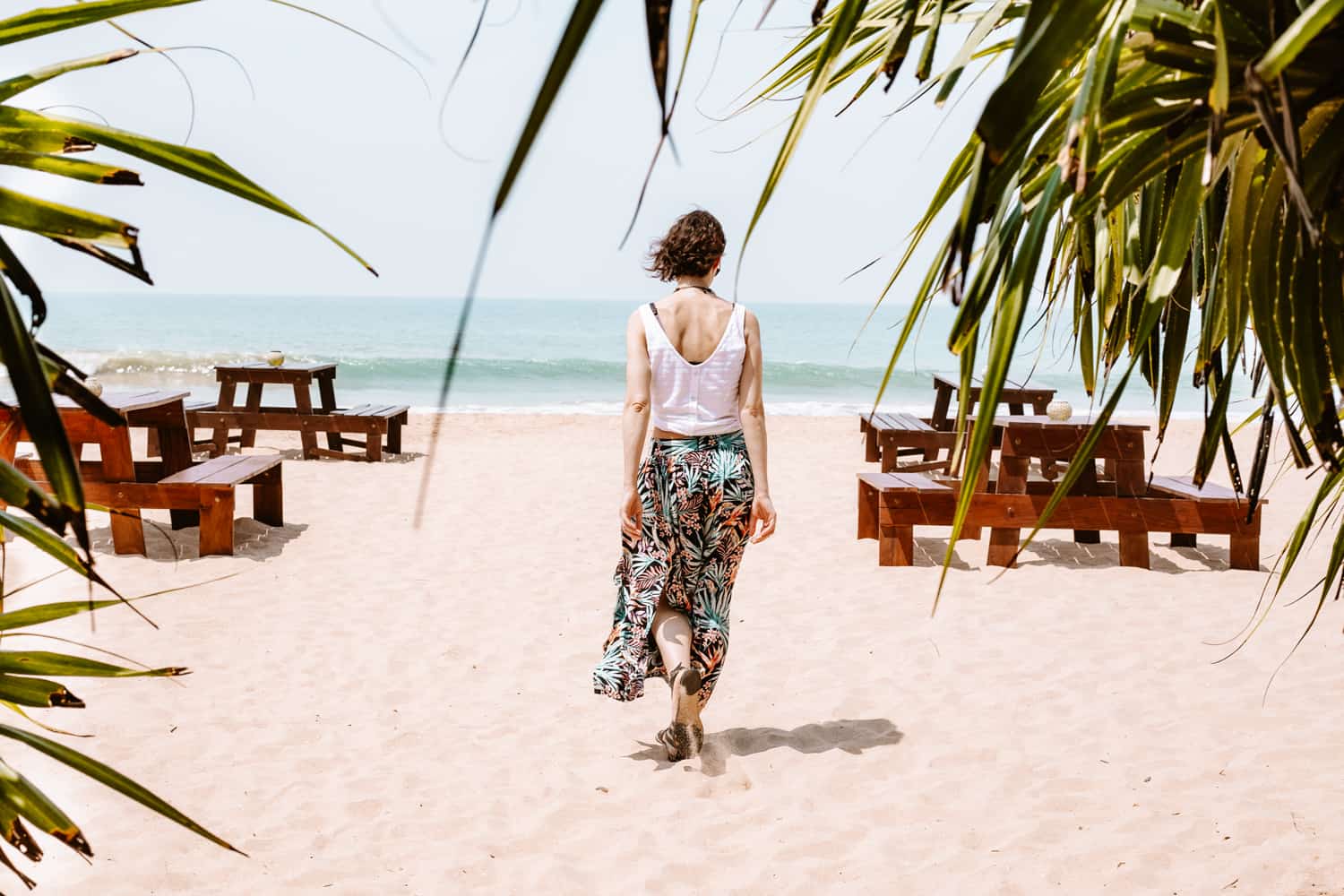 Often described as a resort town, Bentota is known for its water sports which are a favourite among locals and tourists alike. From windsurfing and jet skiing to kitesurfing and wakeboarding, you can even board a banana boat ride with your friends and family to experience the thrill of the waves crashing against your body.
Less adventurous, but two wholesome experiences that you can enjoy in Bentota are Madu River boat safari and a visit to a turtle hatchery.
The possibilities are endless at Bentota Beach. Not only is it one of the best swimming beaches in Sri Lanka (particularly during the period January to March), but it is also the perfect place for your inner adrenaline junkie to go wild.
Bentota's reputation as a resort town comes from its fine collection of hotels and resorts which are right by its beach. For your convenience, I recommend booking one of these seaside hotels, as you will be able to feast on a fusion of local and foreign cuisine after a long day of pushing yourself beyond your limits or a simple day of relaxation by the golden sandy beach.
If you are en route to the airport or travelling to the first stop on your itinerary via the highway, you can drop by Bentota for a quick dip in its waters. Since it is one of the closest beaches to the airport, this beachside visit can either kickstart your island journey or be a parting memory before you head back home.
5. Dikwella
Tucked away from the hustle and bustle of the city lies an introvert's paradise with spectacular views and plenty of hideaways to recover from the stress caused by the workload back home. Once you set foot in the remote town of Dikwella, you will never want to leave!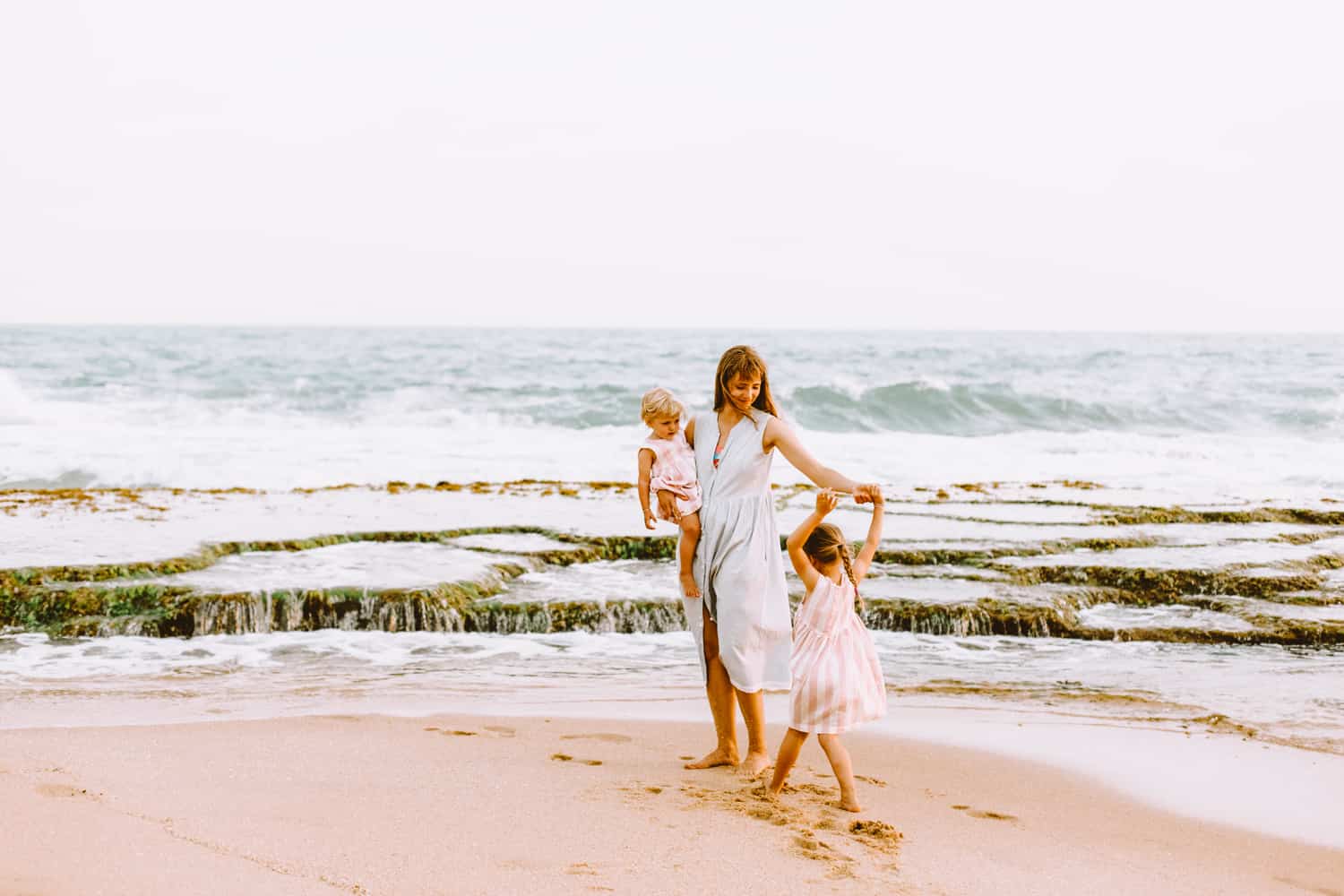 Whether you are sunbathing at its beach or taking a romantic stroll along the coast, Dikwella is a great option for travellers who want to keep it low-key.
Be that as it may, surfing enthusiasts will be thrilled to know that they can ride the waves at Hiriketiya Beach. This coastal stretch is only a few minutes away from Dikwella town, and its waters are perfect for performing complex surfing moves. In my opinion, the privacy that this beach offers is a bonus for those who wish to practice their surfing skills in secret.
If surfing at Hiriketiya Beach is on your to-do list, consider stopping by during its surfing season, which occurs in between December and March.
Although Dikwella Beach is one of the best beaches in Sri Lanka for swimming, it does not have a vast selection of guesthouses, hotels and eateries to choose from. However, this beach is a real heaven on earth for those who wish to recharge their social batteries away from the crowds.
During the period May to October - Best beaches in Sri Lanka for swimming
During the period of May to October, the sea around coastal regions of southwestern and southern parts of Sri Lanka tends to be strong and generally not suitable for sea swimming. If you are travelling to Sri Lanka during this time, visit the beaches in the east coast, where the weather is warmer and the waves are calmer.
To experience the life of an islander and discover the joy of sun, consider paying a visit to the two beach destinations which we have spotlighted below.
6. Nilaveli
Picture this: you are walking along the coast, and while a cooling breeze caresses your cheeks, the azure waves are dousing the golden shores ever so slowly. This is how I would describe Nilaveli—a coastal town in Trincomalee which allows you to experience the tranquillity of the east.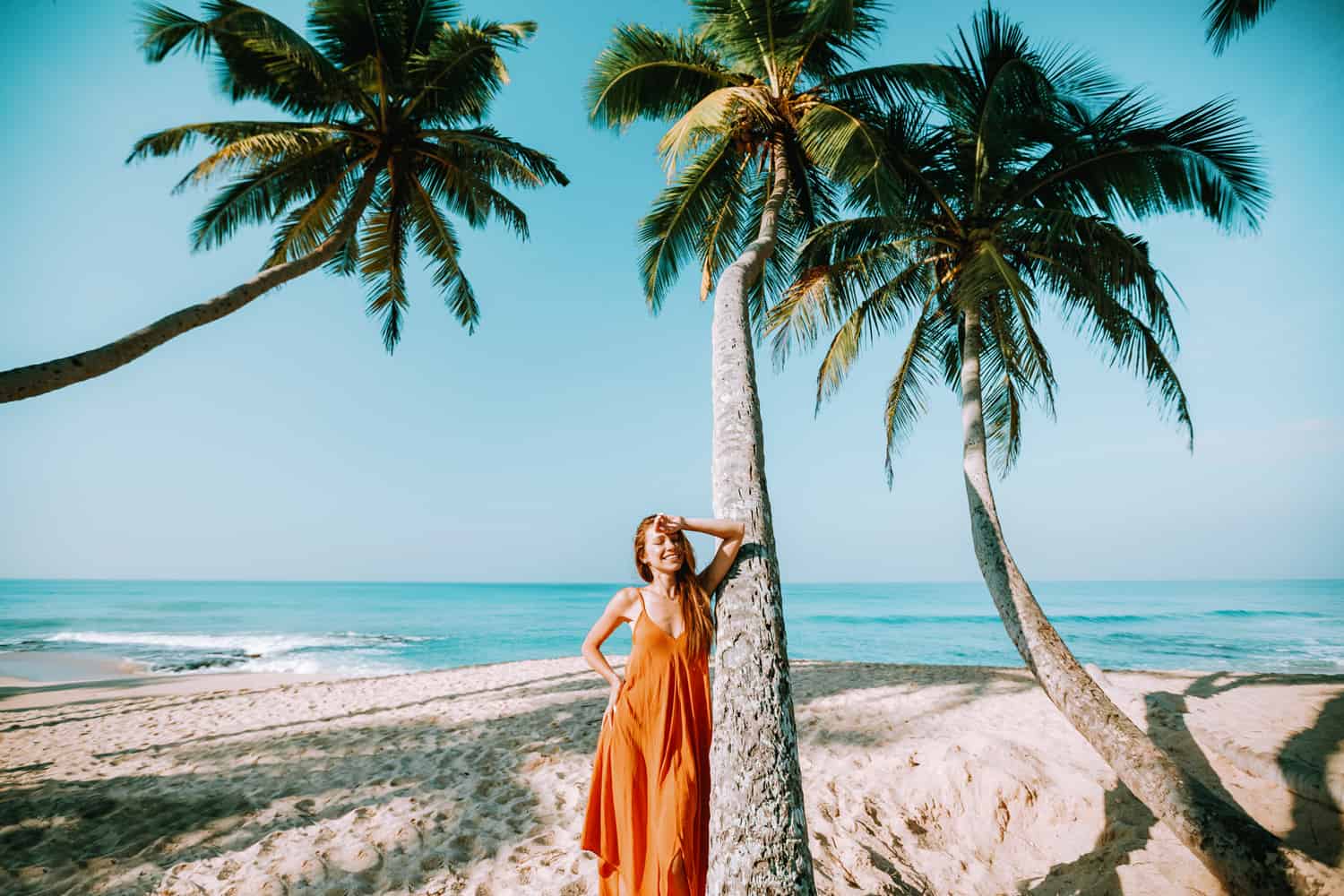 To say that Nilaveli is beautiful would be an understatement. It may as well be a painting in a museum, and its pristine shores are ideal for swimming and resting before returning to the hectic lifestyle which awaits you back home. However, its beauty is not all that Nilaveli Beach has to offer.
For one, you can hop on one of the speedboats lining the shore and pay a visit to either Pigeon Island or Coral Island. Both of these locations are touted as the best places for snorkelling and diving in Sri Lanka. In fact, it is the perfect opportunity to explore the deep blue while watching aquatic life thrive in its natural habitat. From swimming beside marine turtles to watching blacktip reef sharks, you will be able to experience it all!
If you prefer an experience that is less taxing on your body, you can book a boat safari instead. Conducted in motorboats which carry up to 8 passengers per journey, these tours are another way of watching aquatic life in the wild. Your chances of seeing dolphins and sea turtles here are extremely high.
Since there are many lodges which own sections of Nilaveli Beach, I recommend booking a hotel within walking distance of the sea. You will be able to drop by the beach whenever you feel like it.
7. Pasikudah
Cerulean waters crested with white foam, powdery white sands, and a few boats floating offshore are a few of Pasikudah's many charms. Put together, they paint a picture of serenity along Sri Lanka's east coast. Once you plunge your feet into Pasikudah's cooling waters, you will not want to leave!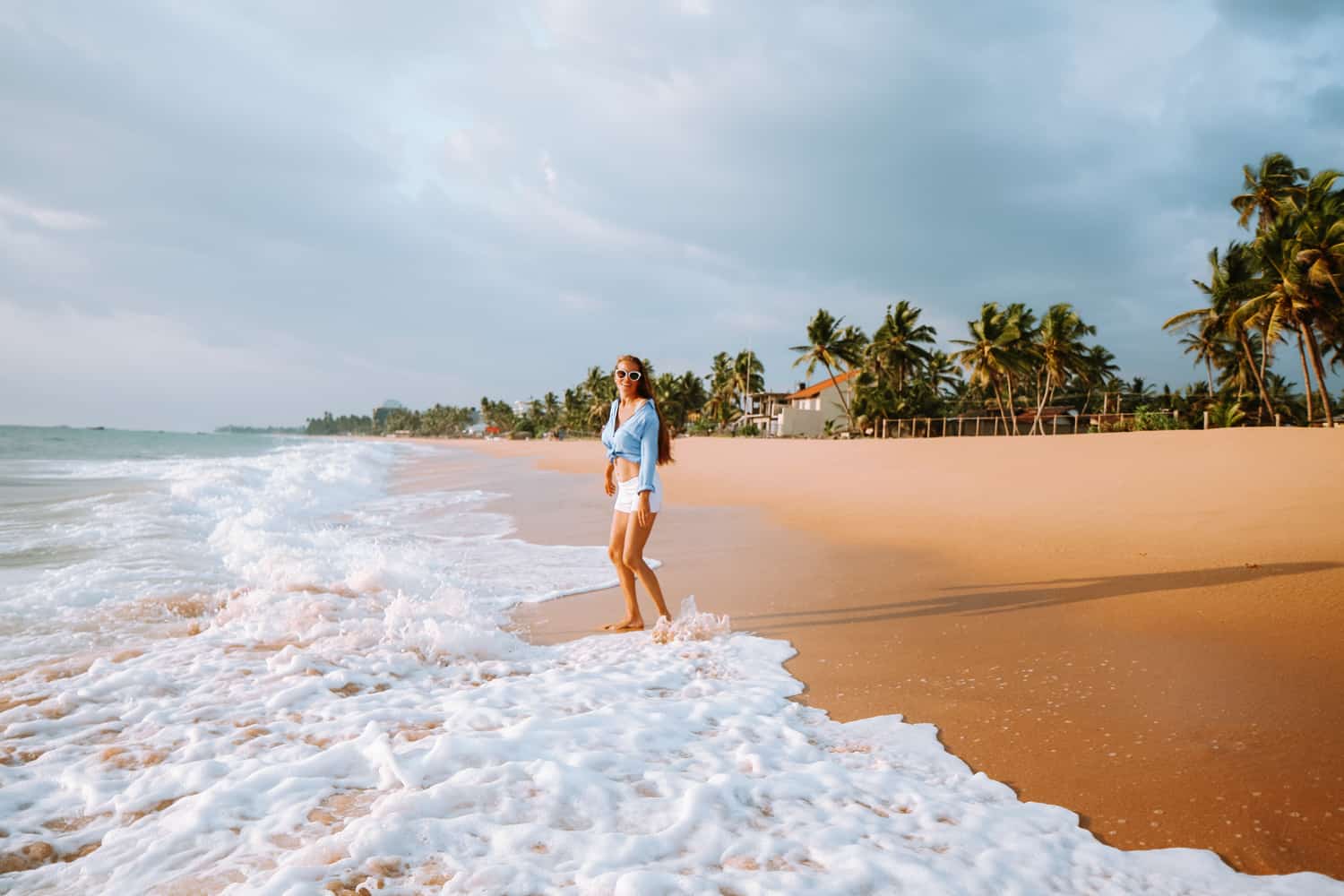 The resort town of Pasikudah is a getaway in the east that is perfect for those who want to avoid crowds. As it is further down the east coast and far from Sigiriya, not many travellers are able to stop by and enjoy the beauty of its seascape.
However, there are several reasons why stopping by Pasikudah is worthwhile.
For one, its coast is fringed with a border of coral reefs which lessen the intensity of its waves. Not only are the waters in this marine sanctuary extremely calm, but its shallow coastline makes it pretty easy to bathe in its depths. You will be able to wade through the ocean for quite a long distance before the water reaches your waist.
This quality is unique to Pasikudah, and it makes this beach one of the safest among the others on this list. Truth be told, you will feel as though you are wading through a swimming pool.
Although Pasikudah is renowned for its beauty, it offers a selection of activities which are sure to excite you. From snorkelling and diving with its rich aquatic life to water skiing and boarding a catamaran for a leisurely cruise along the bay, you will find that several of these experiences are offered by the many luxury hotels and resorts by the sea.
So, if stopping by Pasikudah Beach is on your to-do list, I recommend booking an overnight stay at one of its seaside resorts. The reason being that you will be able to drop by the beach whenever you feel like it!
Summary
After reading through what each of these best swimming beaches in Sri Lanka have to offer you, you probably have a better understanding of where you want to go and just what exactly it is that you would like to do.
Because of the high importance, I would like to reiterate that it is highly advised that you ask for help in identifying swimmable sea areas from your hotel staff or tour guide before you go to the sea for swimming. After all, not every hotel faces a swimmable stretch of the sea.
Exercise caution before heading into the water. On the off-chance that you are caught up in a rip current and there is no lifeguard in sight, you will at least find a passing traveller to get you the help you need if you choose a beach area that is not completely isolated.
Now that you know about the best beaches in Sri Lanka for swimming, all you have to do is plan out your itinerary and see what works best for you. Feel free to drop your questions and share your experiences in the comments below, and let us know if you would like some extra help while organizing your holiday in our island home.
If you enjoyed this article, be sure to read some more. Perhaps our article, "Top 10 things to do in Jaffna" next?
Happy Travels!