To say that Sri Lanka promises the adventure of a lifetime is an understatement. Once you set foot on the island, you will get to experience an all-in-one package of lush forests, centuries-old ruins, cerulean beaches and scrumptious local cuisine. Simply put, Sri Lanka has something for everyone.
But planning the perfect itinerary to explore Sri Lanka with a toddler is easier said than done. With so many options to choose from, finding a good balance of activities and leisure to keep your family in high spirits can be a challenge.
To help you get the ball rolling, this week's article will focus on planning the perfect Sri Lanka itinerary for families travelling with young children.
You can use this article as a guideline to organize your tour. However, not every family is the same. The activities listed here might not be your cup of tea. In fact, you might be on the lookout for something different. If so, do not hesitate to drop us a message for some help in figuring out what you want to see and where you want to go.
Let us begin!
Sri Lanka with a toddler itinerary
There are several factors to consider before planning your trip to Sri Lanka. For one, the weather on the island is at its best from mid-December to mid-April. But if you are unable to plan your trip for this season, your second option is to travel during the period between July to September.
Whatever you choose, keep in mind that the itinerary described below is for tours from November to April.
Since you are travelling with the family, be sure to keep the number of locations to a minimum. If done right, this will limit the hours you spend on the road, and you will not have to change hotels too often. It will also give you ample time to rest before preparing for your next adventure.
Day 01 – Airport / Negombo
My advice to anyone visiting Sri Lanka with a toddler is to spend the first day or two somewhere close to the airport. Unless you are visiting Sri Lanka from a neighbouring country, your child will need some rest before taking any long drives.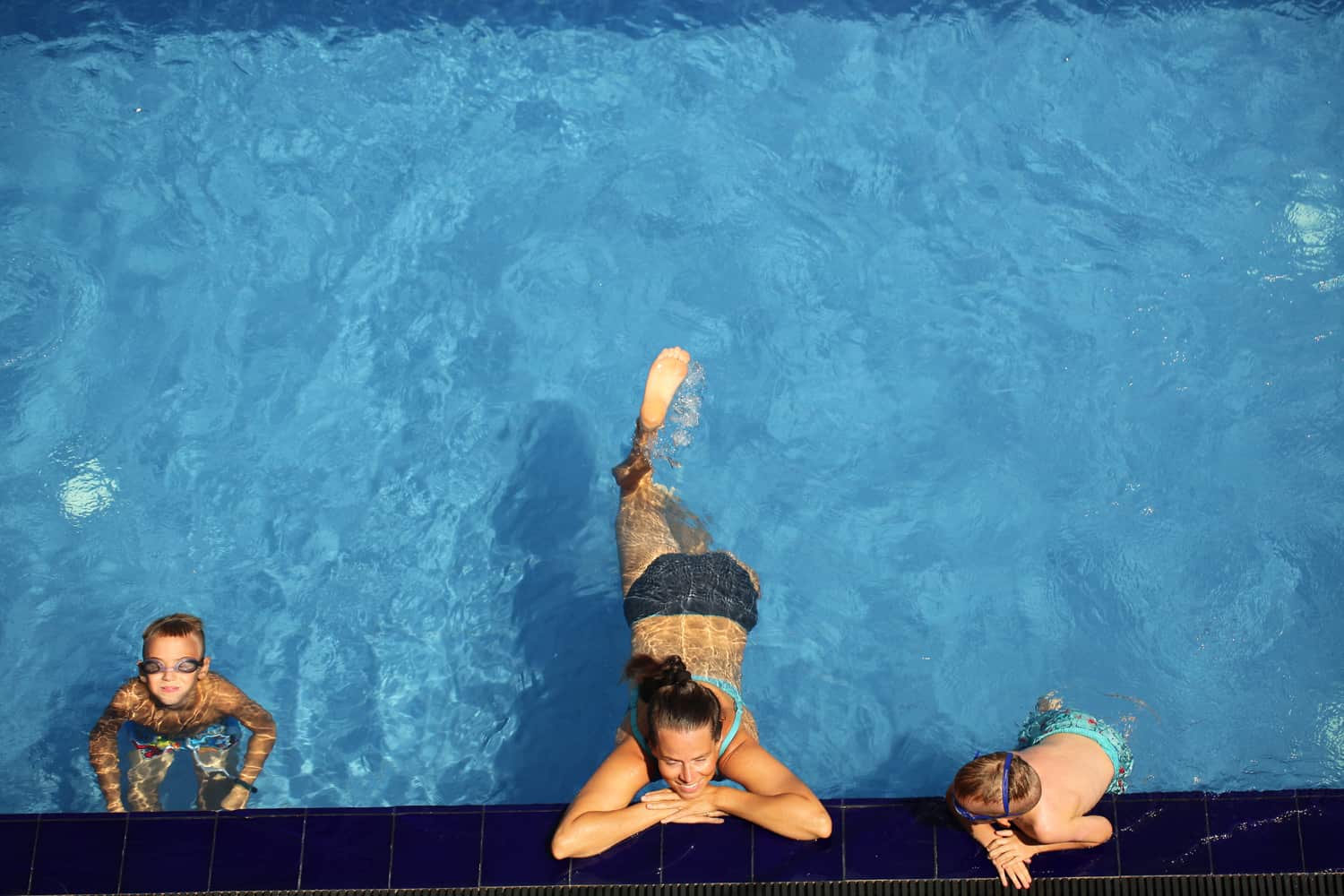 After securing your luggage in the vehicle, ask your driver to take you to the first stop on your itinerary: Negombo. As it is close to the airport, you will arrive at your hotel before you even know it.
Your first day on the island is best to be reserved for relaxing at an oceanside hotel with your family. Most of our guests take this opportunity to have some fun in the sun! Feel free to take a stroll along the shore and to dip your toes in the cooling waters of the hotel's private beach with your toddler.
While I recommend spending a leisurely evening to recover from your jetlag, your first day on the island does not have to end here.
If you would like to experience what life in Sri Lanka is like, you can set off on a Negombo city tour. You may feel as though you have stumbled into a different world as you explore the busy streets and visit the local markets.
[Travel time from the airport to Negombo – 30 minutes]
Day 02 – Negombo / Dambulla
If you do not mind starting the day a bit early, you can treat your toddler to a boat safari at the Muturajawela Marsh. Not only will you be greeted by a troop of chattering monkeys once you pass by the infamous Monkey Island, but you will also get to see kingfishers, egrets, moorhens and many other bird varieties in passing.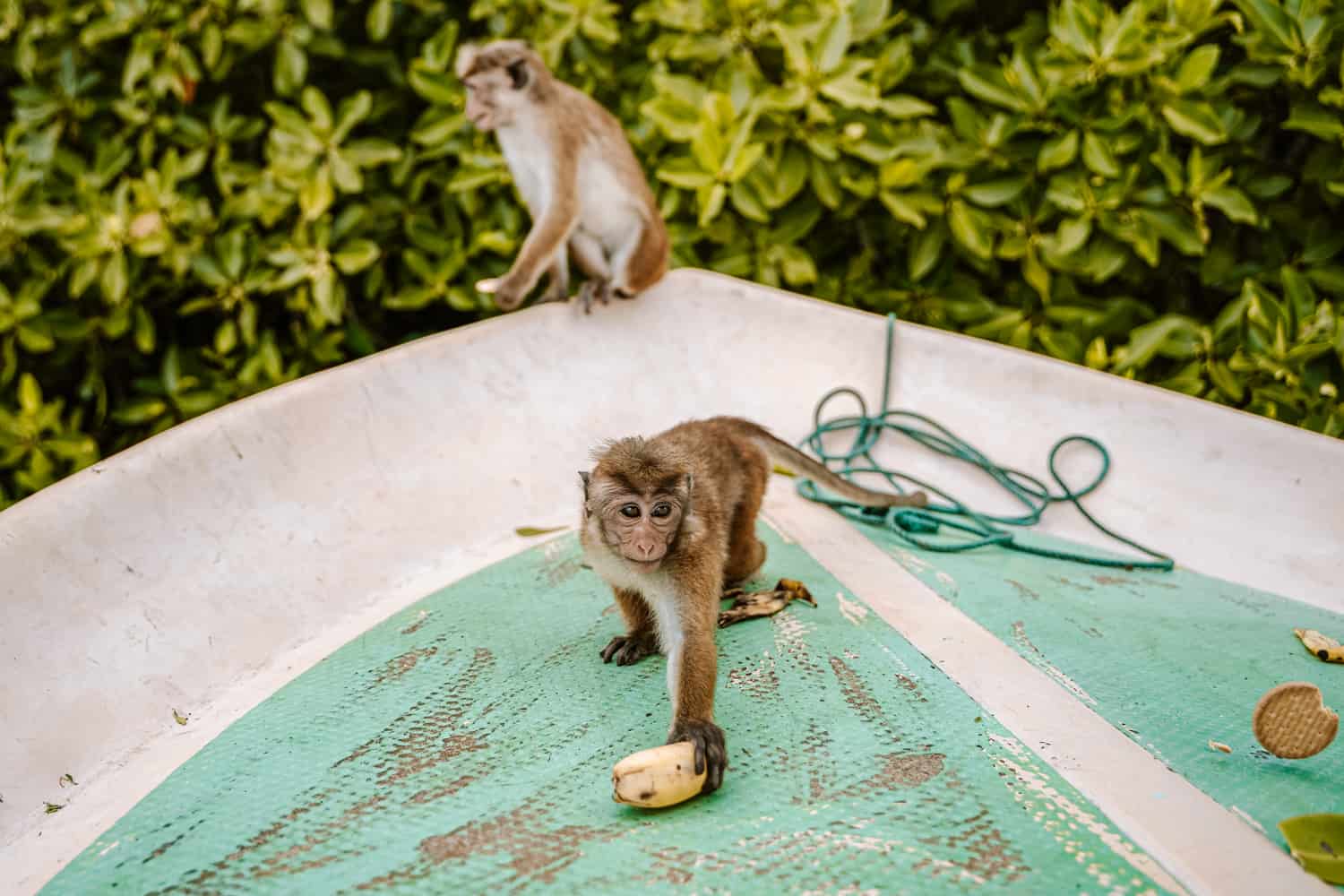 The boat safari will take two hours to complete. After returning from the safari and having some rest, ask your driver to take you to one of Sri Lanka's elephant sanctuaries on the way to Dambulla.
If you would like to see herds of elephants bathing in a river, you can visit the Pinnawala Elephant Orphanage. However, I speak from experience when I say that your family will probably appreciate getting an up-close-and-personal interaction with the gentle giants from the Elephant Freedom Project much more.
The elephant sanctuary visit may take some time to complete. Once you are done, ask your driver to take you straight to your hotel in Dambulla.
[Travel time from Negombo to Dambulla – 4 hours]
Day 03 – Dambulla / Minneriya / Dambulla
Start your day on the right foot with a laidback morning in your cosy hotel. You can take it slow in Dambulla, but there will be no shortage of activities to keep your family occupied during your stay.
If you are up for it, do not hesitate to exchange your lazy morning for a historical tour of Polonnaruwa ancient city. You can take a slow stroll through the Brahminic ruins of the royal palace complex or discover the sacred Watadageya and the Gal Viharaya temple with your little ones.
When assisting families travelling with young children, we at Travellers Isle encourage them to pick the Polonnaruwa ancient city over Anuradhapura. This is simply because Polonnaruwa can be toured via vehicle. All in all, the time you spend on foot is limited, so you will not feel exhausted once you are done.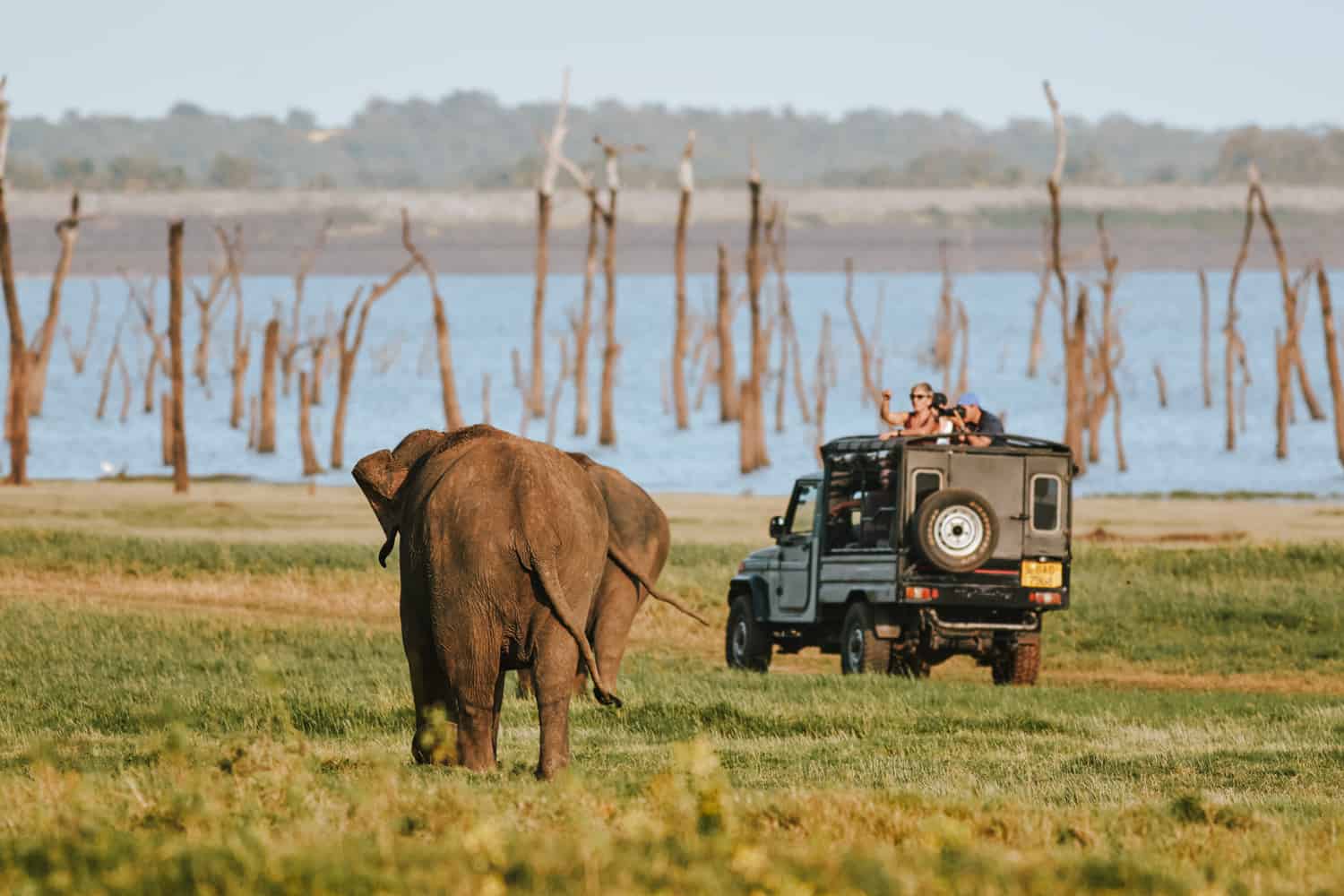 You may stop by your hotel for lunch and ask your driver to take you to the Minneriya National Park for a jeep safari afterwards. It is best that you leave your hotel around 2.00 pm as you will need three to four hours to complete the safari at a leisurely pace.
If you ask me, the Minneriya National Park jeep safari is the perfect opportunity to see herds of elephants in the wild. You may also spot some toque macaques, sambar deer, buffaloes, crocodiles, and many exotic birds in passing. So, trust me when I say that your family will have a blast!
Once you finish the jeep safari, ask your driver to take you back to your hotel for an evening of relaxation.
[Travel time from Dambulla to Minneriya – 45 minutes]
Day 04 – Around Dambulla
It is time to pick up the pace. Get ready to kickstart your second day in Dambulla with a visit to the Dambulla Cave Temple OR the Sigiriya Rock Fortress. Whatever you choose, just know that these centuries-old UNESCO World Heritage Sites will have the whole family marvelling over the island's rich history.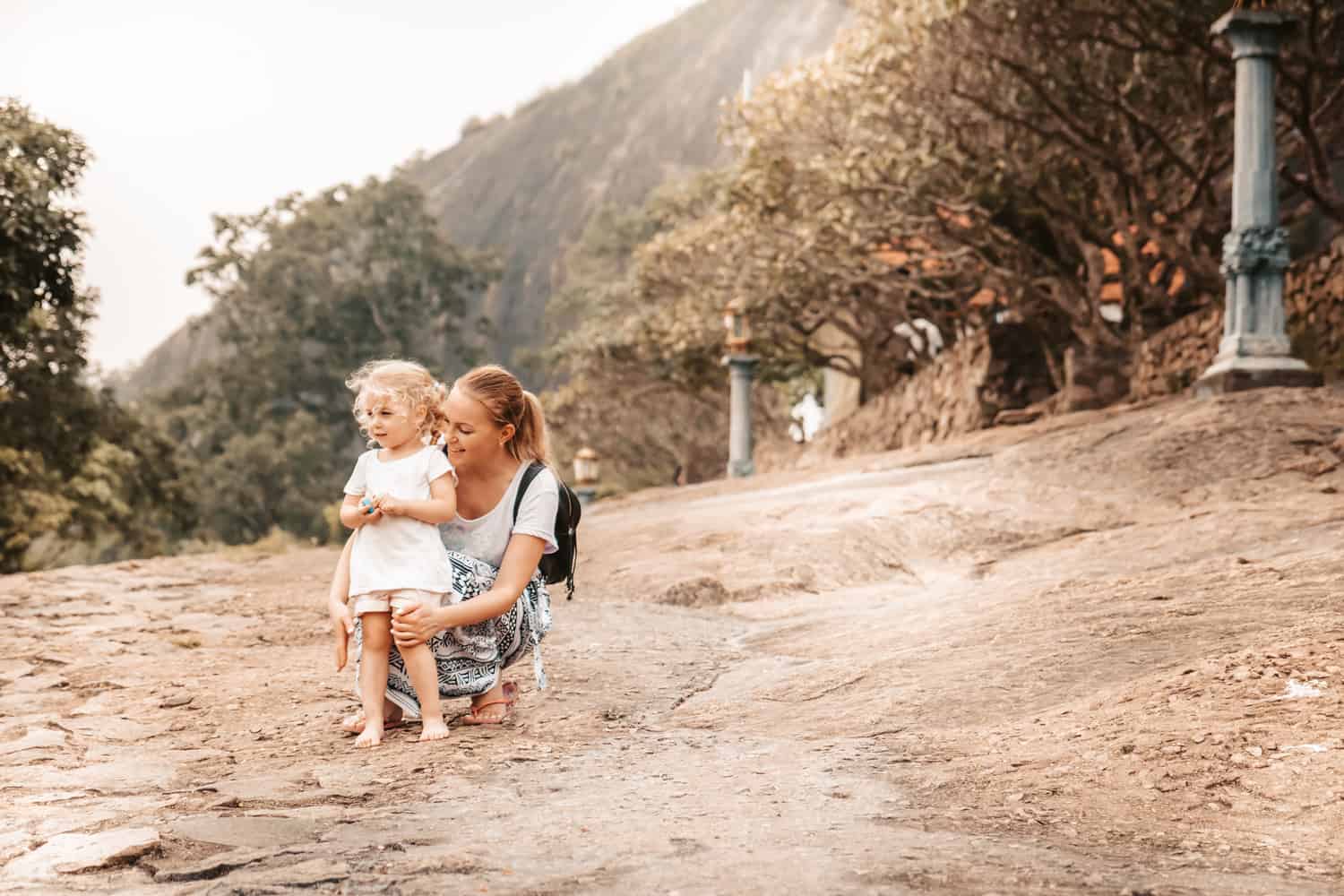 In fact, what makes the Dambulla Cave Temple so special is that it doubles as a religious site and an ancient art gallery. This temple is home to 157 sacred statues and a collection of ancient murals which depict key events from the life of Lord Buddha.
The Sigiriya Rock Fortress is a different story. Built by King Kashyapa for protection from his enemies, its ancient gardens, frescoes and complex irrigation system are some of the many reasons why it is locally known as the eighth wonder of the world.
However, there are several things to keep in mind if you want to visit Sigiriya. For one, it is best that you make the trip as early as 7.00 am to avoid overcrowding and the midday heat. You will also have to climb about 1200 steps before you reach the top. This can be exhausting for parents with small children as they end up carrying the children for a good chunk of the climb.
So, choose wisely. I recommend the Dambulla Cave Temple if you are travelling with a toddler. But it is all the better if you can visit Sigiriya Rock Fortress to discover its impressive rock buildings and its story.
The next excursion on your agenda is the village tour.
Although the tourism industry has brought about some improvements to the living standards of Sigiriya, the area remains less developed and rural. The majority of the locals are hardworking farmers leading simple and peaceful lives. If you wish to gain a glimpse into their world, taking a village tour while in Sigiriya is highly recommended.
Depending on the tour operator you choose, the experience may vary slightly. However, these tours typically involve a bullock cart ride, a catamaran ride, and a chance to enjoy a traditional Sri Lankan meal at your host's home.
I am sure your entire family will enjoy this cultural immersion.
Day 05 – Dambulla / Kandy
It is time to bid farewell to Dambulla. Ask your driver to take you to your next destination, Kandy. (This will be a relatively short drive. If you like, you may spend the morning relaxing at your hotel before heading to Kandy.)
Once arriving in Kandy, you may visit the Temple of the Tooth. It is one of the most revered Buddhist temples in Sri Lanka, as it houses the tooth relic of Lord Buddha.
Dress in modest clothes and join the pilgrims waiting for a glimpse of the casket in which the tooth relic is sealed. It is your chance to experience the Sri Lankan Buddhist culture at its finest.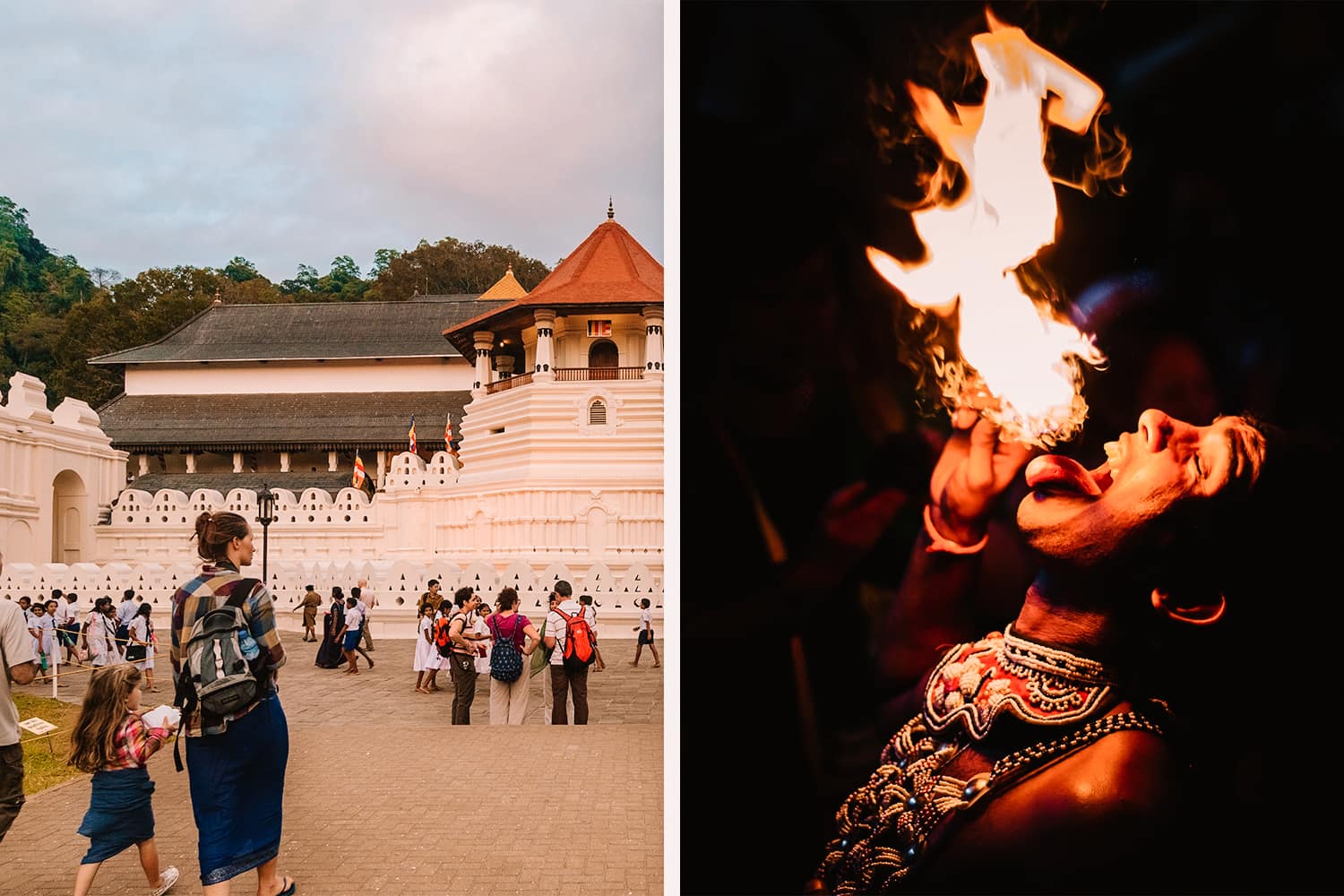 As you are travelling with a toddler, leave the rest of the day free. If the baby is not too tired for some excursions, you may also ask your driver to take you to the Kandy Lake Club for the 5.30 pm dance show.
The performers, dressed in colourful and ornate costumes, move with incredible grace and precision as they tell stories through dance. The music is equally impressive, with the sound of the drums reverberating throughout the venue and adding to the energetic atmosphere.
The Kandy Lake Club dance show is not only a visually stunning display of talent and skill, but it is also an important cultural experience. It offers a glimpse into the rich history and traditions of Sri Lanka, with the performances drawing on elements of Buddhism, Hinduism, and other local beliefs.
In case you find the idea of watching a dance show unappealing, you could consider going shopping in the late afternoon.
You will find plenty of gift shops lining the streets of Kandy, selling customized jewellery, batik sarongs, silk sarees, hand-carved wooden statues of elephants, and other trinkets that can be a good reminder of your time in Sri Lanka.
[Travel time from Dambulla to Kandy – 2 hours]
Day 06 – Kandy / Ella
On the 6th day of the tour, ask your driver to take you to Ella, the small, beautiful town amidst the towering hills.
Since the drive from Kandy to Ella takes about 4 ½ hours, it is important having a couple of short stops on the way so that your toddler will not feel the journey too tiring.
The Peradeniya Botanical Garden could be your first stop. As this garden is situated very close to Kandy, you might not see the need to make a stop here for rest. However, young kids love having some playtime at the Peradeniya Garden before heading to Ella.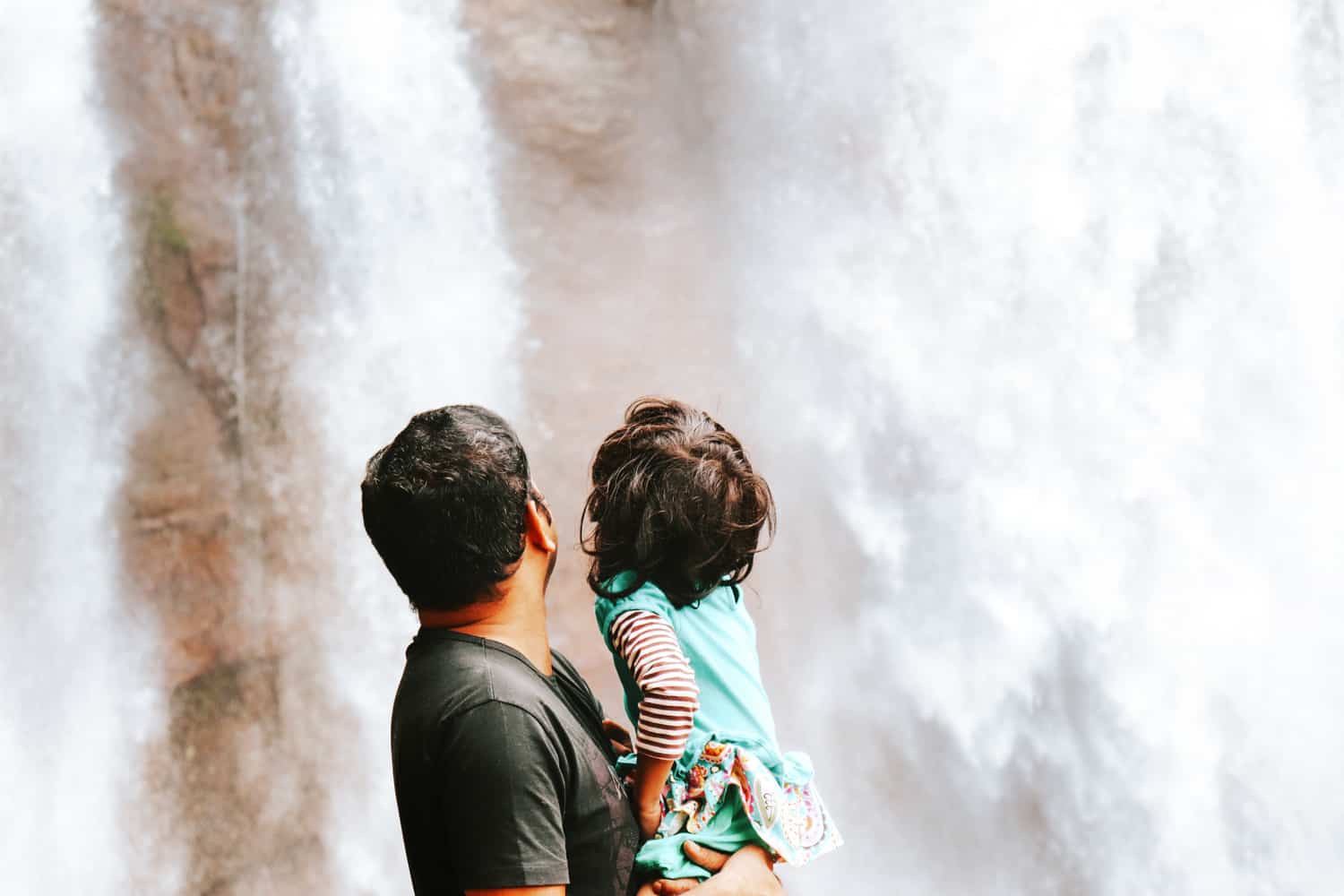 As the journey to Ella progresses, you will meet with the picturesque Ramboda Waterfall. You may capture some scenic shots of the waterfall against a backdrop of greenery and sturdy rock. Feel free to dip your toes in its refreshing waters before getting back on the road.
Verdant tea plantations surround the route to Ella. If you like, your driver can arrange a tea tour on the way to Ella. Not only will you witness the plantation workers plucking tea leaves, but you will also get to see the lengthy process that goes into making tea the old-fashioned way.
After arriving at your hotel in Ella, enjoy the afternoon simply relaxing with your kids.
[Travel time from Kandy to Ella – 4 ½ hours]
Day 07 & 08 – Around Ella
As a hideaway amidst the hills, Ella is a far cry from the hustle and bustle of Negombo and Kandy. Even so, there is no shortage of excursions to embark on while you are here.
You can take a short stroll along the Nine Arch Bridge and visit Lipton's Seat for breath-taking vistas of the surrounding mountains. But if you are in the mood for a small adventure, you can climb Little Adam's Peak with your toddler. This will take two or three hours to complete.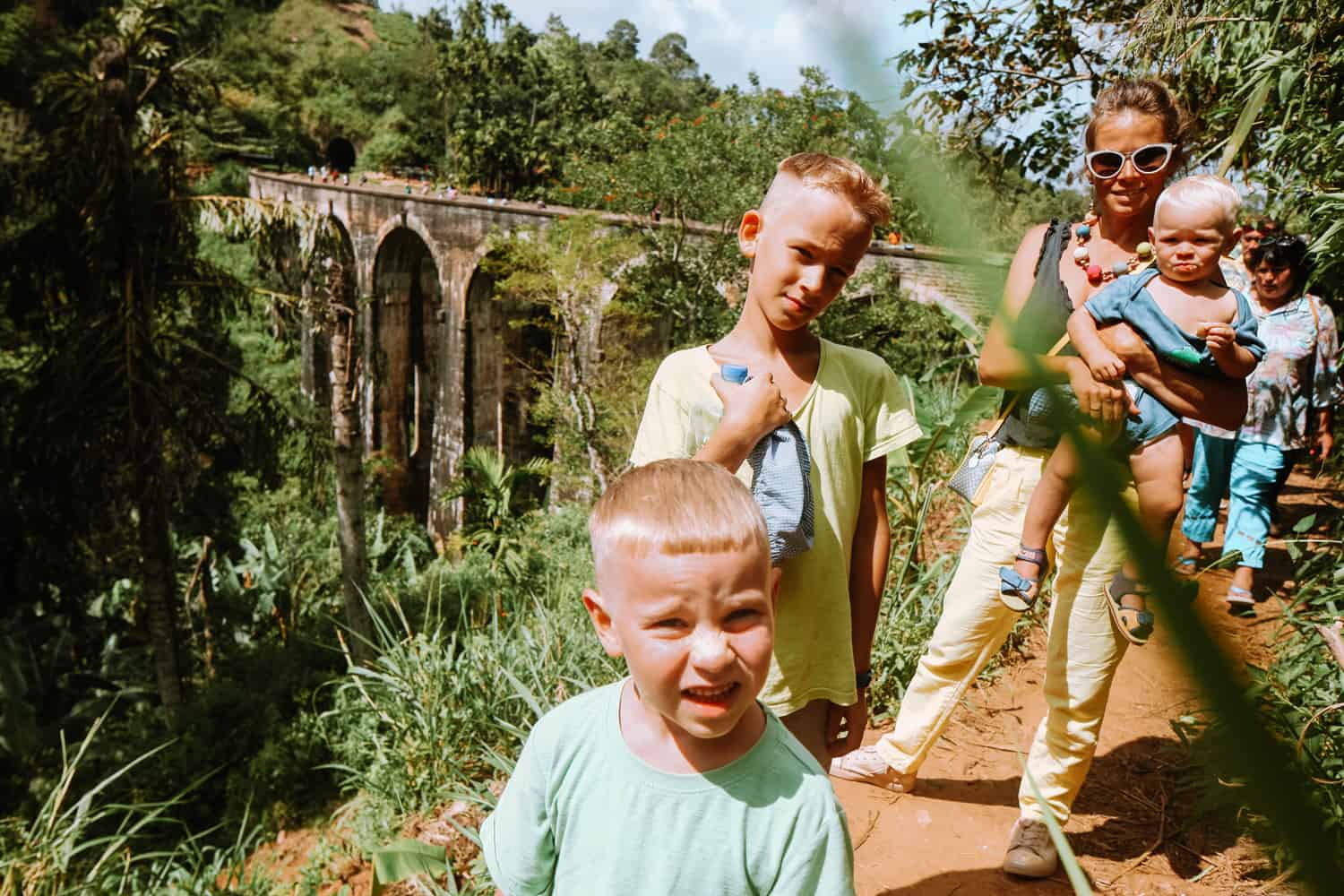 Feel free to stop by the Ravana Falls for a quick dip in its waters. And you may even join a cooking class to learn the secrets of our Sri Lankan cuisine.
With most destinations within a few minutes of driving or walking distance, Ella provides great flexibility to families travelling with young children. I suggest that you make the most of this and welcome the element of spontaneity that Ella has to offer.
Day 09 – Ella / Yala
It is time to see what else Sri Lanka has to offer. Let your driver know that your next destination is Yala.
If you check out of your Ella hotel by 9.00 am, you will be able to reach your accommodation in Yala at around 12.00 pm. This will give you ample time to rest with your child and to enjoy a slow lunch before moving on to the main excursion for the day: the Yala National Park jeep safari.
Truth be told, a jeep safari at Yala has a lot to offer where its wildlife is concerned. The highlight of this national park is its leopard population, but you will also have a high chance of seeing buffalos, mongooses, jackals, peacocks and many other animals in passing.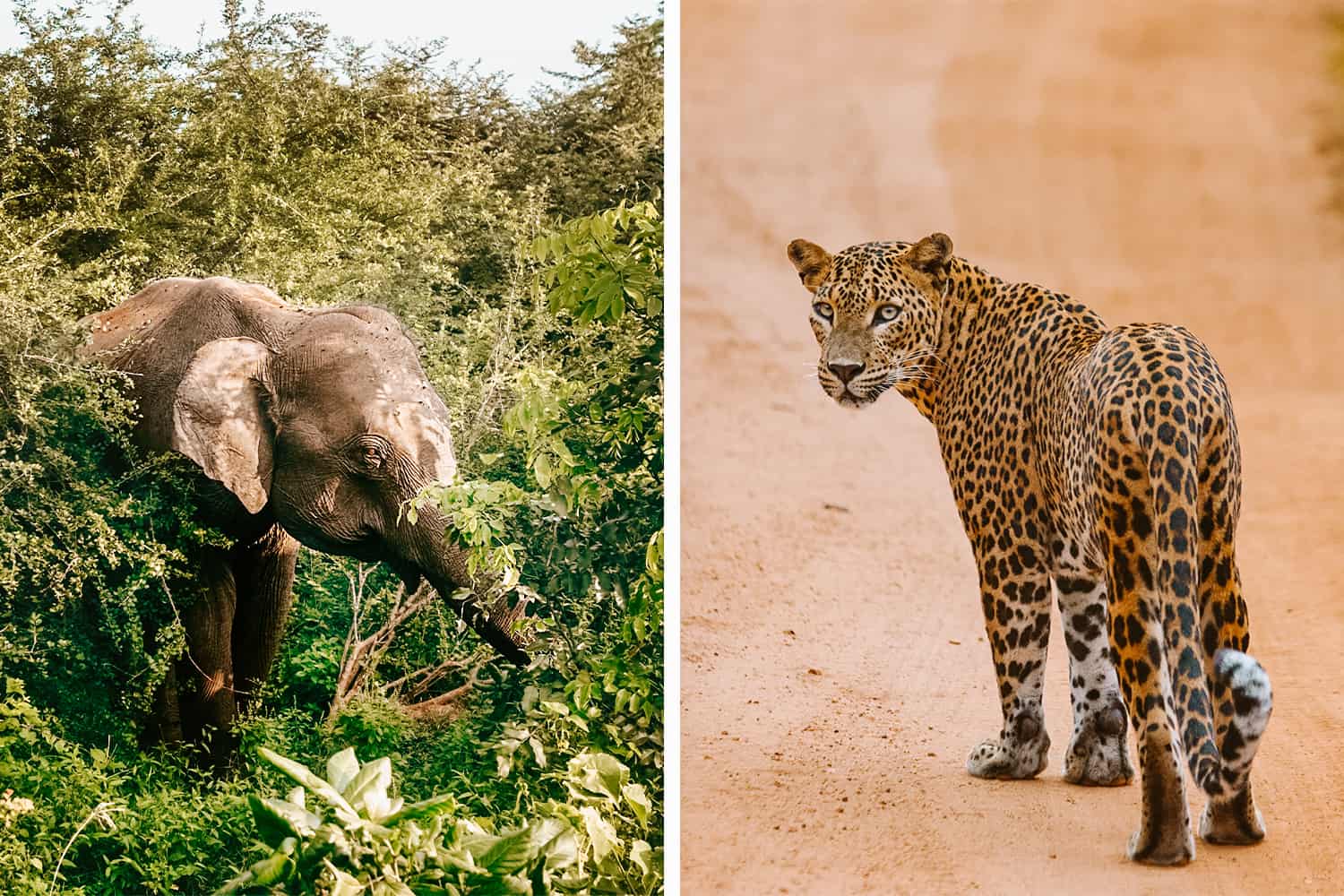 But if you want to rest for longer, you can plan this excursion for the next day. The only drawback to this is that you will have to take the morning safari which starts at 6.00 am. Since this is pretty early, it might be a challenge to get your kids ready on time.
However, if you are not in the mood for Yala, you can take a jeep safari at Udawalawe instead. This will let you combine your adventure in the wild with a quick visit to the Elephant Transit Home nearby, where you can learn about the conservation efforts that are underway to protect abandoned baby elephants.
There are several reasons why we recommend Yala over Udawalawe. For one, its elusive leopards are a sight to behold, and they are guaranteed to impress your little one. You will also find that Udawalawe resembles the Minneriya National Park, so the sights you see will not be new to you.
You can also skip Yala and head straight to your accommodation on the southwest coast. If you do this, the drive to your hotel may take up to four hours or more, and your toddler may get restless during the long journey.
But if you proceed with a jeep safari at the Yala National Park, the day will conclude with dinner and an overnight stay at your Yala accommodation.
[Travel time from Ella to Yala – 3 hours]
Day 10, 11, 12 & 13 – Yala / Bentota
The last destination on your itinerary is the southwest coast. After breakfast, ask your driver to take you to your oceanfront hotel in Bentota.
As a rule of thumb, we at Travellers Isle schedule beach stays for the end of our itineraries. It is the most relaxing way to end your Sri Lanka holiday.
Bentota is a coastal town located in the southern part of Sri Lanka, known for its picturesque beaches and serene atmosphere. It is an ideal place for those seeking a relaxing vacation.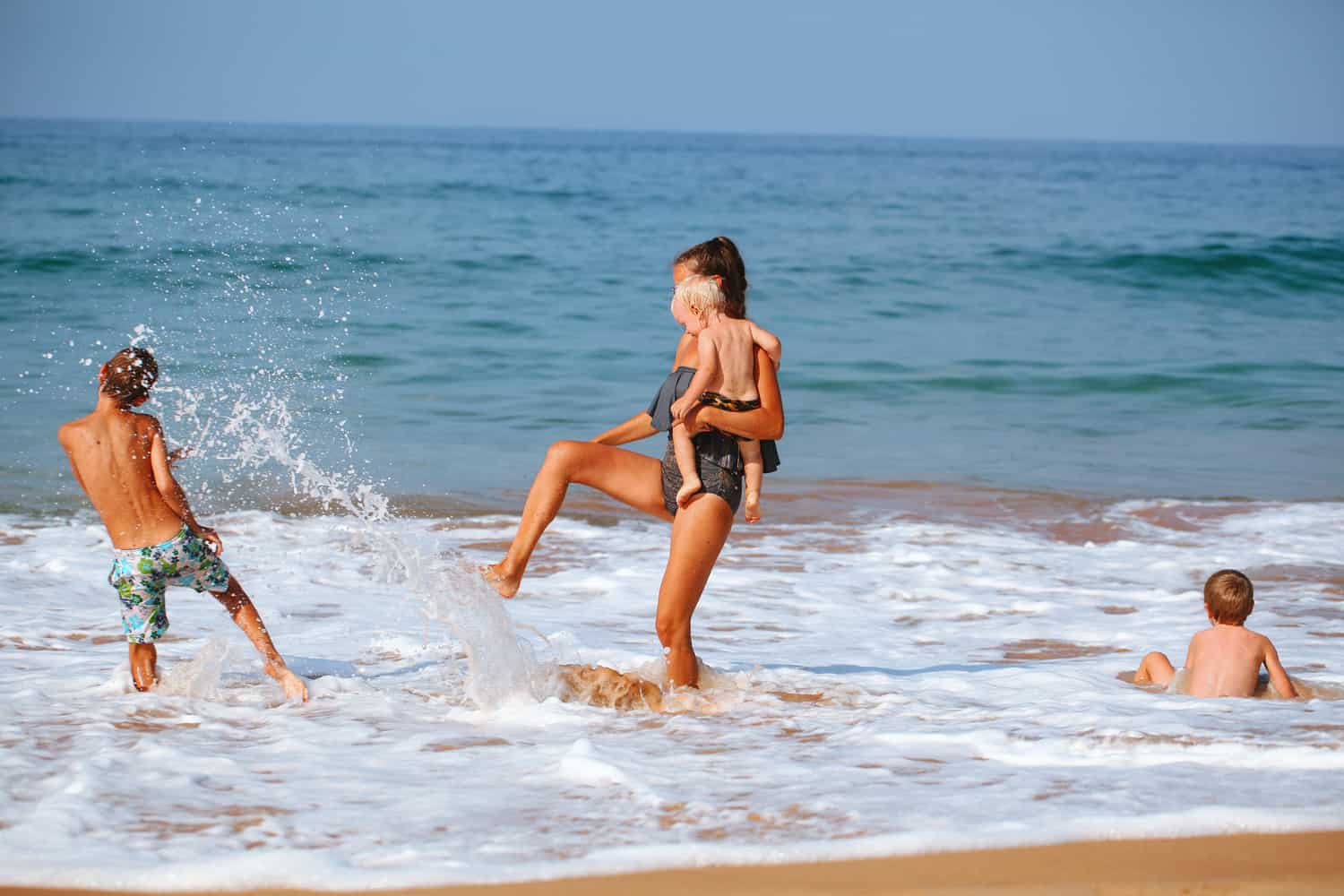 There is no strict schedule for these four days. However, I recommend paying a visit to the Galle Fort. You can enjoy a historical tour and shop for some souvenirs before packing for the journey home.
You can also ask your driver to take you to a turtle hatchery to learn about Sri Lanka's marine turtles. Unsurprisingly, everyone loves baby turtles, and your toddler is no exception. You will enjoy learning about their behaviours as you take a small, informative tour. For a once-in-a-lifetime opportunity to feed some turtles with your child, you can stop by Turtle Beach in Hikkaduwa.
And if you are in the mood for another boat safari before the flight home, you can hop on a boat ride through the Madu River. Journeying through these wetlands is ideal for capturing some beautiful shots of the island's birdlife.
[Travel time from Yala to Unawatuna – 3 ½ hours]
Day 14 – Down South / Airport
Unfortunately, all good things must come to an end. It is time to bid farewell to the sunny shores of Sri Lanka. You may get to enjoy a quiet morning by the seaside, but this depends on the time of your return flight.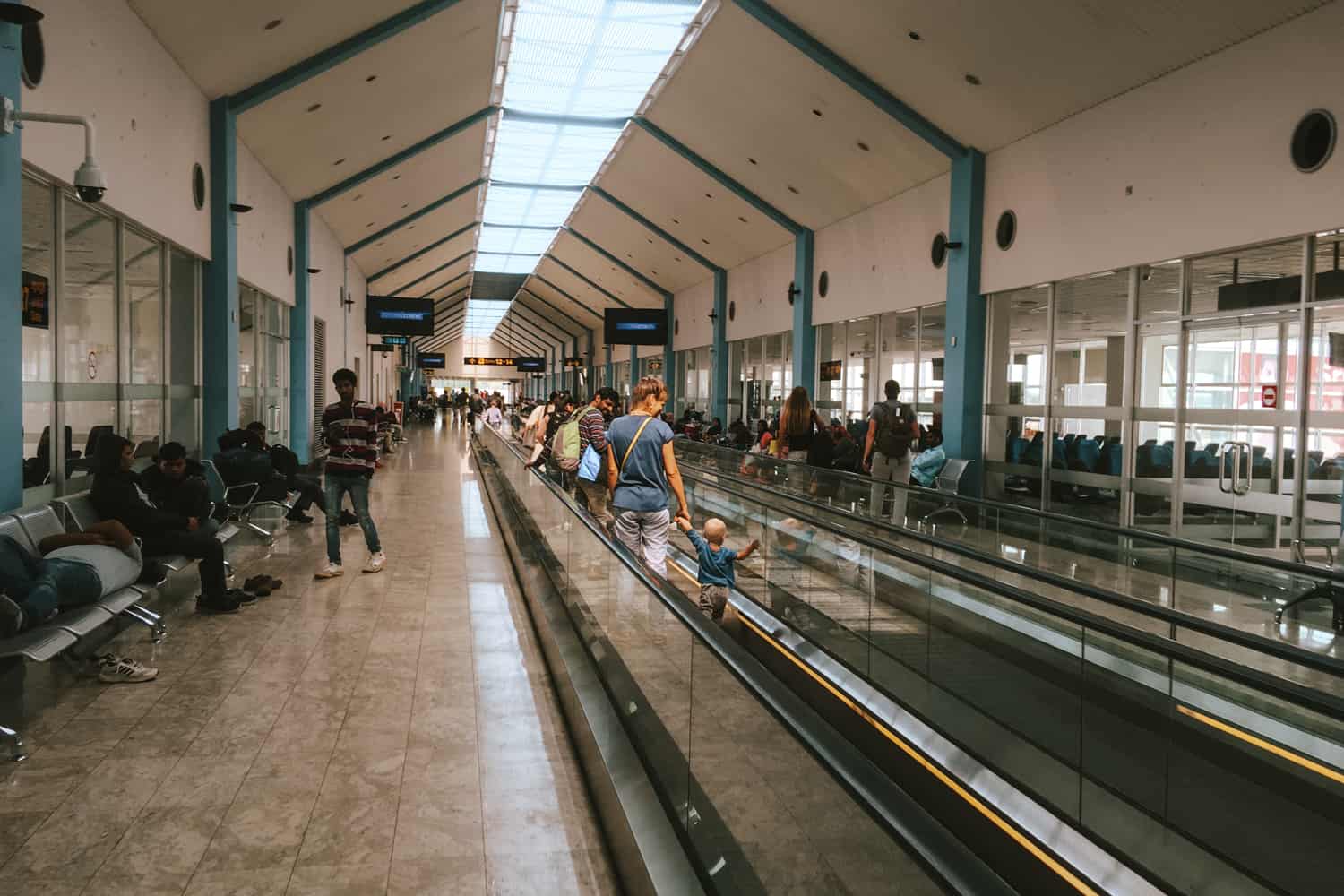 Ask your driver to take you to the airport. After helping you with your luggage, he will bid your family farewell before heading back to Colombo.
If you enjoyed your driver's service, you can tip him before he leaves. You will definitely make his day.
As a reward for his service, you may offer $10-$25 USD per day.
Note - Since you need to be at the airport 3 hours prior to your flight, it might be a good idea to book a hotel close to the airport for the last night of your trip. This is especially the case if your return flight is scheduled for the early morning.
For example, if your flight is at 8.00 am, you will have to be at the airport by 5.30 am at the latest. If you spend the night in bentota, you will have to set aside an extra two hours to get to the airport from your hotel. In other words, your checkout time will be 3.00 am, and it goes without saying that your kids will be exhausted by the time you get home.
[Travel time from Unawatuna to the airport – 2 ½ hours]
Frequently Asked Questions
1. Is Sri Lanka safe for families travelling with toddlers?
Absolutely. Sri Lanka is one of the safest destinations for you to explore with the family. A good number of tourists travel with their kids, and our guests are no exception. So, we speak from experience when we say that you have nothing to worry about.
2. What is the best time of the year to go to Sri Lanka with young children?
As I mentioned earlier, Sri Lanka's weather is at its best from mid-December to mid-April. But you will not have any difficulty if you drop by between the months of July and September either.
3. How to get around Sri Lanka?
Since you are travelling with a toddler, you will have to hire an air-conditioned vehicle. We do not recommend public transport due to the heat and crowds, and bus journeys are generally exhausting for the little ones. Although taking the train is an option, the rail route is limited to only a few regions in the country, so it is impossible to tour the whole of Sri Lanka by train.
4. Do I need to bring a car seat for my toddler?
If you are making the trip with a travel agency, they will be able to arrange a car seat for you. In fact, Travellers Isle offers this service. But if you are travelling solo, you will have to bring your own car seat.
Summary
With so much to offer, Sri Lanka is definitely the best destination to visit with your child. From adventuring in the wilderness to experiencing its culture first-hand, this island paradise has everything you could possibly ask for!
And while it is not impossible to come up with an itinerary on your own, it can be a challenge to get the basics down. That is why I hope this article will help you plan the perfect tour for exploring Sri Lanka with your toddler.
As always, do not hesitate to leave a comment or to drop us a message with any inquiries you may have about the tour planning process. Feel free to check out our blog for more tips on what you can do during your stay.
Happy Travels!