The beautiful island of Sri Lanka is certainly a traveller's paradise; with so many different attractions to see, from cultural and historical sites to the white sandy beaches that call to sun worshippers from around the world, to the most exotic and colourful wildlife you can find. Yes, Sri Lanka is a country teeming with wildlife, with beautiful rain forests and national parks, where you can see a myriad of exotic animals, birds and even aquatic life.
Much of the wildlife in Sri Lanka is endemic to the island, while some, such as birds, migrate to the warmer climates of the country when it starts getting colder in their own home countries. Much like everyone else, these birds seem to love the exotic warm temperatures that are prevalent all year around in Sri Lanka.
Here are some of the most popular animals you will be able to enjoy while visiting this island nation, and where to find them. I hope this Travellers Isle article will inspire you to visit this beautiful country which we are proud to call motherland, and discover its fascinating wildlife on your next holiday.
The majestic Elephant
The majestic Sri Lankan elephant is one of the most beautiful in the world. These gentle giants have been an integral part of the country from ancient times, being an important aspect of the royal entourage, and even to this day carry a most sacred position in religious festivals and processions.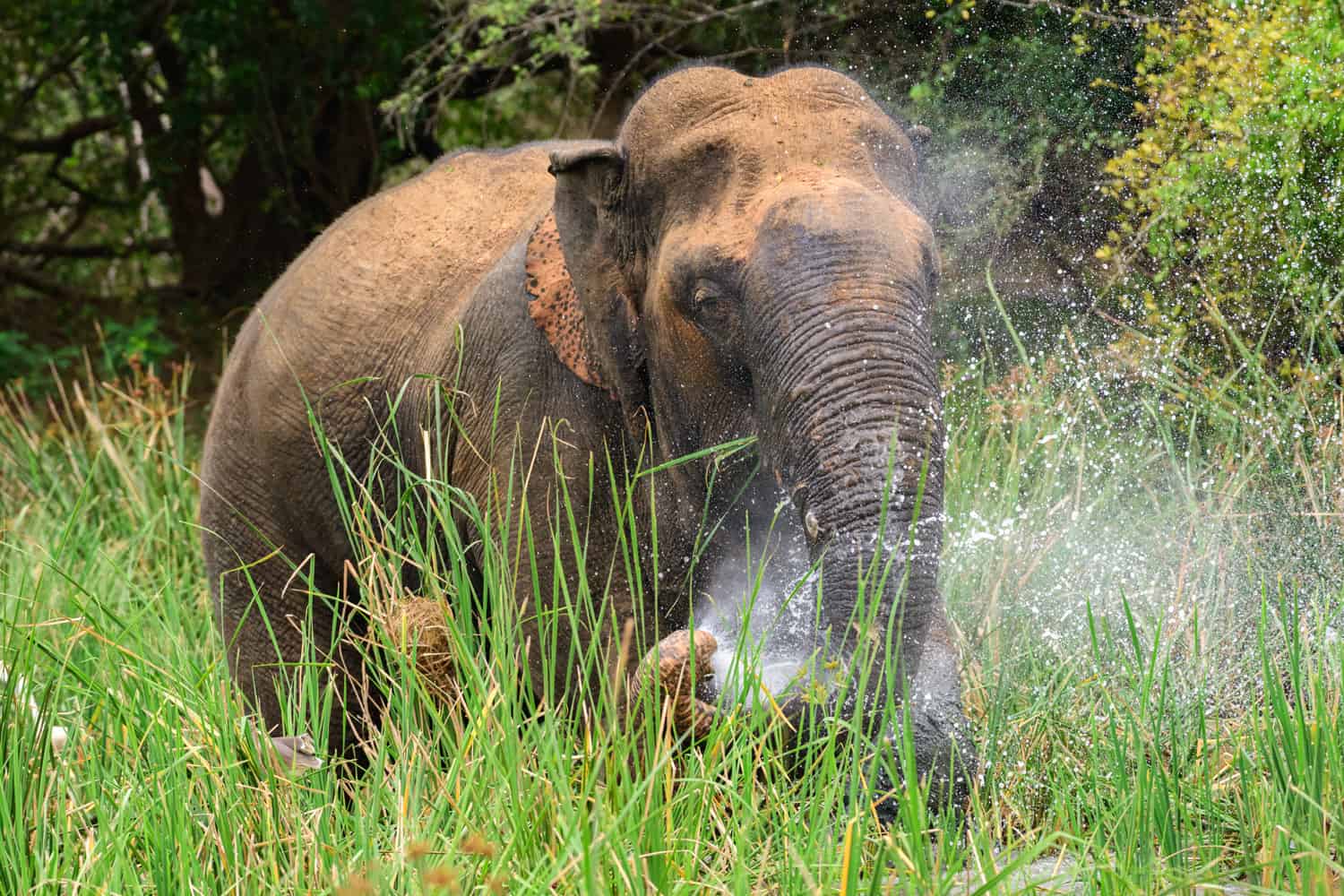 A herd of elephants, which includes the females and babies, is usually lead by the alpha female (or the oldest female in the herd), while the males leave the herd once they are of a certain age, roaming the surrounding areas on their own. It is fascinating to note that when it comes to Sri Lankan elephants, it is only the males that have the beautiful ivory tusks, and not the females as in other species of elephants found round the world.
If you are an ardent fan of these gentle and majestic creatures, then a visit to Sri Lanka is a must! While herds of elephants can be found in almost all of the national parks located around the island, the biggest gatherings of elephants can be found in the Habarana area (where you may even be lucky to see them along the roadside as you travel), because the elephants migrate between the three main national parks located there; Minneriya National Park, Kaudulla National Park and Eco Park. However, you can also see herds of them in Udawalawe National Park, though not many are visible in Yala and Wilpattu due to the dense forestation in those parks, where they prefer to hide among the trees and vegetation.
A sight not to be missed if you an elephant lover is the annual elephant gathering at Minneriya, during the dry season from July to October each year. As the sun sets amidst the trees and the climate starts to get cooler, these gentle giants come out of hiding and make their way towards the Minneriya lake, where they love to munch on the fresh, sweet young grass, and engage with each other socially. This is the time when you will be able to see the largest gathering of elephants in one single location, making it a wonderful sight to see indeed! A safari during the evening hours is the ideal way to see them, and if you are a photography buff, don't forget to take you cameras!
Fearless Sri Lankan Leopard
The Sri Lankan leopard is one of the most beautiful cats in the world, with their gorgeous spots and striking, mesmerising gaze, they can surely enthral any visitor who is lucky enough to see these elusive creatures while touring the national parks.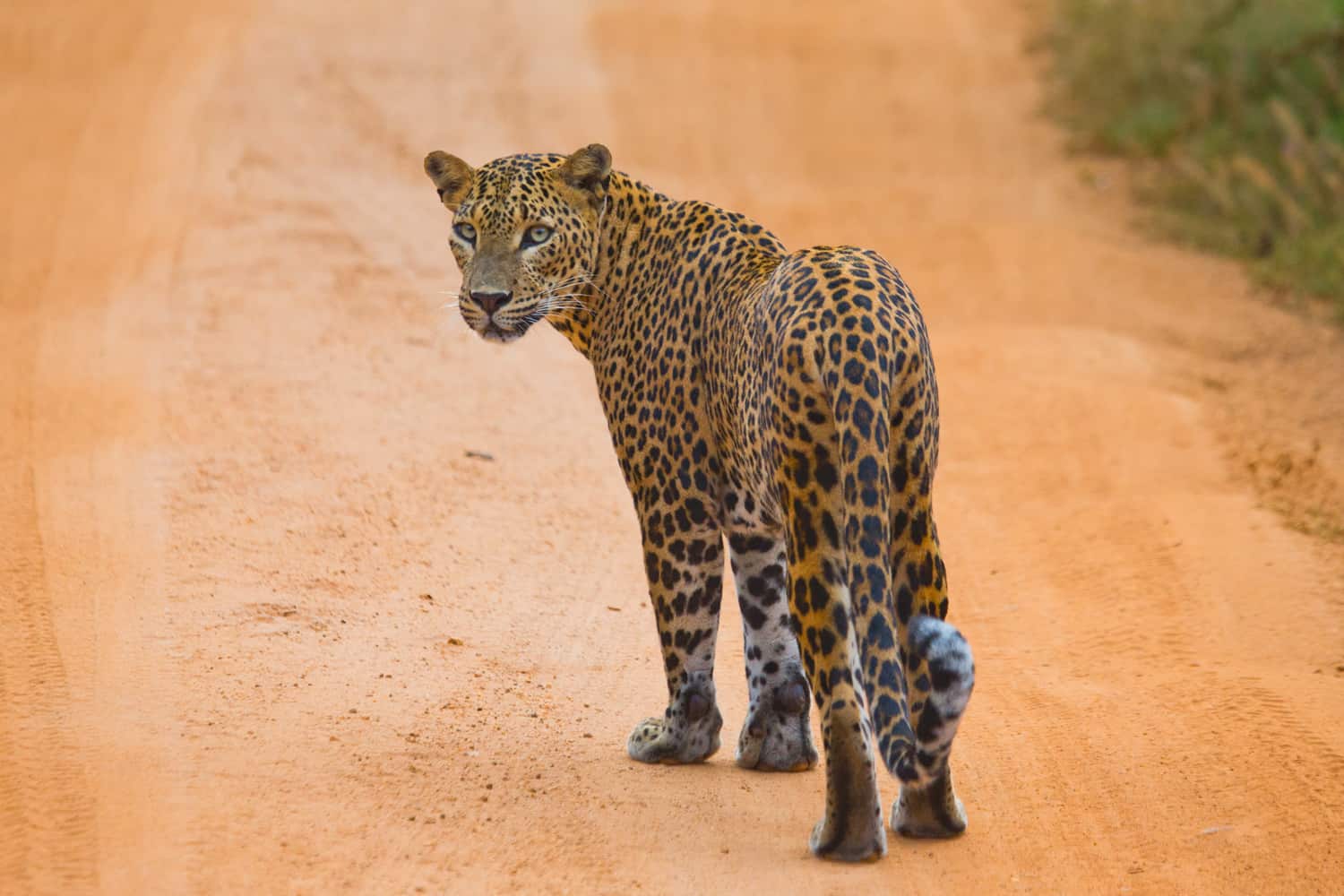 The sub-species of leopards found in Sri Lanka are endemic to the country, and are not found anywhere else. One of the best places to visit if you want to catch a glimpse of one of these exotically beautiful leopards is the Yala National Park in the southern region of the country. Safaris are generally arranged very early in the morning, because these leopards tend to travel around the park before the sun becomes too hot, which is when they prefer to sit atop a shady tree and let the day go by. Some safari organisers also arrange all-day safaris specifically for those who want to catch a glimpse of a leopard and photograph their majesty and beauty.
Another location where you can see them is within the Wilpattu National Park, although the sightings are not as regular as in Yala, where on some days, as the sun sets and the air starts to become cooler, these leopards will sit atop large rock surfaces and watch the day end, before they go hunting for their daily meal.
Sadly, the leopard is an endangered species in Sri Lanka, with the numbers declining over the past few years. However, many government and private organizations are working hard towards leopard conservation, trying to make a difference in the diminishing numbers of these beautiful and elusive cats.
The marine wildlife in Sri Lanka; Blue Whales
If you love the gentle giants of the land, then you will surely love these gentle giants of the sea! The Blue Whales found around Sri Lankan waters are believed to be resident in these areas, which is one of the reasons that they may be seen around the year in certain places. These giants are said to be the largest of all animals, bigger even than the elephants, and are certainly a sight to see.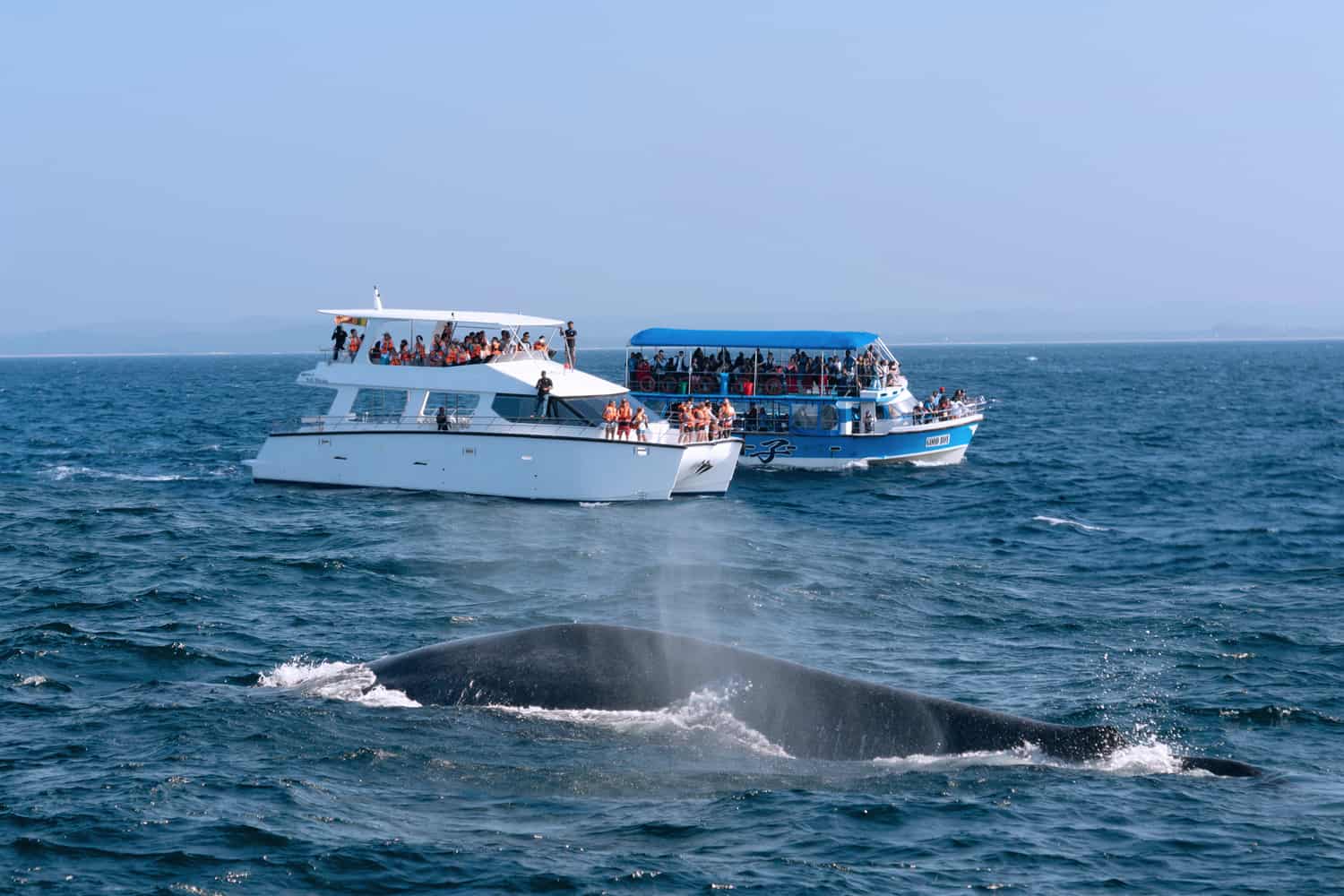 While they were an endangered species in the past, their numbers are slowly but surely increasing, through the efforts of many organisations working towards whale conservation and the strict regulations imposed by some countries against hunting them.
One of the best places to see these magnificent blue whales while in Sri Lanka is in Mirissa, along the southern coastline of the island. While many other areas boast of whale watching tours, Mirissa is your best bet if you actually want to see them. These whales swim in deep waters, and to travel that far, you need large boats, which most other areas do not have, and hence the likelihood of seeing them in places like Trincomalee are very slim. In Mirissa, you may even be able to hire a small yacht, with food and drink included, where you can enjoy the antics of these lovely creatures of the sea, while you sit back and relax and watch the sun go down on a beautiful day!
The elusive Sloth Bear
Sloth bears, although elusive, shy creatures, are quite a favourite among travellers who visit the island specifically for the wildlife in Sri Lanka. The sloth bears of Sri Lanka are among the most ferocious of bears found anywhere in the world, however if you come across one of these cute creatures while travelling in Yala or Wilpattu National Parks, don't be afraid; they have never been known to show any type of aggression towards travellers or their vehicles. Although known to be shy, they are not beyond providing you with some entertainment with a few antics of their own, as they relax and unwind along the roadside or roll around in the dust to keep cool.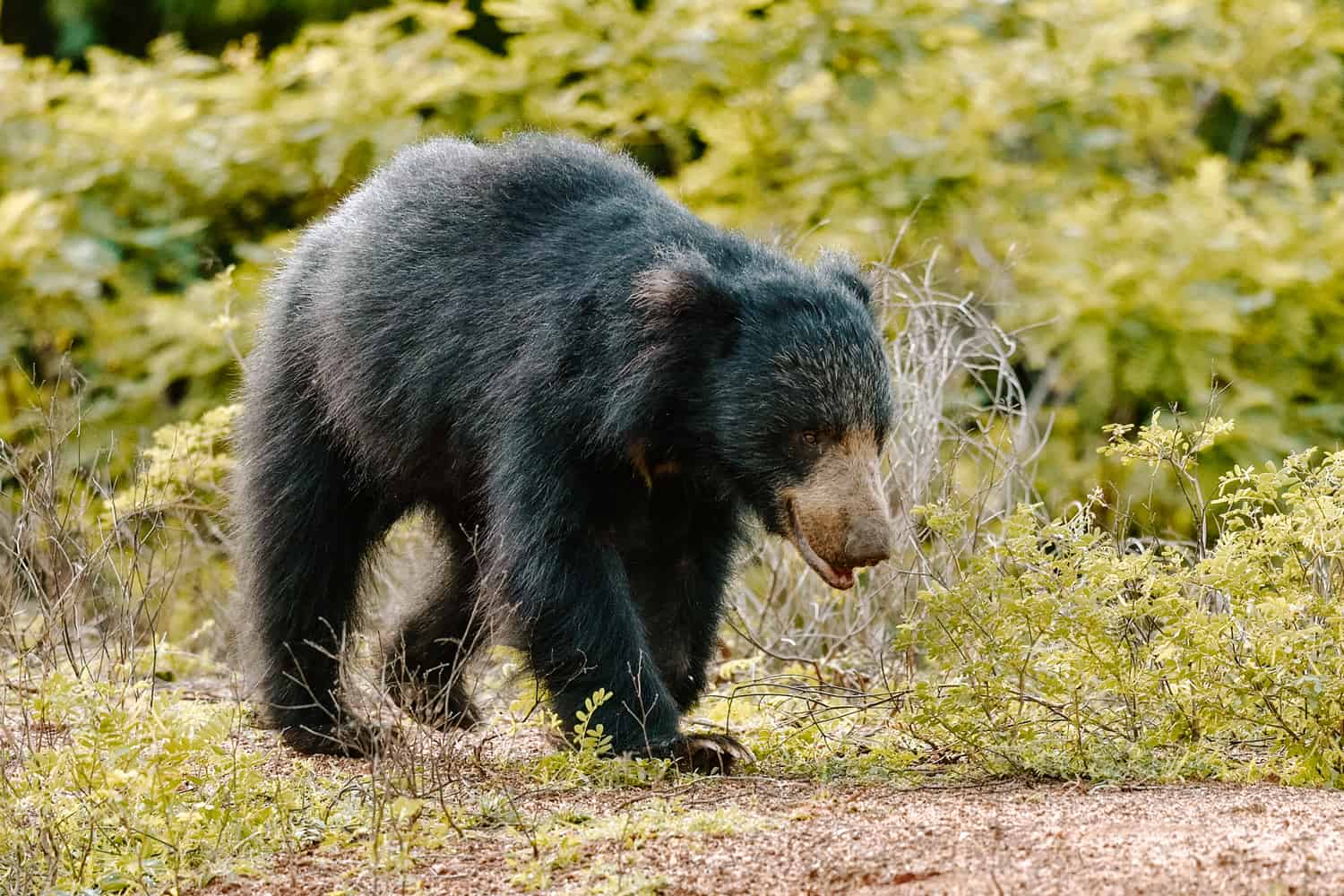 One of the best times to visit the parks if you want to see sloth bears is in the early morning. This is because the bears are nocturnal animals that prefer to walk around looking for food and water before the sun fully rises or during dusk, when the climate is not too hot for them. During moderately rainy seasons and during the months when berries and fruits fill the tress, you will be able to see them as they forage around for tasty delicacies. If there are no berries around, they prefer to try their luck with an anthill, where they can get some much-needed nutrition.
These bears prefer to live where there is dense forestation and rocky caves where they can spend the day when the sun gets too hot. Most safari guides will be able to locate these bears easily, if lucky, because they grunt and make noises as they travel, which is said to be a form of communication between them.
The Sambar Deer
The sambar deer are gentle creatures, found roaming around the hillsides of Horton Plains and other colder areas of the country. The species of deer you see in these areas are found only in Sri Lanka, although they are a sub-species of the sambar deer found in certain other South Asian countries. They are quite heavy and have thick brown fur to ward off the cold, and beautiful antlers that reach to the heavens, although it is only the males who grow antlers.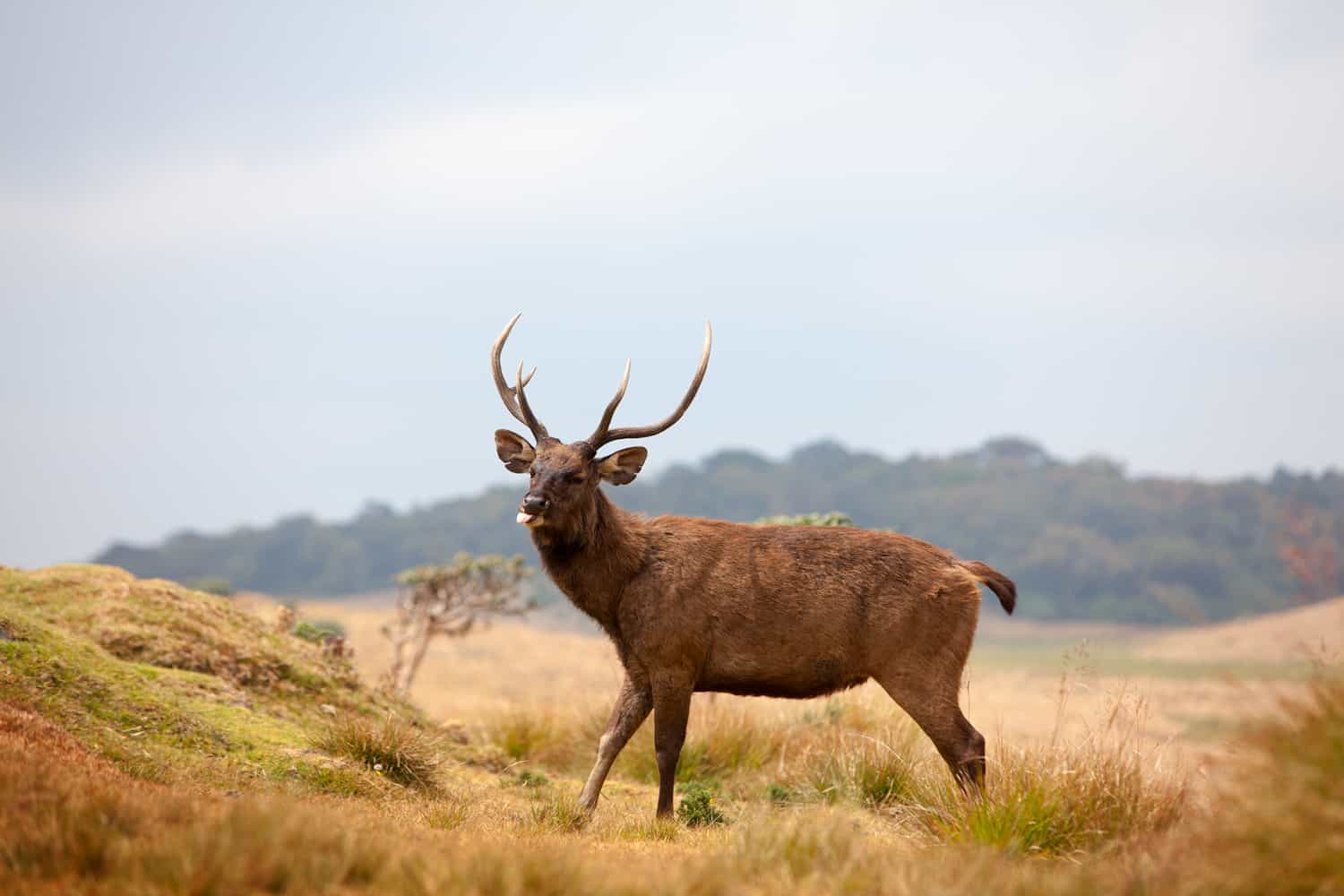 These deer can be seen all year round when travelling towards Horton Plains and within the plains themselves. A few have even become domiciled along the roadside, where they have got used to eating fresh fruits such as bananas from passers by and even the wildlife guides. The best times to see them are during the early morning and late evening when they come out of hiding to forage. At other times, they stay away from the hot sun, preferring instead to lie down under a shady tree until the sun goes down and it is time for a snack.
You can see them in herds as they eat the delicious grass that grows along the hillsides or forage for berries and fruits that have fallen off trees. If you time your tour precisely, you will be able to photograph them in herds, and may even be lucky enough to get a few close ups.
Sea Turtles of Sri Lanka
It is no secret that with increasing pollution in the oceans the numbers of sea turtles are declining fast. This is why so much of conservation work is being done, from saving sea turtle eggs to rescuing injured or hurt turtles. While turtles or turtle conservation may not be a high priority item on your bucket list, it is one that should not be missed, especially if you have children.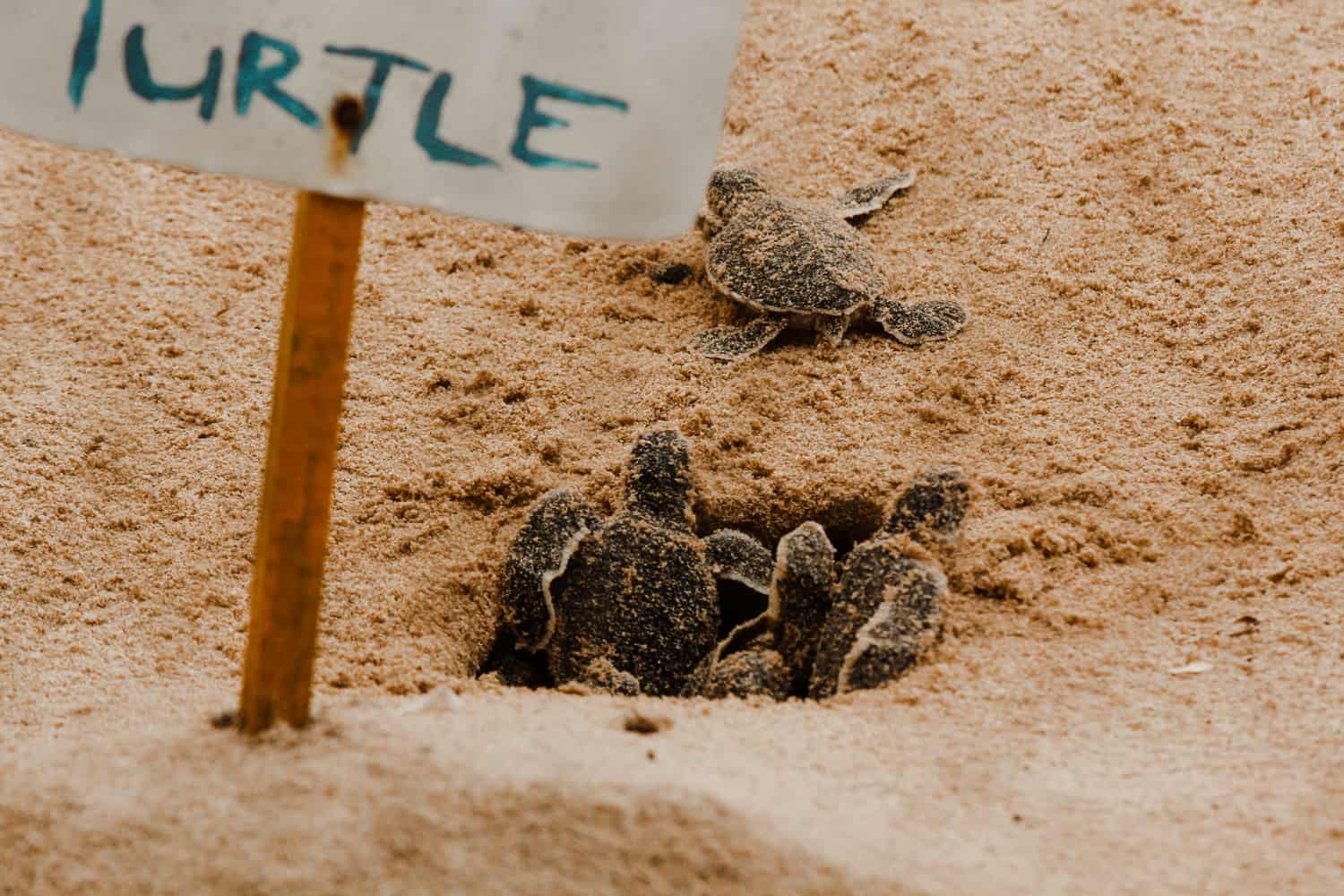 Many different species of sea turtle have been known to visit the shores of Sri Lanka for breeding and laying of eggs. These include leatherback turtles, hawksbill turtles, the green turtle, olive ridley and the loggerhead. It is only female sea turtles who ever come ashore, and this too only for the purpose of laying eggs; the males live their life out at sea. These female turtles come ashore after dark when the tide is high, so that they can find the perfect place to lay their eggs where the tide will not get at them.
Along the southern coastline of Sri Lanka, you will see many turtle conservation sites endeavouring to save the marine wildlife in Sri Lanka, especially in the Kosgoda area. These conservation sites rescue sea turtle eggs from predators, both human and animal, giving the species a chance to survive. During the evenings, you can even participate in releasing a few baby turtles into the ocean, however remember that these lovely aquatic animals need to be handled very gently and carefully. The conservation sites will also take you on a tour of their premises where they will be able to show you turtle eggs in different stages of incubation, as well as turtle hatchlings whom they look after until they are old enough to be released into the sea or even older turtles who are recovering from injuries. It is an enriching and emotional experience, knowing that you have participated in some small way in saving these gorgeous sea turtles for future generations.
Amazing Crocodiles
If you are into exotic wildlife, then you will surely love the snapping crocodiles of Sri Lanka! This island is home to two species of crocodiles; the marsh crocodile and the saltwater crocodile.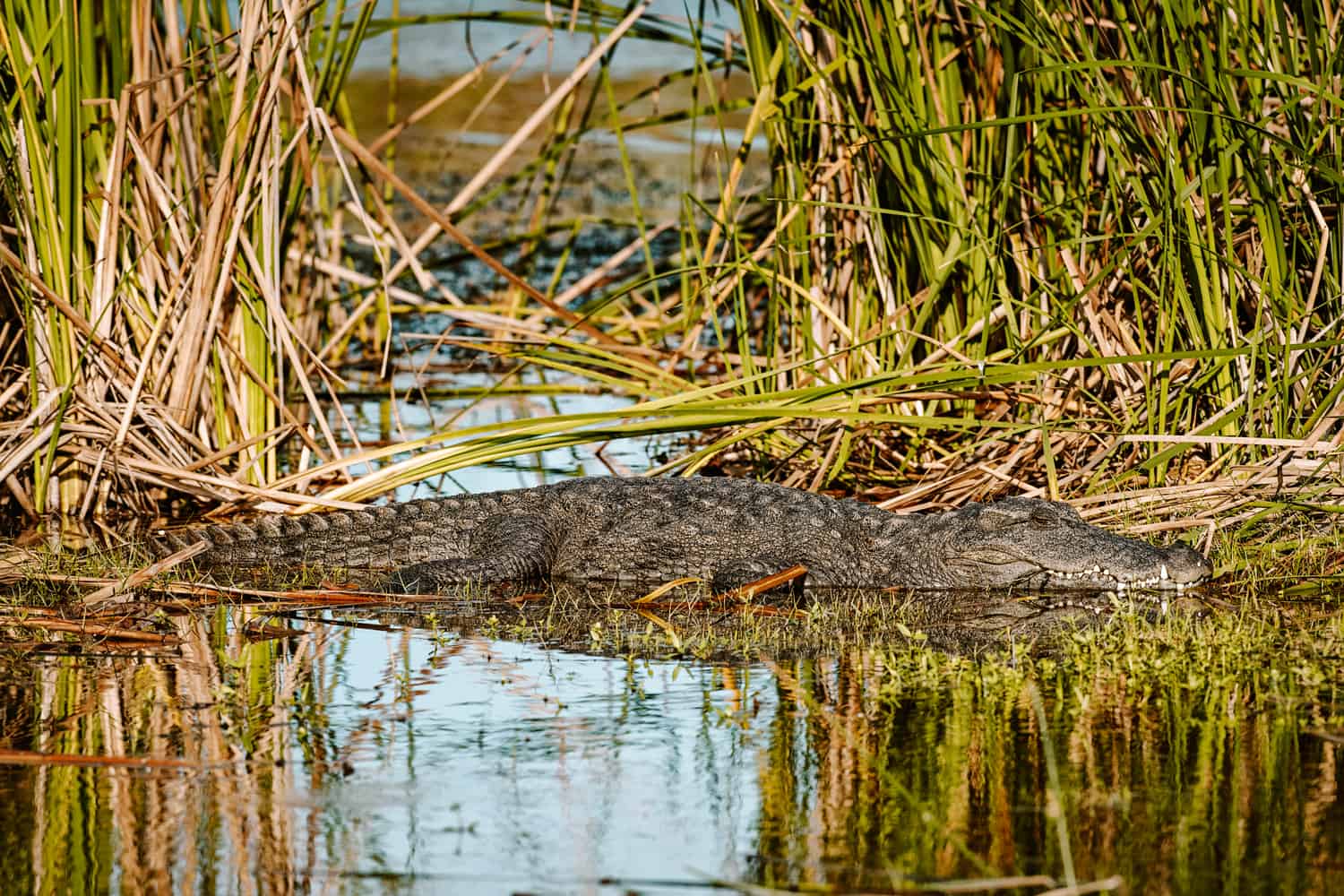 Both of these are predatory animals, and marsh crocs love to sunbathe in the hot sun during the dry season, which is the best time to visit the national parks in Yala and Udawalawe where they are commonly found. During the rainy season, they are not visible as they stay under water most of the time due to the rise in water levels.
The Kumana National Park is another place where you can easily spot a few sunbathing crocs as you travel through it photographing the birds and other assorted animals. The marshy land prevalent in this area is ideal for them as a hunting ground, and they are able to prey on many small to medium animals for food. Don't forget to take out your cameras because these crocs love to pose for a few photos as they enjoy the sun.
Cute Wild Boar
Wild Boar in Sri Lanka used to be hunted for food many years ago, however with new regulations on hunting and the need for preserving these creatures, you will be able to see an abundance of them as you travel around the country, especially in the southern region. When traveling in and around Yala, Kataragama and Tissamaharama areas, you will be able to see them trotting along the roadside, usually in packs of about 10-15.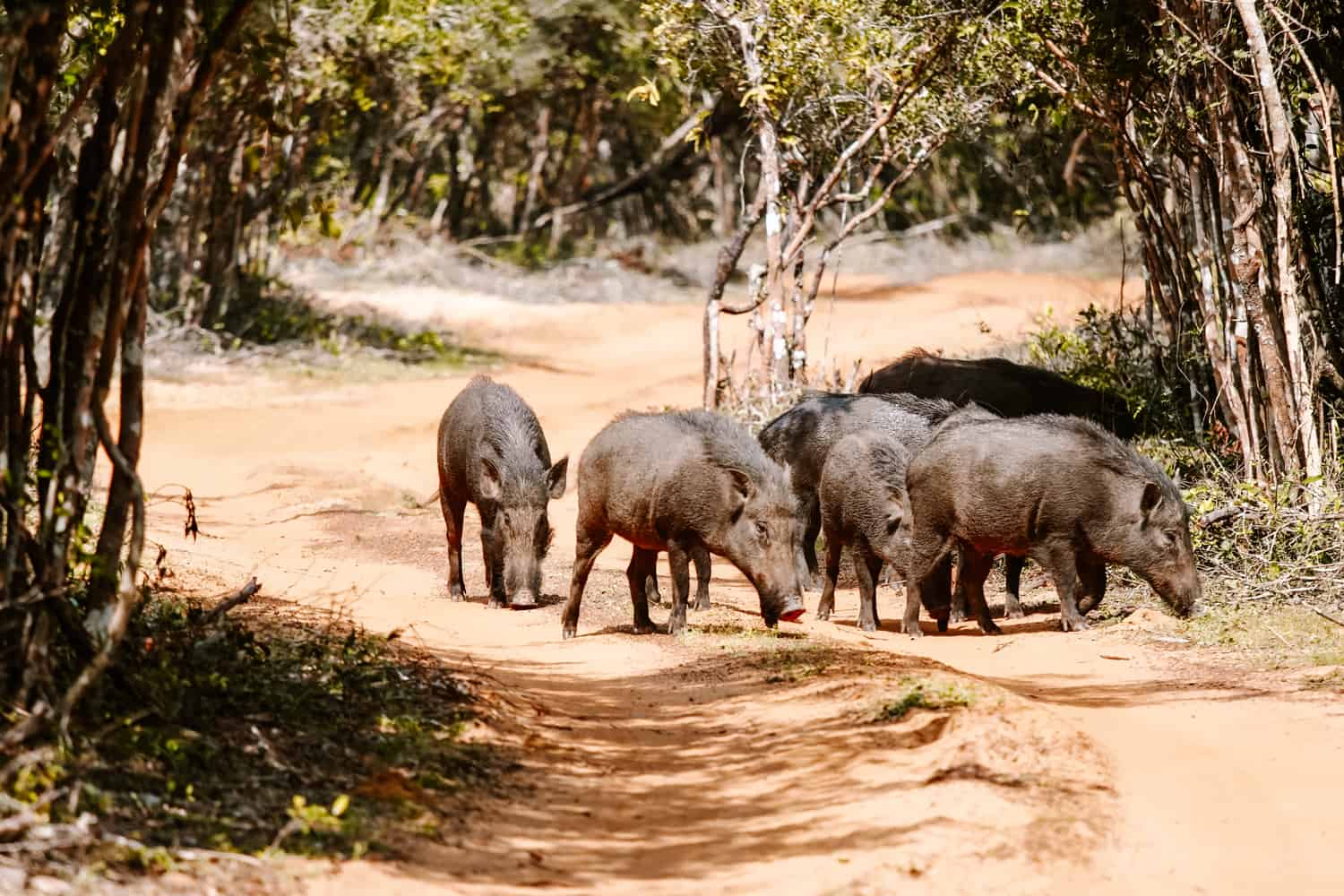 If you are visiting the Yala National Park, then you will surely see the roadside dotted with these greyish brown creatures, displaying their small but dangerous tusks. These animals are fond of picking up food scraps thrown away by visitors to the park, and may even be found around the office areas or at the entrance where jeeps stop to buy tickets. Like other animals though, if you do want to see them, they are more active during the early mornings and late evenings when the heat is at a minimum. During the day they prefer to lie down in the shade and rest until the sun sets.
Beautiful birds of Sri Lanka
Sri Lanka's warm climate is ideal for birds who are migrating from other countries to avoid the cold winter months. As such, you are able to see exotic and colourful birds around the country, who are either endemic to Sri Lanka or are migrating here during the winter. If bird watching and photography are your hobbies, then the places to visit are the Kumana National Park and the Bundala National Park.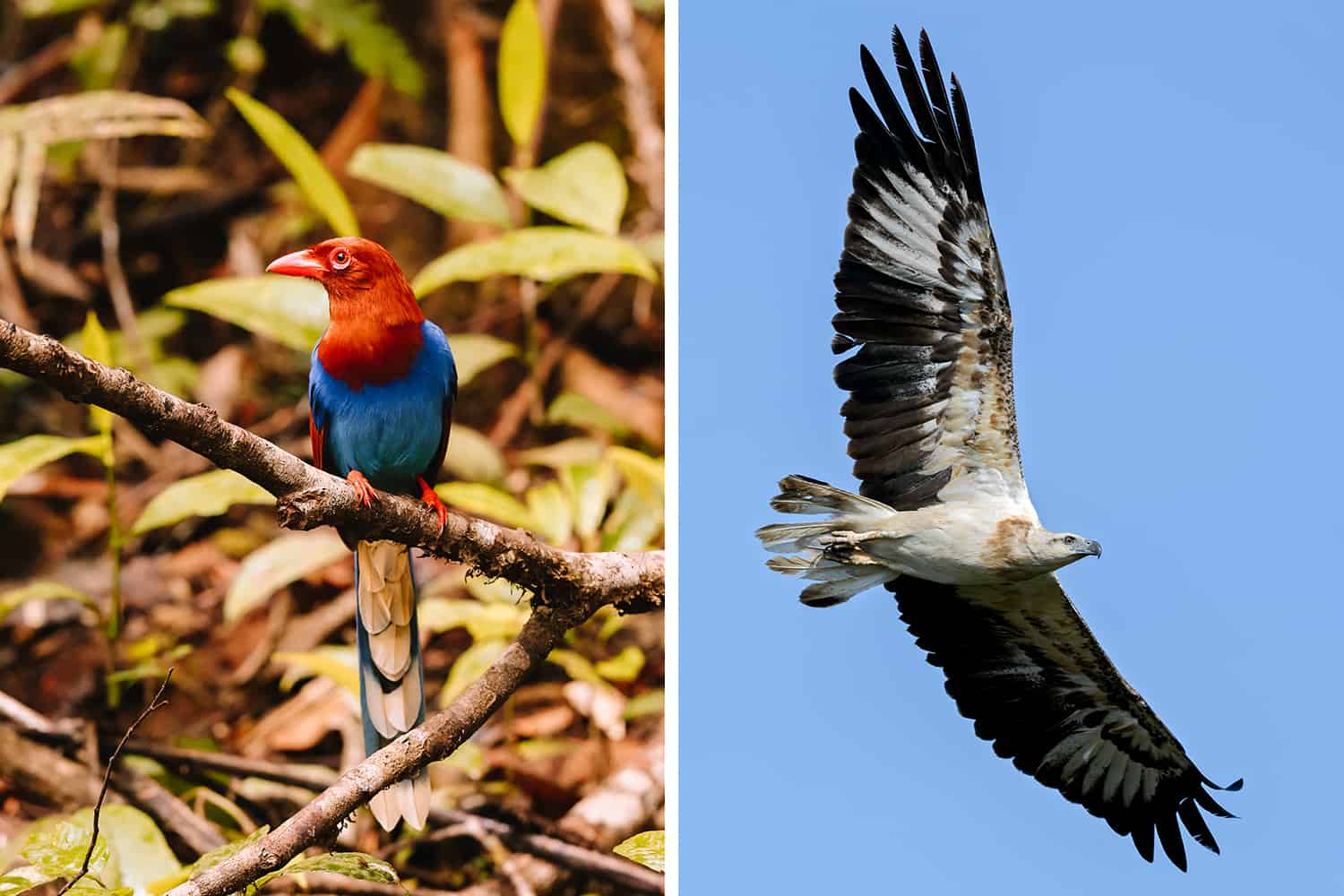 Kumana National Park is located in the Eastern Province, bordering Yala, and is home to around 255 species of birds, both native to the country and those that are migrating. There is no specific season to visit the park if you want to see exotic birds, because they are there all-year round. The best times of the day to visit are either early morning or late evening, when a hundred or more different varieties of birds can be found within the park. One cannot guarantee which type of birds you may see, but you will surely see some exotic and colourful ones from the Glossy Ibis to the common Cormorant. In addition to a variety of bird species, you will also be able to see other mammals, fish, reptiles and amphibians as you travel through the park.
The Bundala National Park in the Hambantota District along the southern region of Sri Lanka, is another hotspot for bird watching, with the recorded number of birds in this area reaching 197. One of the most common and more popular varieties to see here are the Flamingos, which migrate to Bundala in large flocks. The climate in this area gets pretty hot most of the year, and many migrating birds arrive in Bundala during the period of September to March in order to avoid the cold climates in other areas of the world. Pelicans, egrets, and different species of ducks are quite common in this park.
While Kumana and Bundala are the places to see birds of all different varieties, you can also see other types of birds when visiting Horton Plains and Udawalawe National Park.
Peacocks are one of the most beautiful birds in the world, with their exotic, colourful tails and enchanting dances. If you are looking to photograph some of these gorgeous birds, then the place to visit is the south of Sri Lanka, where you may even be lucky enough to see them just outside your hotel room!
The cheeky Toque Macaque
The Toque Macaque or the "Rilawa" as they are more commonly known in Sinhala, are a cheeky cousin of the monkey, endemic to Sri Lanka and which can be found almost everywhere. They live in large groups or communities, with leaders and elders dominating the clan.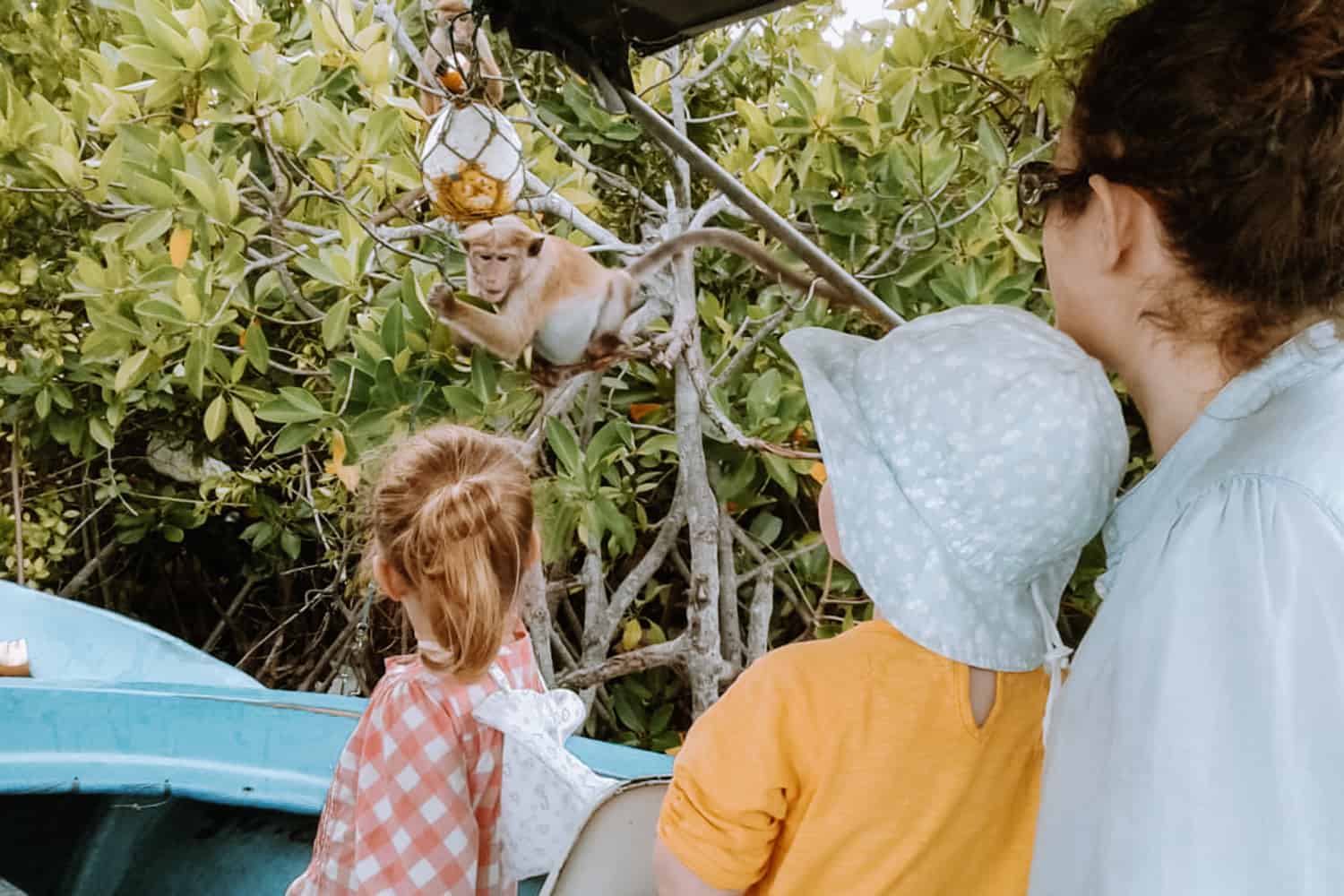 Wherever you go in Sri Lanka, whether it is the dry zone, wet zone or hill country, you will be able to see these macaques, sitting atop trees, running along the electrical wires or simply sitting at the side of the road watching you intently. Be careful of waving food items around though, because they are quick to snatch it away from your hands.
If you are wondering how to recognise them from a standard monkey, it is very easy. They have a cheeky look on their faces and an unkept mop-top of a hairdo! They are of course gorgeous creatures to photograph and their social aspects can be very similar to humans. Don't get too familiar with them though, they are known to take advantage of kindness!
Summary
As you can see the wildlife in Sri Lanka is both diverse and interesting, with so many places to visit and so many things you can do. In addition to the national parks in Yala, Wilpattu, Udawalawe, Kumana and Bundala etc, there are also other places you can visit, such as the Udawalawe Elephant Transit Home and the Pinnawela Elephant Orphanage. In these places you can watch baby elephants being fed, bathed and looked after by the representatives of the Wildlife Department of Sri Lanka. There are also many aviaries and butterfly habitats for anyone interested.
If you are visiting the country on vacation or even a business tour, make sure to make some time to pay a visit to the exotic wildlife. It is an experience like no other!