A casual tour of Sri Lanka's cultural triangle would tell you everything you need to know about the island's centuries-old history and colonial past, but the crushing years of its civil war are a different story. If you would like to unearth this layer of history, consider stopping by the northern city of Jaffna.
My first trip to Jaffna is still fresh in my mind. I remember driving past its ruins before getting to the main town, where vibrant paintings of Hindu deities and popular landmarks decorated the streets.
With the years of the war behind us, Jaffna is now a flourishing city that is home to Sri Lanka's Tamil culture. Though it is not a popular tourist destination, Jaffna's unique identity and role as the former epicentre of the civil war make it a location worthy of a visit.
This week's article spotlights Jaffna. From covering the basics on how you can fit Jaffna into your itinerary, to the best things to do in Jaffna, following Travellers Isle's top picks is your ticket to a memorable stay in the north.
Let us get started!
Weather in Jaffna
The weather in Jaffna is dry and hot. Its average temperatures range from 25°C to 32°C (77°F to 89.6°F), reaching its highest temperatures during the dry season from February to August.
Since heavy rainfall is almost guaranteed during the months of October, November and December, we generally do not recommend touring the region during these three months, which are considered the wet season.
Jaffna is best explored during the dry season. As it gets pretty hot in the afternoons, we advise our guests to leave sightseeing for the mornings and evenings instead.
How Jaffna fits into a Sri Lanka itinerary
Since the north is further away from the airport, heading straight to Jaffna after a long flight is the last thing you want to do. We recommend spending the first night or two close to the airport and kickstarting your tour by sightseeing in Anuradhapura for a few nights before travelling to Jaffna.
You will need 3 nights to experience everything that Jaffna has to offer before heading to Trincomalee. If relaxing at a lovely beach resort in Trincomalee is not your cup of tea, you can travel straight to Dambulla from Jaffna taking a slightly longer route.
Your Jaffna itinerary can be structured as follows:
Negombo (1 to 2 nights)
Anuradhapura (2 nights)
Jaffna (2 to 3 nights)
Trincomalee (3 to 5 nights)
Dambulla (2 to 3 nights)
Kandy (1 to 2 nights)
Nuwara Eliya (1 to 2 nights)
Ella (2 to 3 nights)
Yala (1 to 2 nights)
Bentota (3 nights)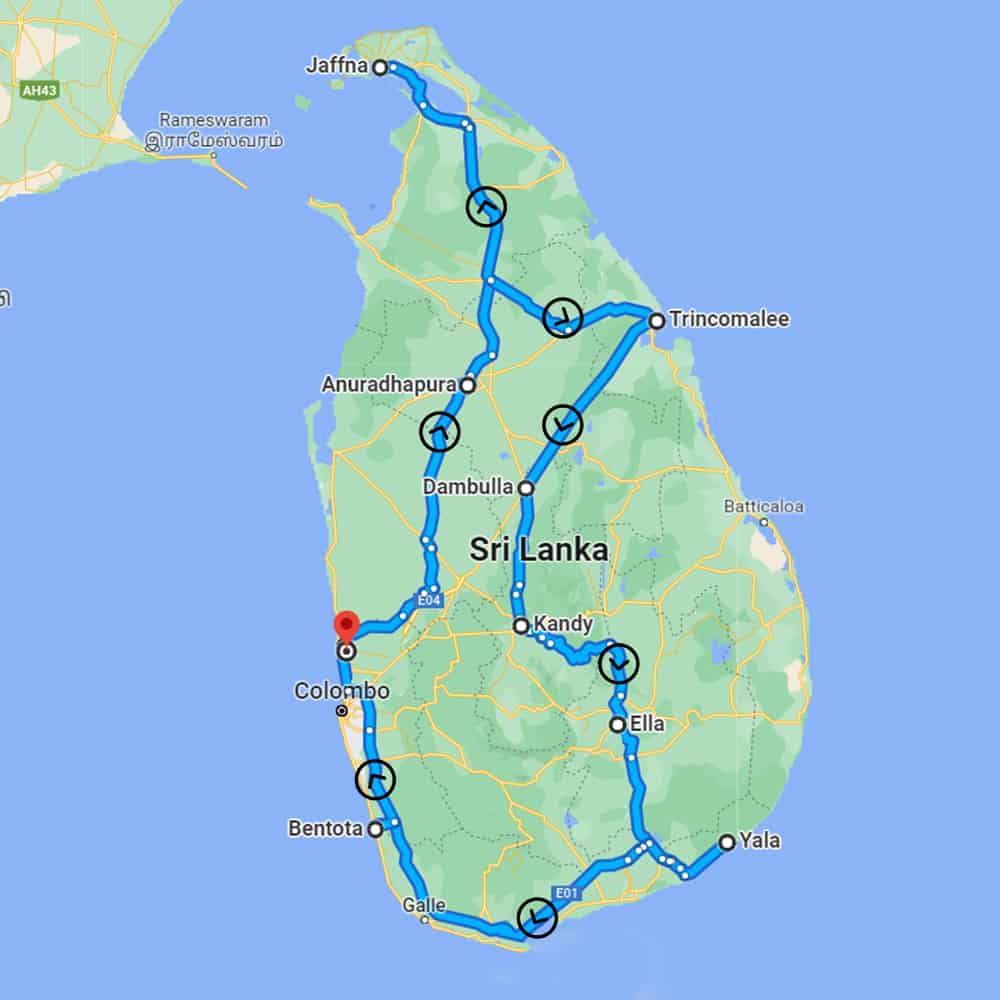 Note - This itinerary is most suitable for the months of July, August and September. In this itinerary, the main beach stay is in Trincomalee. 
Even though July, August and September months are southwest monsoon months, you usually do not see heavy rains on the southwest coast during these three months as you would in May and June. However, the sea will be too strong for swimming and snorkelling.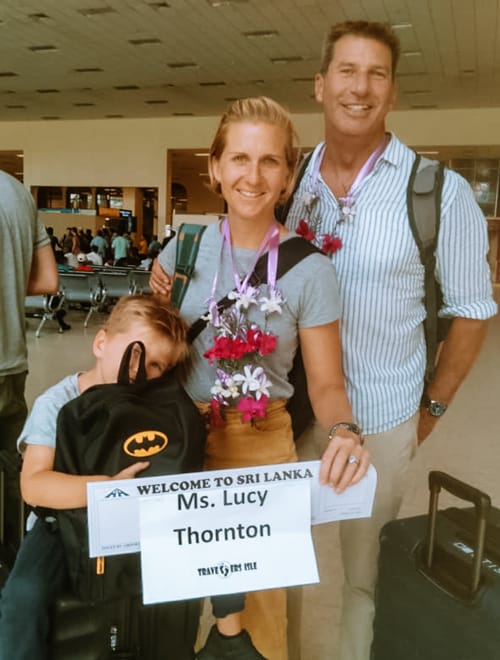 Would you like a Sri Lanka trip like Lucy's?
We had the pleasure of assisting Lucy's family on their two-week holiday in Sri Lanka, and they absolutely loved it. Would you also like a hassle-free family holiday? Please drop us a message specifying your requirements, and we will get back to you with a tailor-made Sri Lanka tour package within 24 hours.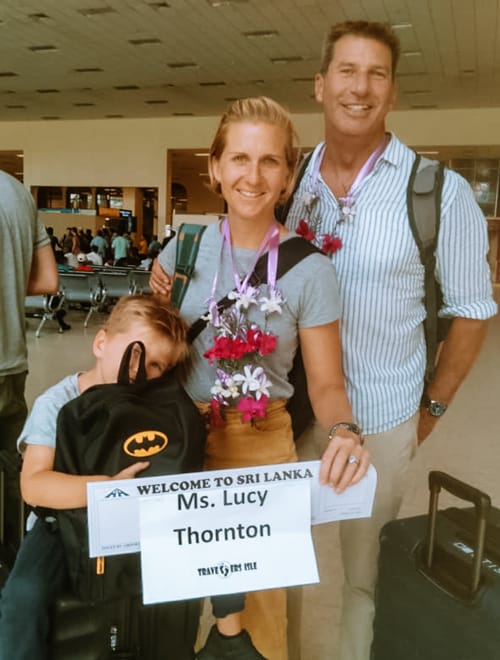 Would you like a Sri Lanka trip like Lucy's?
We had the pleasure of assisting Lucy's family on their two-week holiday in Sri Lanka, and they absolutely loved it. Would you also like a hassle-free family holiday? Please drop us a message specifying your requirements, and we will get back to you with a tailor-made Sri Lanka tour package within 24 hours.
Best things to do in Jaffna
From visiting religious sites to tasting authentic Jaffna cuisine, our top picks for the best things to do in Jaffna will let you experience the vibrant Jaffna town to the fullest. So, let us take a look at what Jaffna has to offer you.
1. Nallur Kandaswamy Kovil
The former capital of the Jaffna Kingdom, Nallur, is home to the Nallur Kandaswamy Kovil. Dedicated to Murugan, the Hindu god of love, war and bravery, this temple offers some valuable insight into Hindu rituals and Tamil customs, which makes it a must-see location on your itinerary.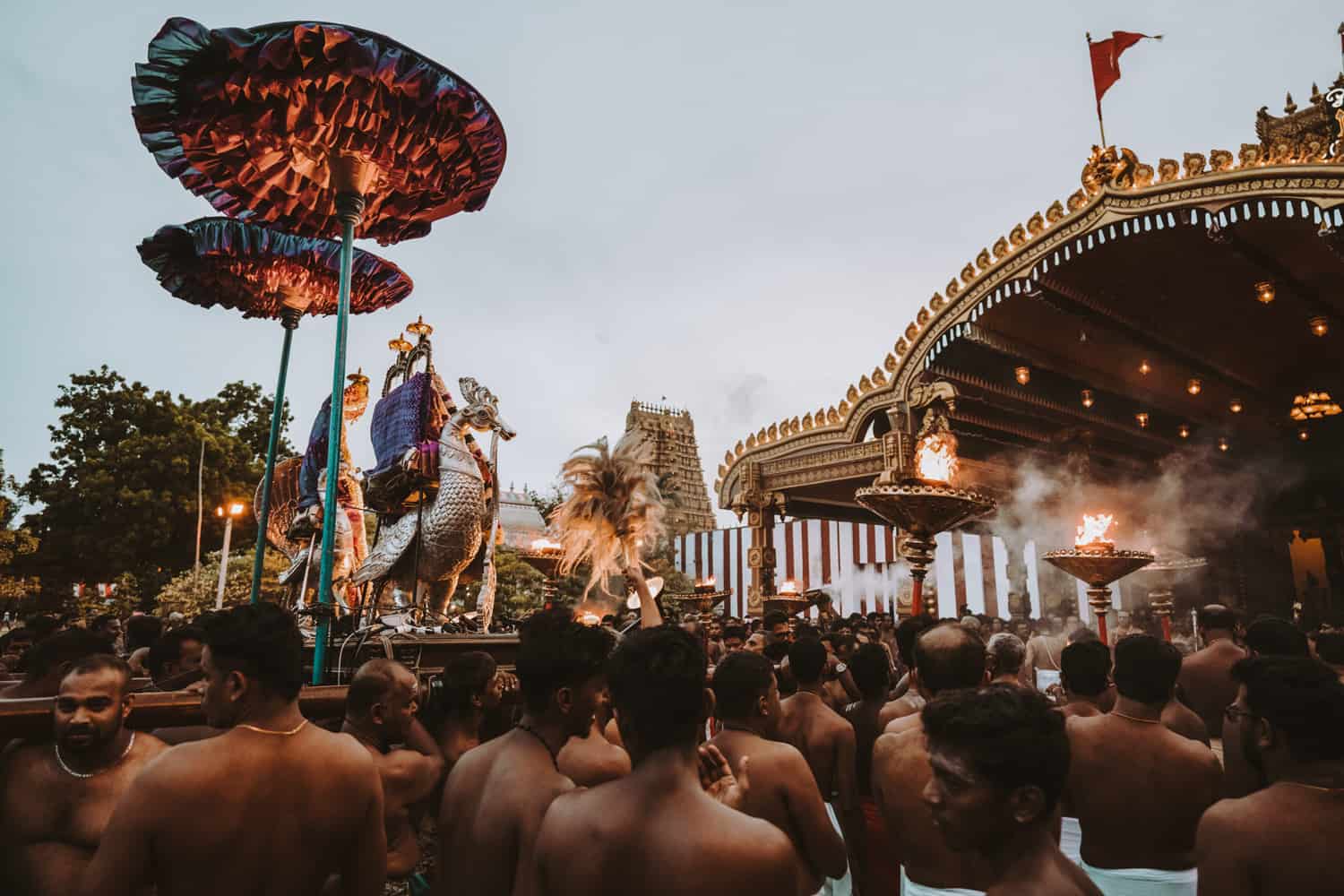 Here is an interesting fact: the temple was destroyed in the 1600s by the Portuguese for the purpose of building a church on the same ground. It was then rebuilt with the permission of the Dutch. Overall, the temple has been reconstructed approximately four times, and it is only a replica of its original structure.
Even so, the Nallur Kandaswamy Kovil temple is a vision of grandeur which features Dravidian architecture and stunning murals of sacred stories from Hindu mythology. As you step inside its halls, you will also see statues of Murugan, Vairavar, Ganesha and other deities being worshipped by pilgrims.
Several things you should keep in mind before entering the temple grounds:
You must comply with the temple dress code. Men are expected to wear trousers or sarongs, keeping their upper bodies completely bare. On the other hand, women must conceal their bare shoulders, arms and legs. You will also have to leave your shoes outside.
In addition, you will not be allowed to film or take photos inside the temple premises. That being said, I can assure you that the temple's intricate architecture and rich interior will stay etched in your mind for a long, long time.
One more thing: the Nallur Kandaswamy Kovil is the busiest in the month of August, which is when its annual festival takes place. If your visit coincides with this time of the year, you will definitely encounter hundreds of Hindu pilgrims travelling from across the island to pay their respects to Murugan. If you dislike crowds, it would be wise to avoid travelling here during August. However, if you would like to learn about Tamil people and their culture, there would be no better time to visit Jaffna.
2. Jaffna Fort
The Jaffna Fort stands as a testament to the island's colonial past. Initially built by the Portuguese in 1619, it passed into the hands of the Dutch (in 1658), who renovated its structure. It was then seized by the British (in 1795), who remained in control until Sri Lanka gained its independence in 1948.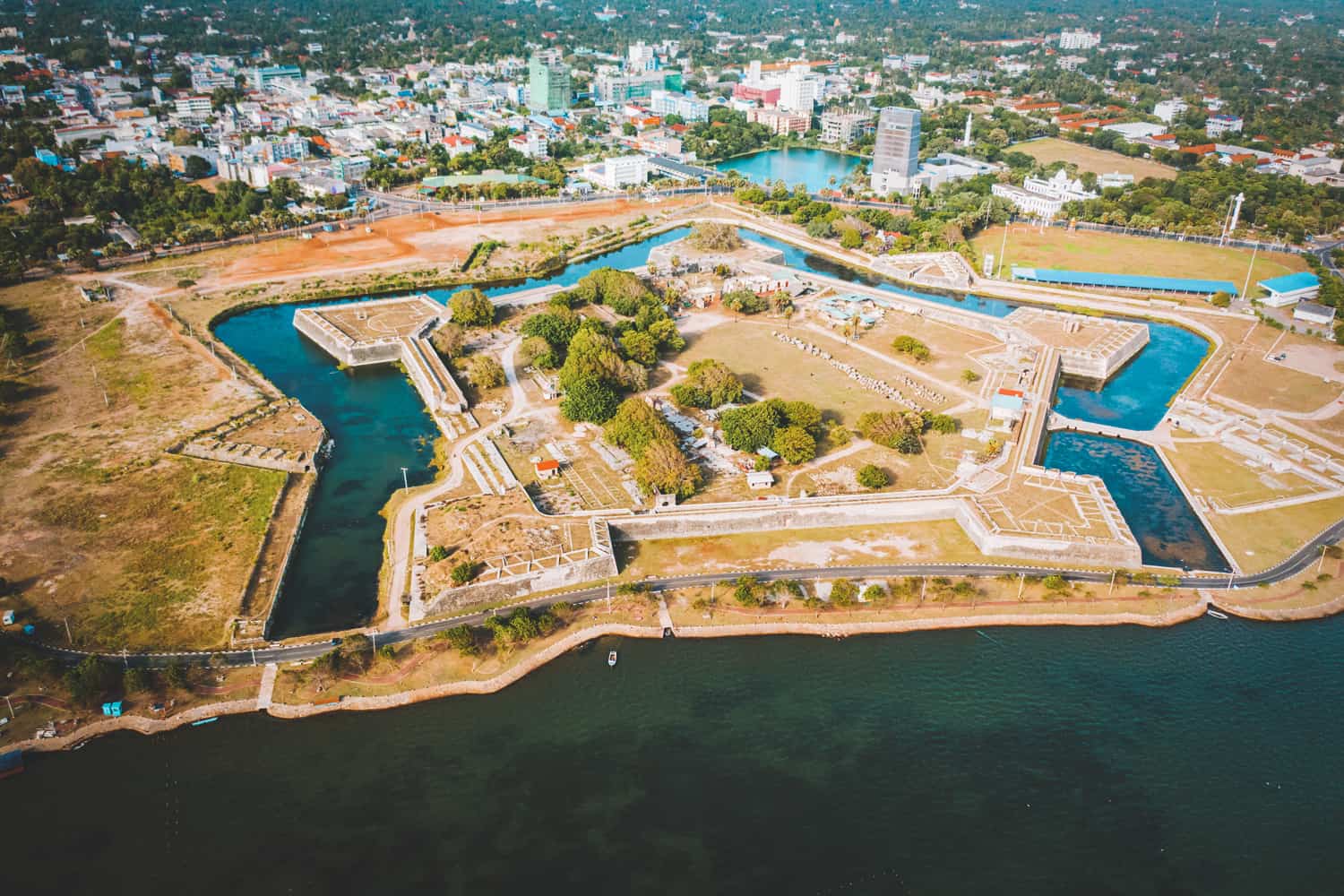 As of 2022, the fort is recognized as a landmark with a centuries-old history and a recent past of racial conflict. Though several sections were destroyed during the civil war, state-sponsored reconstruction has allowed for many of its ruins to be restored to their former glory.
And so, it is hardly a surprise that many think of the fort as a longstanding symbol of the battles which Sri Lanka has weathered through.
Truth be told, the Jaffna Fort pales in comparison with the Galle Fort on the southwest coast. Not only is it smaller in size, but it also lacks the hustle and bustle that the Galle Fort is known for. But what it lacks in activity, the Jaffna Fort makes up for in architecture.
Built using limestone and coral, the defensive walls and moat give the fort its unique pentagonal shape. Within its walls, you will find open grounds and buildings which have definitely seen better days. And since this is the second largest Dutch fort in the country, you should be prepared to walk around and explore everything it has to offer at your own pace.
Although it is open from 7.00 am to 6.00 pm, mid-noon visits are out of the question because of the blistering heat. Travellers Isle recommends stopping by in the early morning or late afternoon for a leisurely stroll.
3. Keerimalai Pond
One of my biggest pet peeves is travelling in sweat-soaked clothes, and I am sure that most travellers would feel the same way. With temperatures in the north reaching an all-time high during the dry season, taking a dip in Keerimalai Pond is one of the best things to do in Jaffna to cool down from the heat.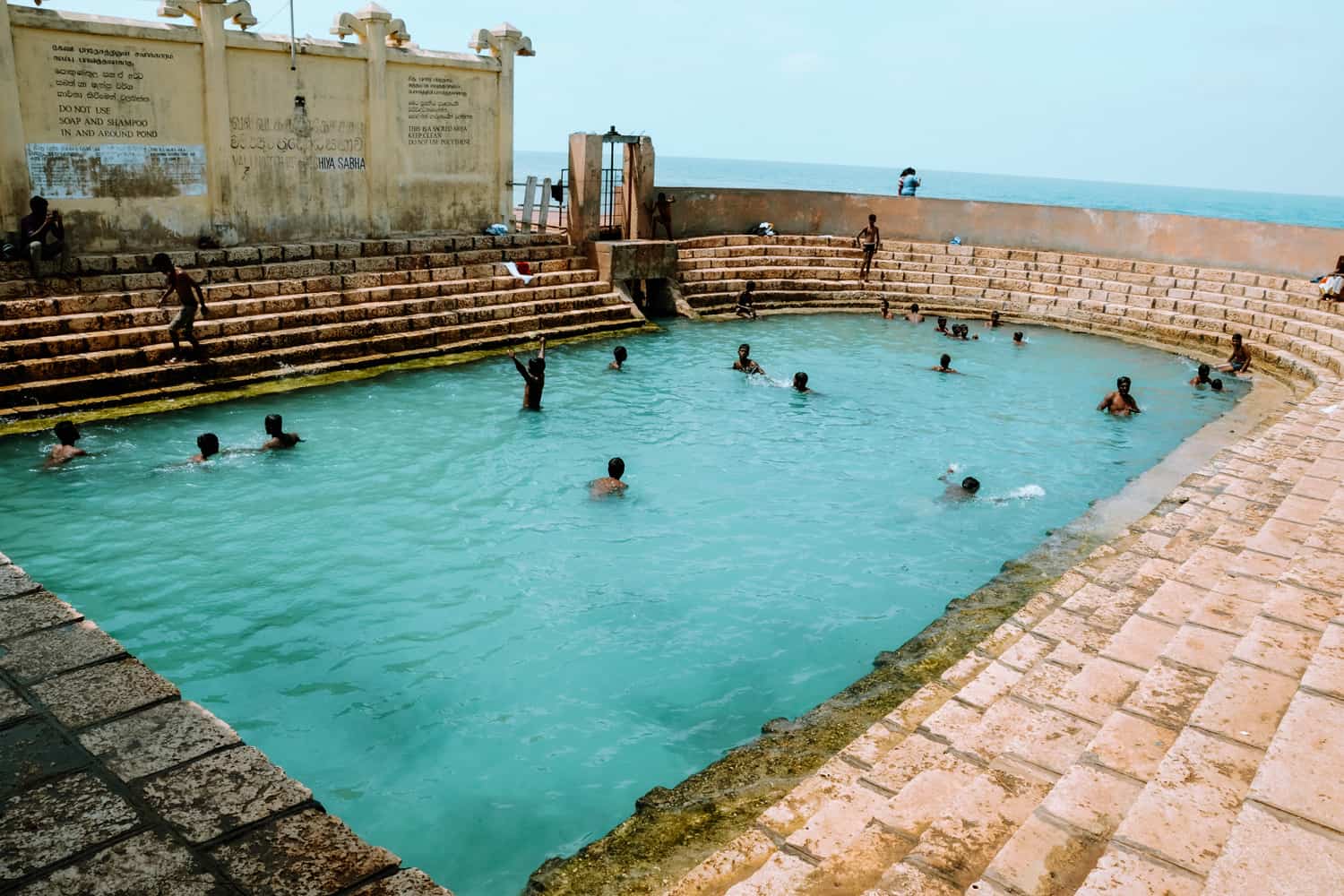 This freshwater spring combines the tranquil atmosphere of its nearby temple with a refreshing sea breeze. This is hardly a surprise, as the only barrier which separates it from the sea is a stone wall.
Although Keerimalai Pond looks like an ordinary pool of water, it is actually revered by the locals for its healing properties. A dip in its cooling waters is believed to cure skin infections and other illnesses. So, do not be surprised if you see locals who have travelled from across the island to be blessed by its divine powers.
As it is a part of the Keerimalai Naguleswaram temple complex, the pond has been divided into two sections for men and women to bathe separately. You will also see many pilgrims bathe in its waters before stopping by the kovil.
4. Dine at Malayan Café
If you are a foodie like me, trying out authentic Jaffna cuisine at Malayan Café will be one of the highlights of your stay. Established in 1951, this eatery is a popular stopover among travellers who wish to fill their stomachs with a hearty meal before continuing their journey.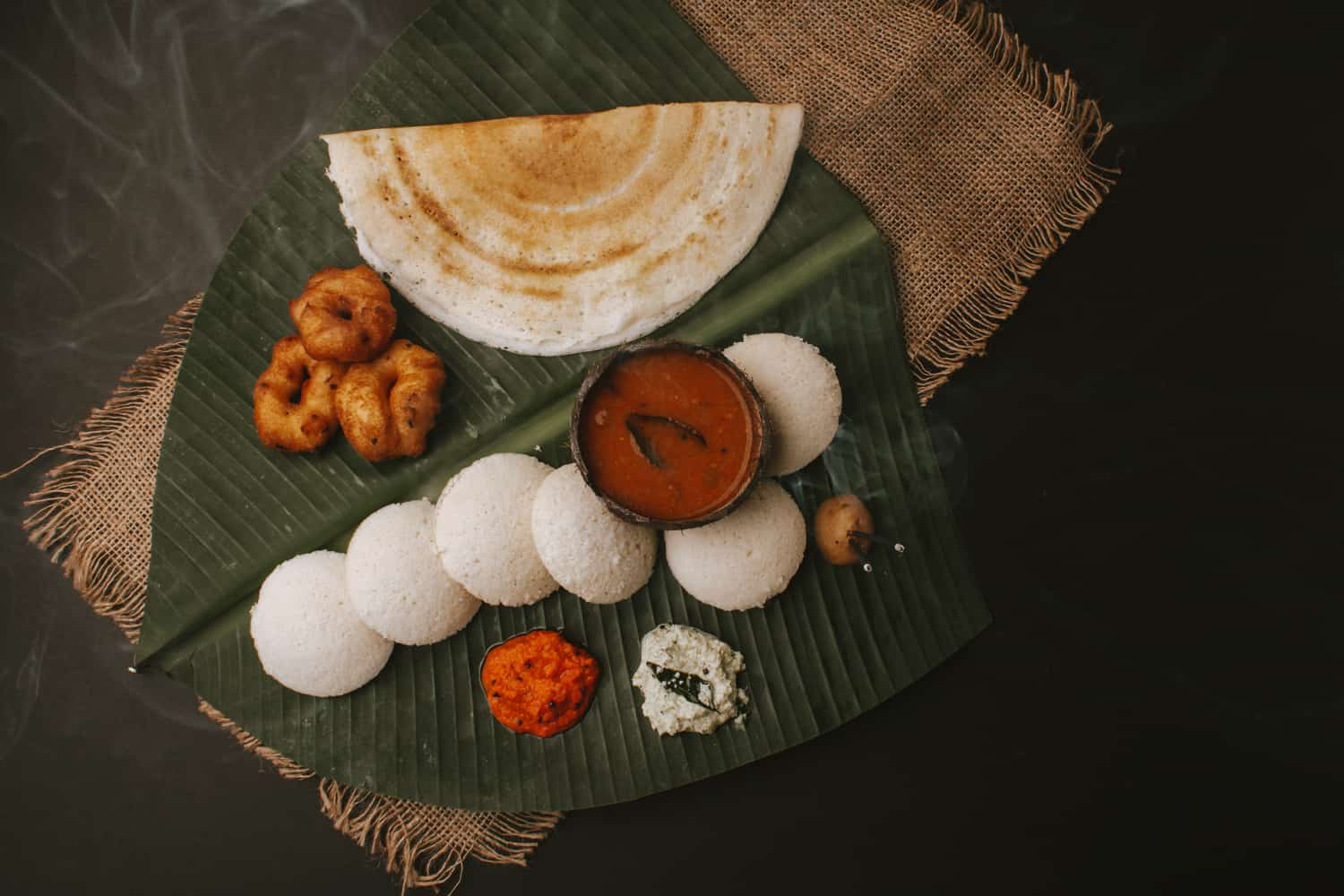 Malayan Café is different from the average Sri Lankan restaurant. Its menu is exclusively vegetarian Jaffna cuisine with South Indian influences, and its dishes are served on a banana leaf. From idli to vadai and roti to rice, the possibilities are endless—and so are its refills, which are completely free of charge!
You may experience some difficulty in placing your order because of the language barrier. But I can assure you that the workers will do their best to understand you.
Once you have placed your order, a server will come around and ladle out some curries and sambols onto a banana leaf. After finishing your meal, you must wrap up the food waste in the leaf and slide it into the garbage chute.
Using a fork and spoon at Malayan Café is out of the question. Its milky curries and spicy sambols can only be enjoyed when they are mixed well with the main dish. So, when in Sri Lanka, do as the Sri Lankans do and eat with your bare hands. Etiquette suggests you eat with the right.
5. Jaffna Market
There is no end to the hustle and bustle of the city streets, and at the centre of it all is the Jaffna Market. With its vibrant colours and makeshift booths with locals selling fresh produce, the market offers insight into life in Jaffna.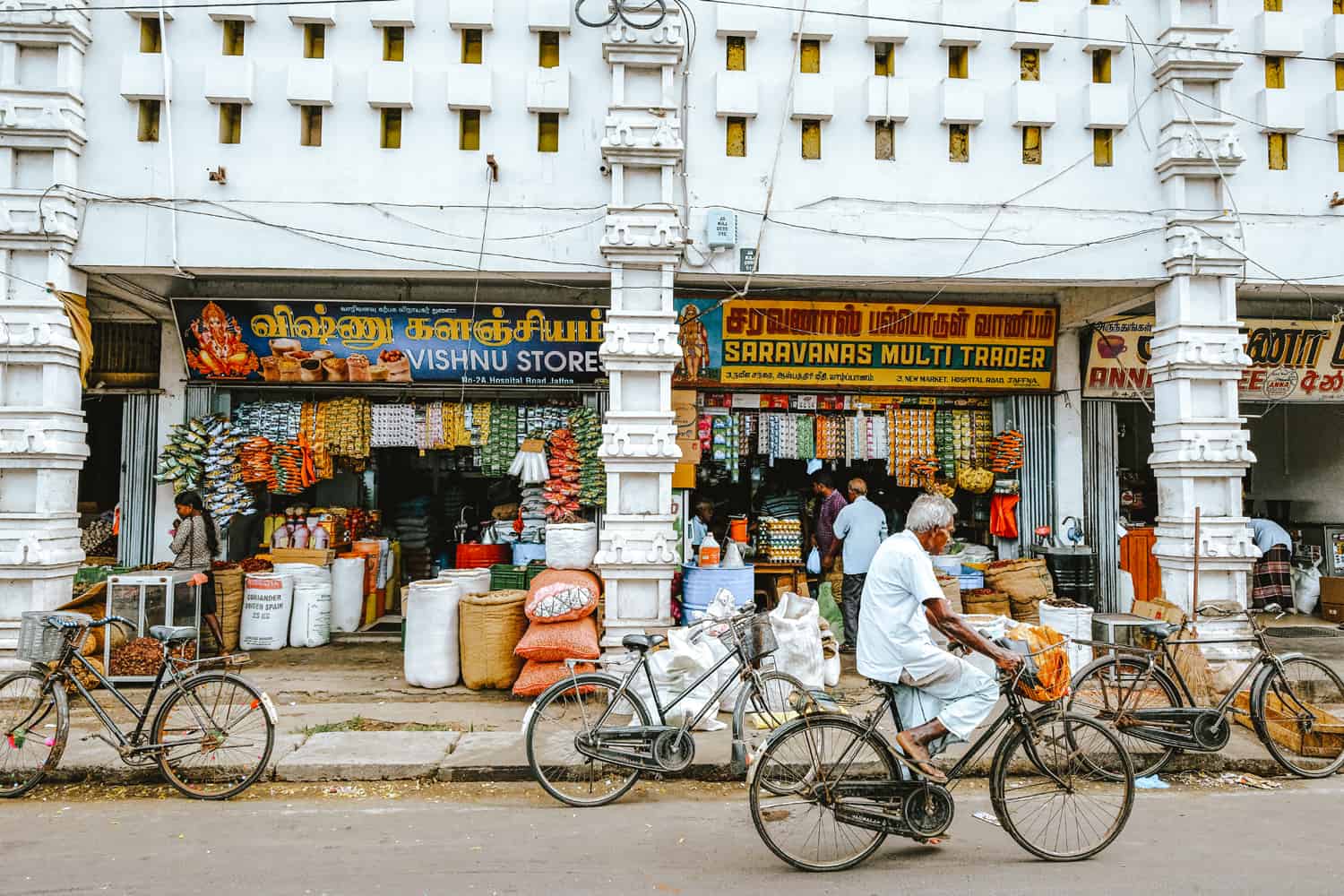 If you have been to the Colombo markets, you may have noticed how fruit and vegetables are transported from other parts of the country to be sold in the island's commercial capital. The Jaffna Market operates differently—in fact, only crops grown from the north are sold here. And so, you will come across many booths containing fresh fruit, vegetables, herbs and spices, and several sweets produced within Jaffna itself.
Before you get your hopes up, I must tell you that the Jaffna Market is not the place for souvenir shopping. If you are travelling with a guide, they will take you here in the morning simply to observe the locals at work.
6. Rio Ice Cream
With its average temperatures fluctuating between 25°C and 32°C (77°F and 89.6°F), it goes without saying that the heat in Jaffna is unbearable. And what better way of cooling down than having some local ice cream?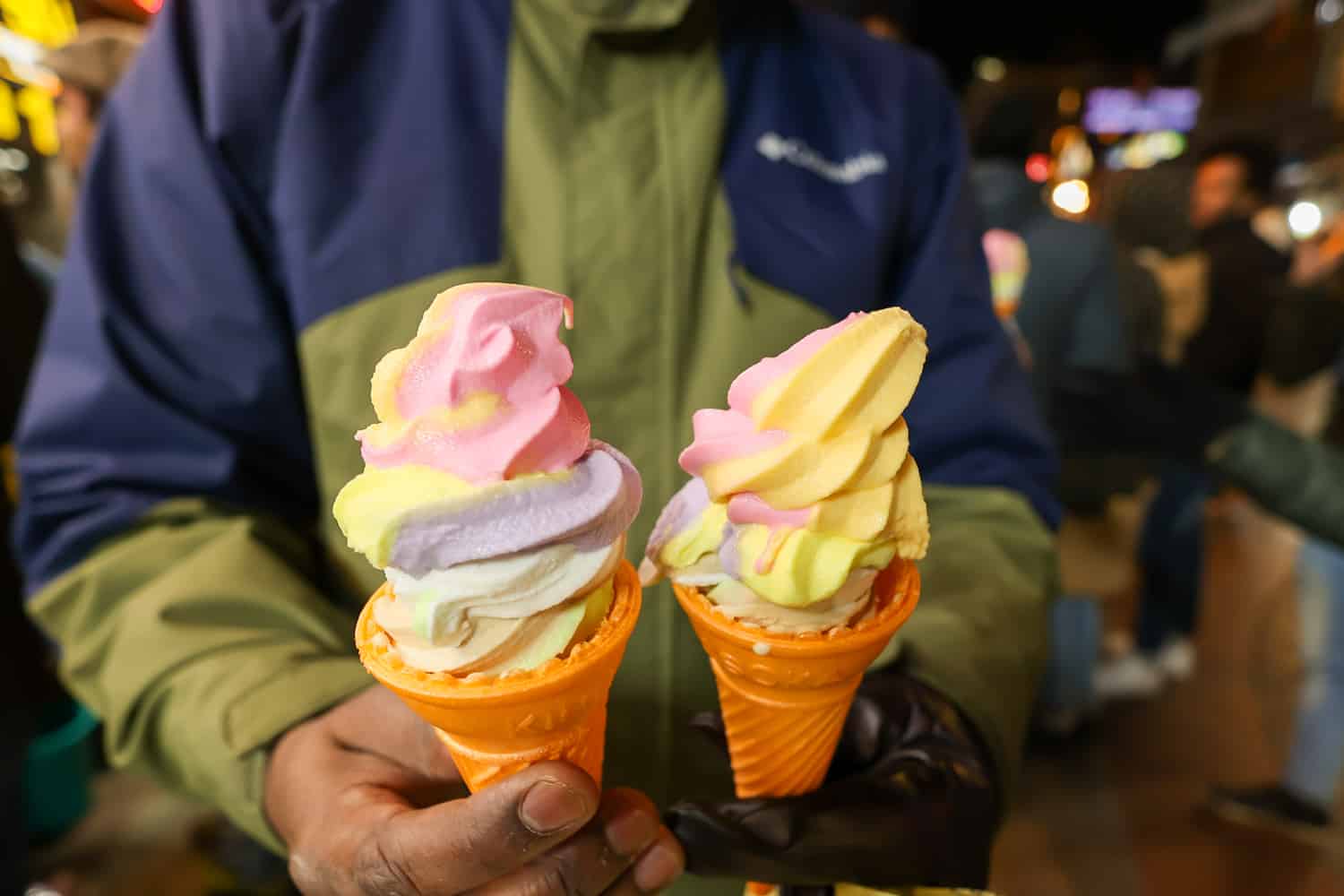 Rio Ice Cream is a favourite spot among our guests, and it does not come as a surprise that many stop by to enjoy some ice cream before moving on to the next activity on their itineraries.
Its menu includes ice creams, milkshakes, fruit-salads, sundaes and short-eats—a vast selection which is guaranteed to tantalize your tastebuds. If you want to try something different, you can even order an ice cream and chocolate brownie dessert combo on a hot plate.
One of the many things I like about Rio Ice Cream is that their generous portions come at affordable prices, which will not put a strain on your wallet. And sinking your teeth into some fresh ice cream and letting it melt on the tip of your tongue after braving the blistering heat outside feels heavenly.
I must warn you that this shop gets a little crowded at times. Since everyone wants to cool down from the heat, there is a good possibility that you may have to wait before digging into your dessert. It is worth the wait, take my word for it!
7. Delft Island
After watching the festivities underway at the Nallur Kandaswamy Kovil and trying out authentic Jaffna cuisine, you might be in the mood for a small adventure. If so, you can catch a bumpy one-hour boat ride from Kurikadduwan Pier to Delft Island.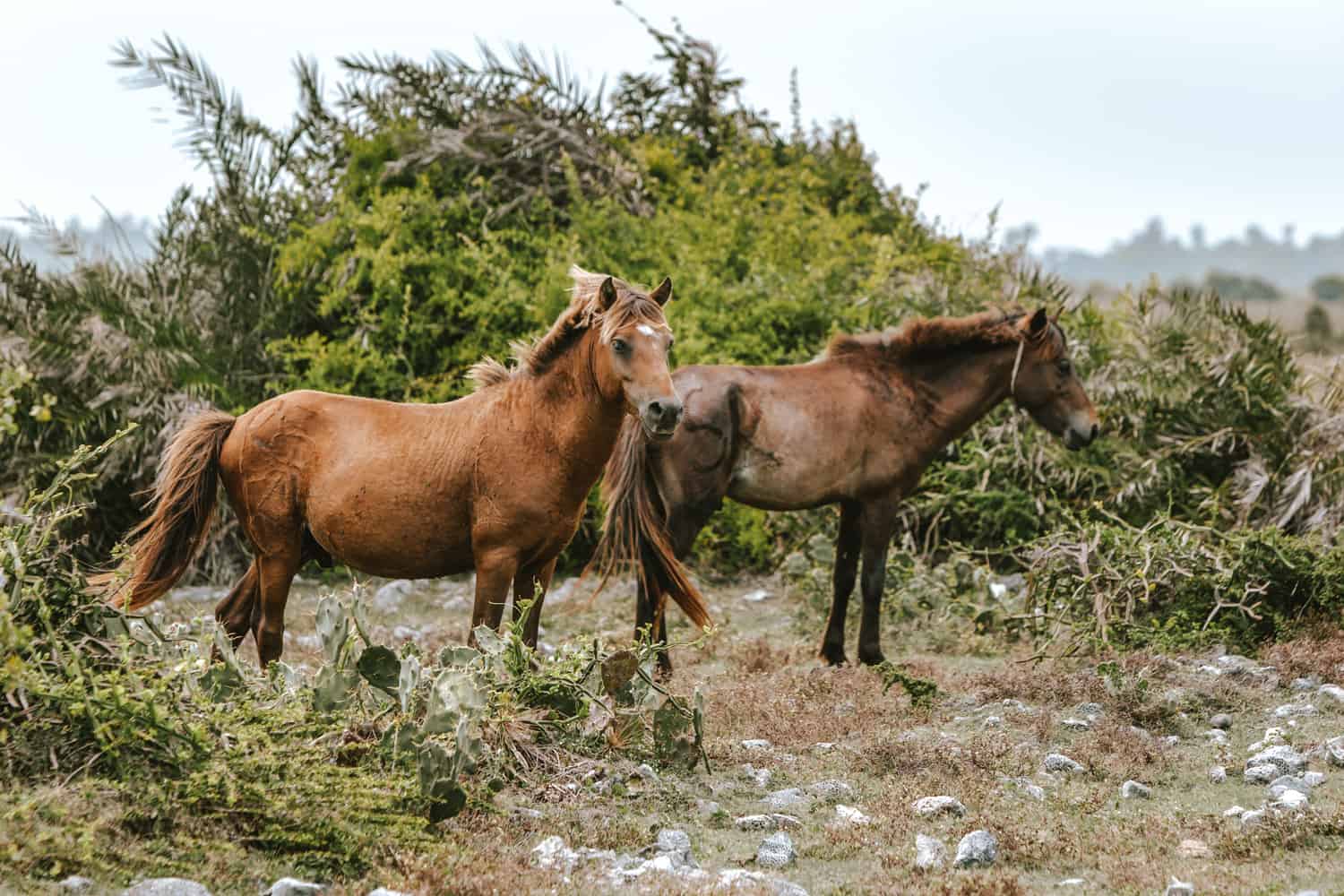 Locally known as Neduntheevu, Delft Island is home to a small population of Tamil civilians. Among travellers, however, the island is known for three things: its historical ruins, baobab trees and its wild horses.
The ruins of the island include a 1000-year-old temple built in the Chola dynasty and the more recent ruins of a smaller Dutch colonial fort. Exploring these remnants of history is best done at your own pace with a leisurely stroll in the surrounding greenery.
Aside from this, you are bound to see some baobab trees in passing. Although these trees are native to Africa, they were brought over to Sri Lanka by Arabian sailors a few centuries ago, and they seem to have made a home for themselves on this island.
One other feature of this island which stands out is its vast population of horses. These feral animals were brought over by the Dutch about 400 years ago, and today, they can be seen frolicking in the grasslands. Have your cameras ready to capture some fantastic shots of these majestic beasts roaming the landscape.
8. Nainativu Island
While a visit to Delft Island is a laidback experience enjoyed by all, you may wish to make the most of your stay in Jaffna by visiting its religious sites. If so, a 45-minute boat ride is all it will take to get to Nainativu Island, which is home to the Nagadeepa Purana Viharaya and the Nagapooshani Amman Kovil.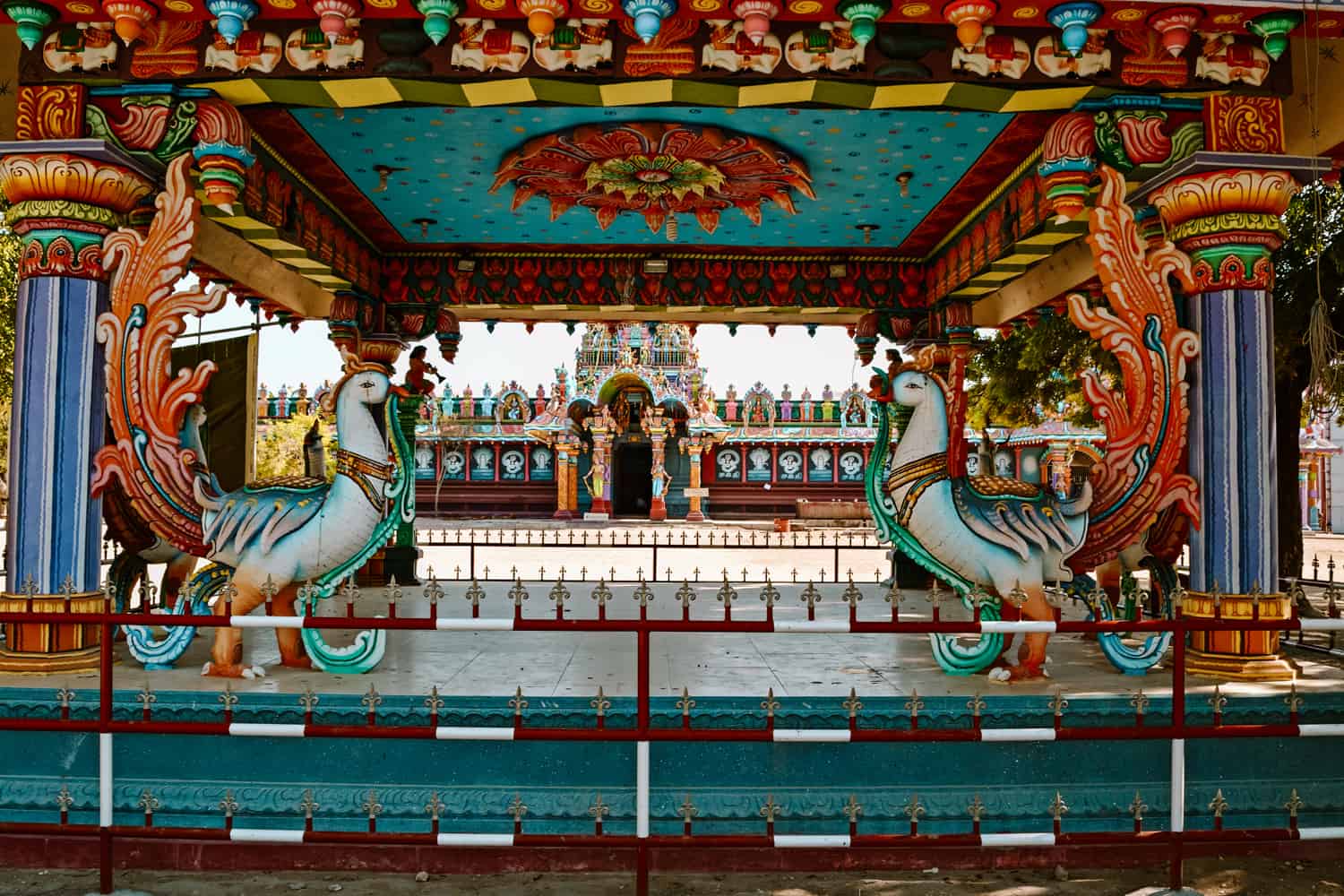 The first jetty on the island leads to the Nagadeepa Purana Viharaya. Legend has it that Lord Buddha visited the temple grounds to resolve a conflict between two Naga kings, and so, the temple is viewed as one of the most sacred Buddhist shrines in the country. Historically, the renovation of the temple is credited to King Devanampiya Tissa and King Dutugemunu.
The second jetty is a path to the Nagapooshani Amman Kovil. This Hindu temple is dedicated to Parvathi—the goddess of motherhood and beauty. Much like the Nallur Kandaswamy Kovil on the mainland, this kovil is a replica of its original which was destroyed by the Portuguese in the 17th century.
As per custom, you must comply with the temple dress code to enter these religious sites. Women are expected to conceal their bare shoulders, arms and legs, whereas men must wear either trousers or sarongs. When visiting the kovil, men are asked to keep their upper bodies completely bare.
Travellers Isle recommends catching a boat in the early afternoon. This will give you ample time to explore both of these temples. However, since boat rides operate only until 6.00pm, you must head back to either of the jetties in time to take the last boat back home. If you are late, you will have to pay a higher rate and board a fishing boat to get back to the mainland.
9. Casuarina Beach
To say that you would enjoy plunging your feet into the powdery white sands of this beach—just in time for its mild waves to tickle your toes—would be an understatement. Casuarina Beach is the most beautiful beach in all of Jaffna, and I would say that it is the perfect place to unwind from your adventures.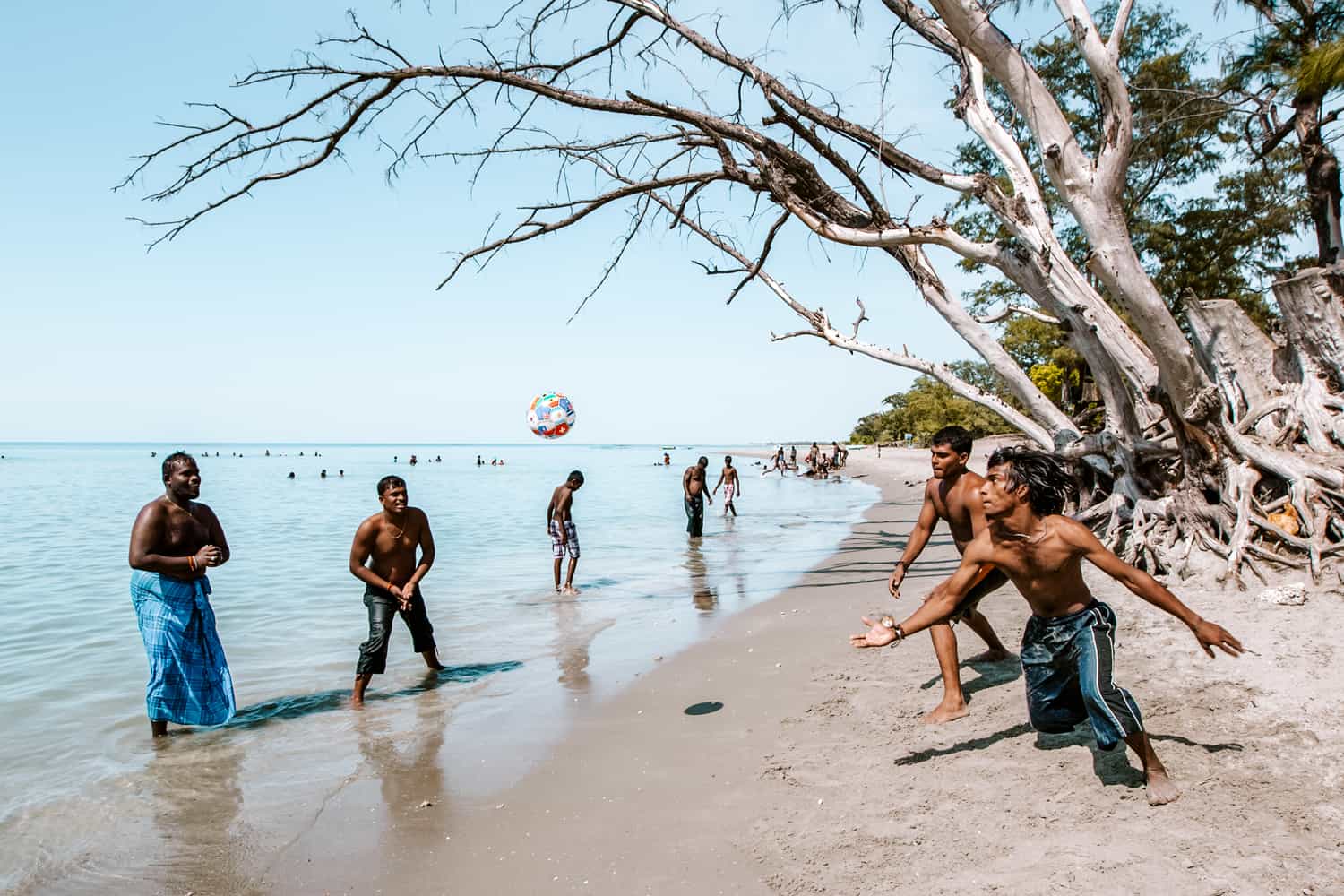 Although it is not popular among travellers, the waves of Casuarina Beach are not too strong. This makes it ideal for swimming as your chances of getting caught in a rip-current are extremely low. The beach is NOT ideal during Jaffna's wet season, which is when the seas are rough.
The beach's lack of popularity also means that it is not likely to be crowded, so you will not have to worry about being disturbed while you kick back and relax.
Truth be told, our guests do not usually stop by this beach either, so our knowledge of what you can do here is pretty limited. However, we recommend taking a dip in its waters to cool down when Jaffna's temperatures are at an all-time high.
10. Try toddy
If Japan has a reputation for its sake and South Korea is recognized for its soju, then Sri Lanka is better known for its thal-raa or toddy. This sweet alcoholic beverage is in high demand but its production is limited for several reasons.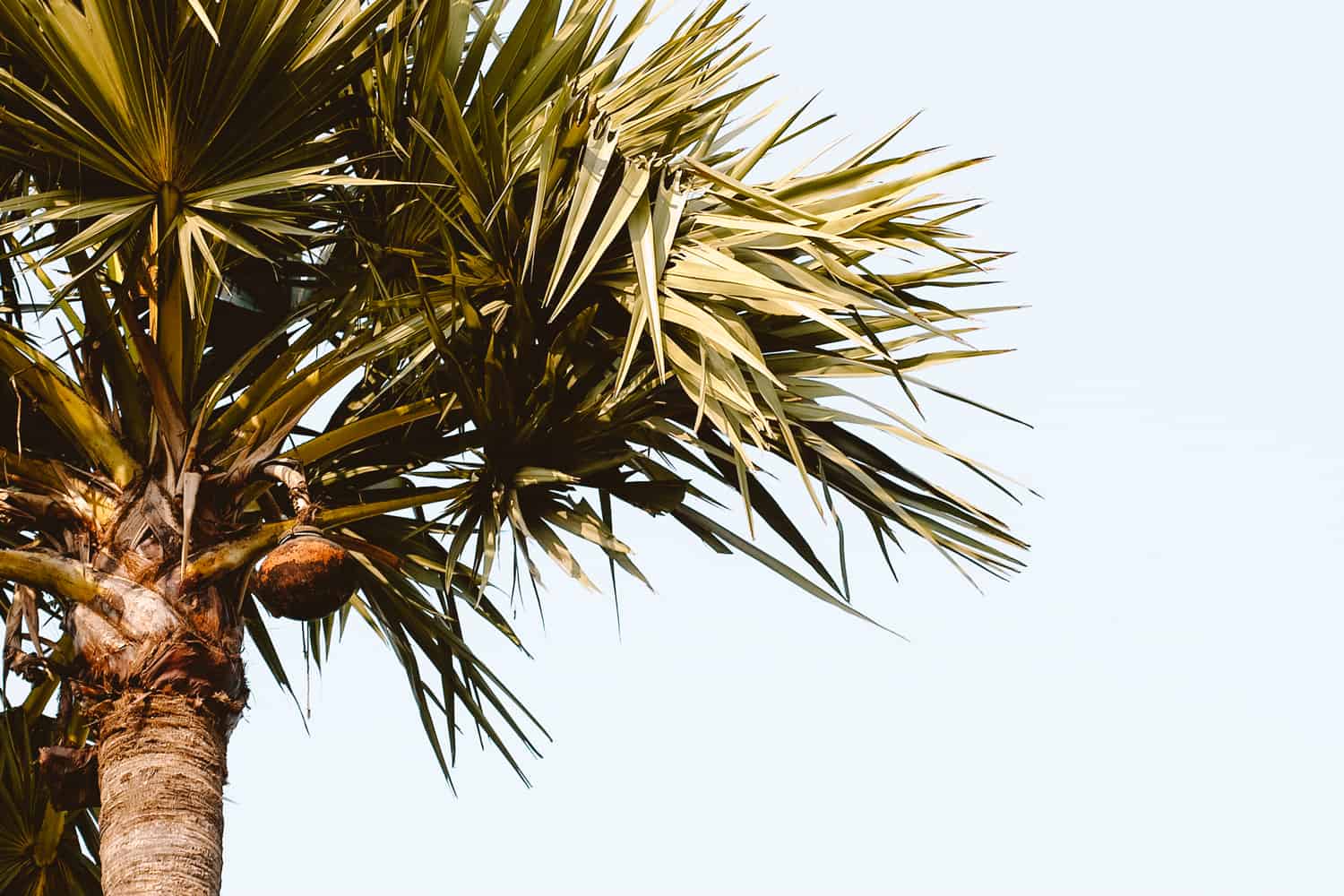 One reason is that the art of toddy tapping is extremely risky. For three days, the toddy tapper must climb up a palmyra palm to tap or beat its flower and balance himself on a tightrope as he moves from one tree to the other. On the third day, he collects the sap, which becomes toddy in just a few hours because of natural fermentation. 
Since toddy is not sold in the Jaffna Market, tasting this drink is only possible through a toddy distributor. Even then, you cannot purchase any bottles to carry with you on your travels. So, what can you do? Well, you can take a sip of toddy from a plastic cup under the guidance of the distributor themselves. 
If trying toddy is on your to-do list of things to do in Jaffna, Travellers Isle encourages you to ask either the hotel staff or your tour guide for help. With their experience, they will be able to make the necessary arrangements for you to enjoy toddy before continuing your tour of Sri Lanka. 
Is Jaffna worth visiting?
Jaffna is definitely worth visiting. Although it is not as popular among travellers, its rich history, religious sites, and thriving community will give you a newfound appreciation for Sri Lanka's Tamil culture.
If you ask me, a cultural tour of Sri Lanka is just not complete without paying a visit to Jaffna for a couple of nights. From stopping by Malayan Café and the Jaffna Market to taking a dip in Keerimalai Pond and observing Hindu customs at the nearest kovil, be sure to do it all!
I hope this week's article on the best things to do in Jaffna helps you plan out your adventure. As always, do not hesitate to get in touch with us if you need some extra help in understanding the ins and outs of planning the perfect Sri Lanka itinerary. We at Travellers Isle are looking forward to helping you with your Sri Lanka trip.
Happy Travels!