December is one of the best months to visit Sri Lanka. However, there are plenty of ways to go wrong planning a tour in December. You need to have a good understanding of the weather patterns, routes, travel times and the excursions to get it right.
If you would like to get a free personalized itinerary for your December Sri Lanka tour, drop us a message specifying your requirements. For those who prefer to do your own research, I can assure you this article will be an excellent resource.
The key areas that we cover in this article are below. If you want to jump to any of these topics, click on them.
Weather patterns of Sri Lanka in December
Sri Lanka is a tropical country. There is no snow. The temperature is fairly even throughout the year (average temperature is 27 °C). The main aspect of the weather that you need to pay attention to when planning a Sri Lanka itinerary is the rainfall.
The rainy weather in November starts to fade towards December in Sri Lanka. The gradually decreasing rainfall comes to an end in mid-December. However, the north and the east coasts continue to receive rain during the entire month.
In December, the south and west coast beaches are nice, sunny, and calm, while north and east coast beaches are rainy with strong waves.
If you can travel anytime in December, I would encourage to travel in the second half of December to enjoy great weather during your tour.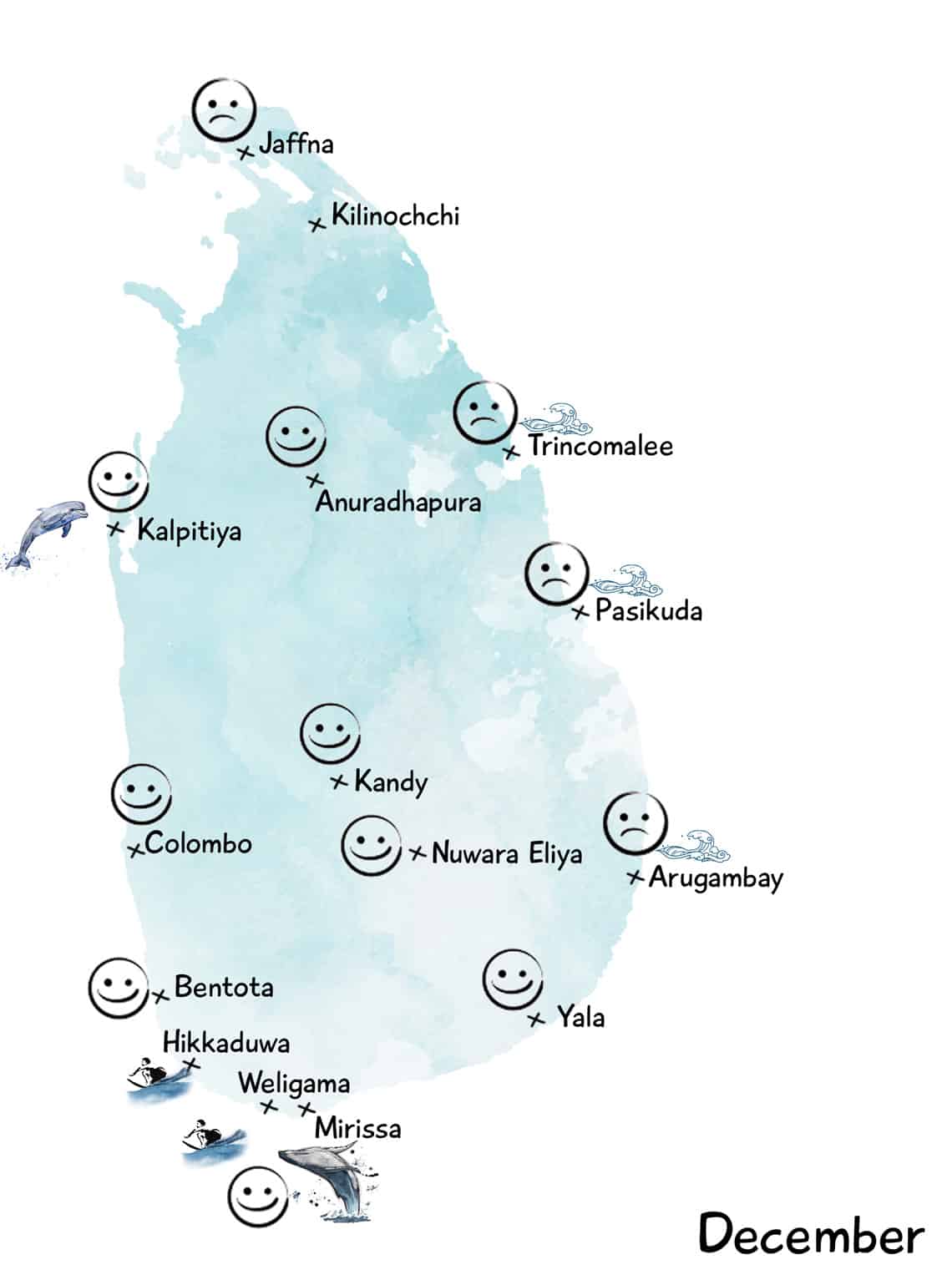 We offer free itinerary consultation. Drop us a message specifying your requirements to get a free tailor-made itinerary for your Sri Lanka adventure.
Guidelines for a December Sri Lanka itinerary
It is a myth that there are universal itineraries for Sri Lanka tours. There are so many things that you need to look into when planning an itinerary, such as tour duration, flight times, weather conditions of the month that you travel, your interests, the ages of the children participating the tour and your budget.
It is impossible to provide itineraries that cover all the use case scenarios. Here I am giving you few guidelines to follow when planning your Sri Lanka itinerary. This will help you to customize an itinerary, if you would like to modify the itinerary given in this article.
1. Use a clockwise circular path to cover the locations.
This way you can plan the beach stay of your tour towards the end of the tour in a south or west coast beach.
As mentioned earlier south and west coast beaches have the best weather conditions in December. It is important to plan the beach stay towards the end of the tour, as the travellig part of your Sri Lanka tour can be a bit tiring.
We generally recommend below route for the tours during the period December to April. Check the sample itinerary to get an idea how you can modify this route according to the number of days that you have for the tour.
Airport
Negombo
Anuradhapura
Dambulla
Kandy
Nuwara Eliya
Ella
Yala / Udawalawe
Galle
Bentota (or any other down south beach)
Colombo
Airport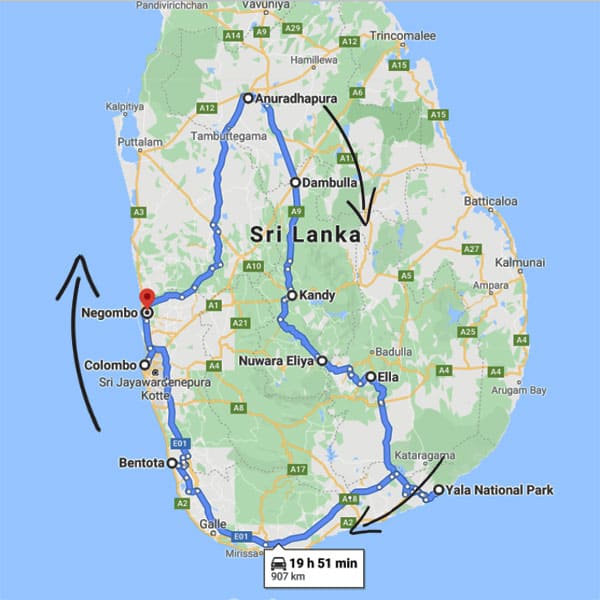 2. Spend the first night in Negombo or Colombo.
Unless you are travelling from a neighbouring country, you will be bit jetlaged when you arrive in Sri Lank. We recommend spending the first night somewhere close to the airport. This way you do not have to travel for hours right after a long flight.
Our pick for the first night in Sri Lanka is Negombo. It's just 30 minutes away from the Bandaranaike International Airport and has a nice beach where you can relax.
The capital of Sri Lanka, Colombo is the second best choice, which is about 1 hour away from the airport.
3. Minimize the number of one-night stays
Try to minimize the one-night stays as much as possible. There is nothing worse than having to pack and unpack luggage everyday during a tour.
E.g. – According to your 10 days Sri Lanka itinerary, if you are sleeping in 6 different locations, I doubt it will be a very relaxing holiday.
Sample itinerary for December
Below is the summary of the itinerary that we especially designed for a December Sri Lanka tour.
As you see, I did not include Jaffna, Trincomalee, Pasikuda or Arugambay to the itinerary as these locations tend to be rainy in December.
All of these excursions are very easy to arrange, so even a person who cannot afford a travel agency can enjoy this tour. It includes a mix of history, culture, nature, and relaxation to satisfy a broad audience. If you need assistance to customize it drop us a message specifying your requirements.
Note – You may use the below itinerary for tours in January, February, March and April without any problem.
| | | |
| --- | --- | --- |
| Day | Overnight stay | Excursions |
| Day 1 | Negombo | Rest |
| Day 2 | Dambulla | Negombo fish market visit, Dambulla cave temple |
| Day 3 | Dambulla | Polonnaruwa, Minneriya |
| Day 4 | Kandy | Sigiriya, Kandy Temple of the Tooth |
| Day 5 | Kandy | Peradeniya Botanical Garden, Kandy city tour, Dance show |
| Day 6 | Ella | Ramboda waterfall, Tea factory visit |
| Day 7 | Ella | Little Adams Peak, 9 Arch Bridge |
| Day 8 | Unawatuna | Ravana waterfall, Beach time |
| Day 9 | Unawatuna | Beach time |
| Day 10 | Unawatuna | Beach time |
| Day 11 | Unawatuna | Beach time |
| Day 12 | Departure | |
Here is the detailed version of the above itinerary. If you need to know even more information on the locations and excursions mentioned in the itinerary, follow the links given in the itinerary description.
DAY 1 – AIRPORT / NEGOMBO
You will be probably bit tired after your flight. Choose Negombo as your first destination in Sri Lanka. It is a small fishing town near the airport where you can spend the day relaxing in your hotel.
If you like you may take a walk in the streets of Negombo, go to the beach or try some fresh seafood while you are in Negombo.
(Travel time from Airport to Negomobo – 30 minutes)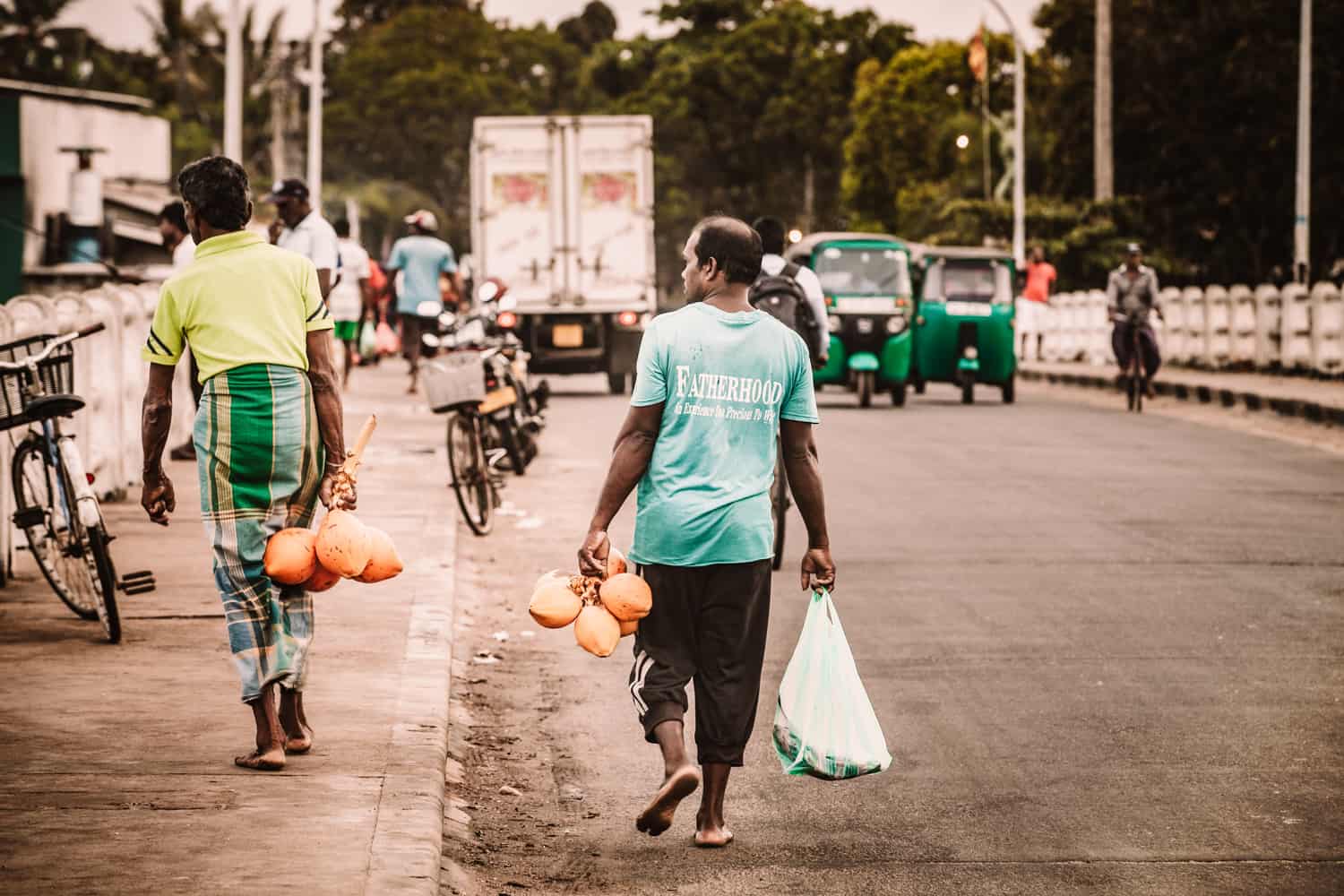 Day 2 – NEGOMBO / SIGIRIYA
In the morning of day 2, visit the Negombo fish market. The chaos of the fish market is fascinating. The small town is famous for its fresh sea food.
After visiting the fish market head towards Sigiriya. Upon arriving in Sigiriya, you may spend the afternoon resting in your hotel or visit the Dambulla Cave Temple. It is a UNESCO listed world heritage site that dates back to 3rd century BCE.
(Travel time from Negombo to Sigiriya – 4 hours)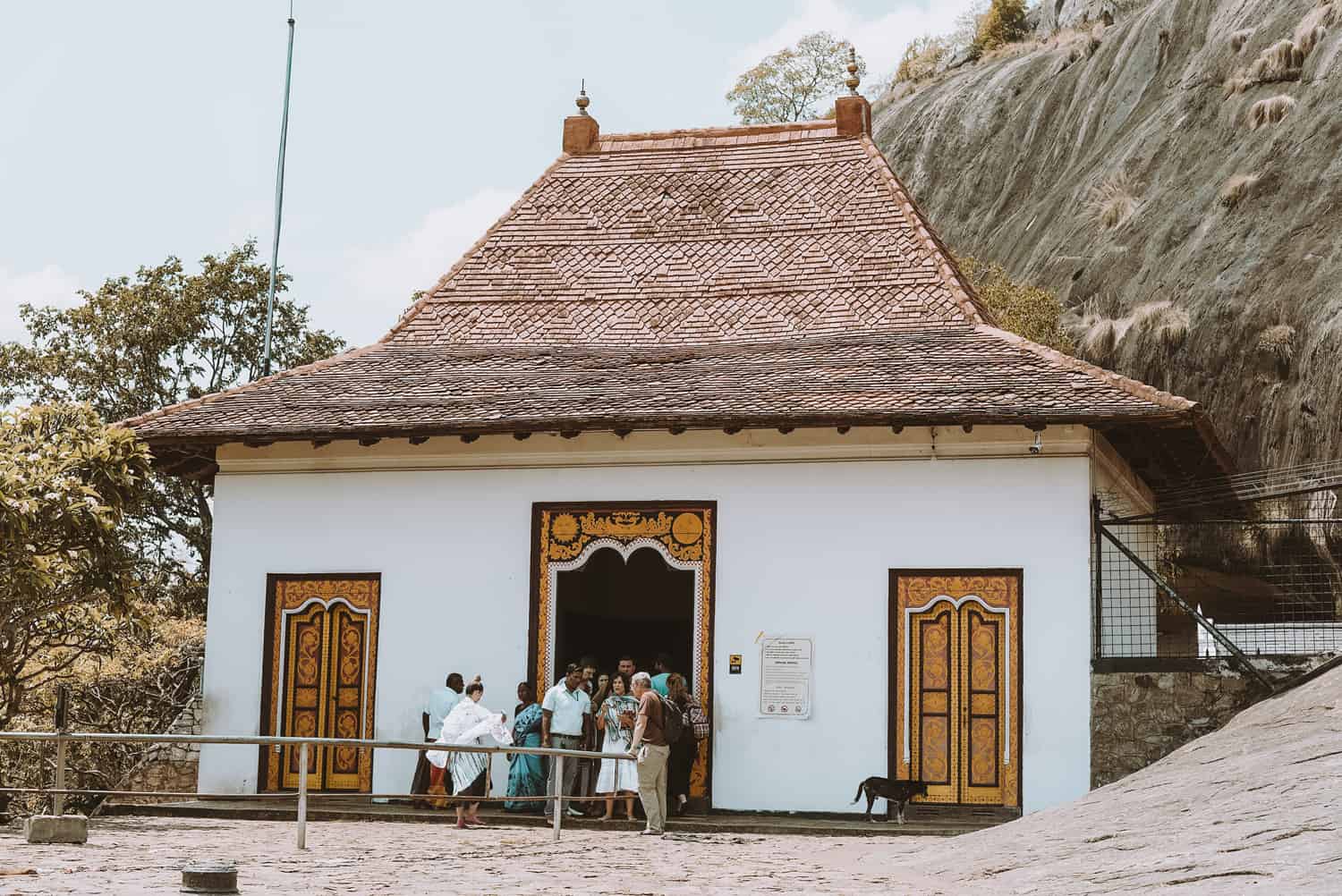 DAY 3 – SIGIRIYA / POLONNARUWA / MINNERIYA / SIGIRIYA
After breakfast ask your driver to take you to the ancient city of Polonnaruwa. It dates from the second kingdom of Sri Lankan kings, a golden era of Sri Lankan history. You will be able to witness the ruins of King Parakrama Bahu's palace, Watadageya (A Buddhist temple made of stones and bricks), Galpotha (the longest stone inscription in Sri Lanka), Parakrama Samudraya Lake and many more.
Around 3.00 pm be at the Minneriya national park to enjoy a jeep safari. Visitors are able to see toque macaques, sambar deer, buffalos and crocodiles, but the main highlight of the national park would be its giant elephants.
(Travel time from Sigiriya to Polonnaruwa – 1 ½ hours)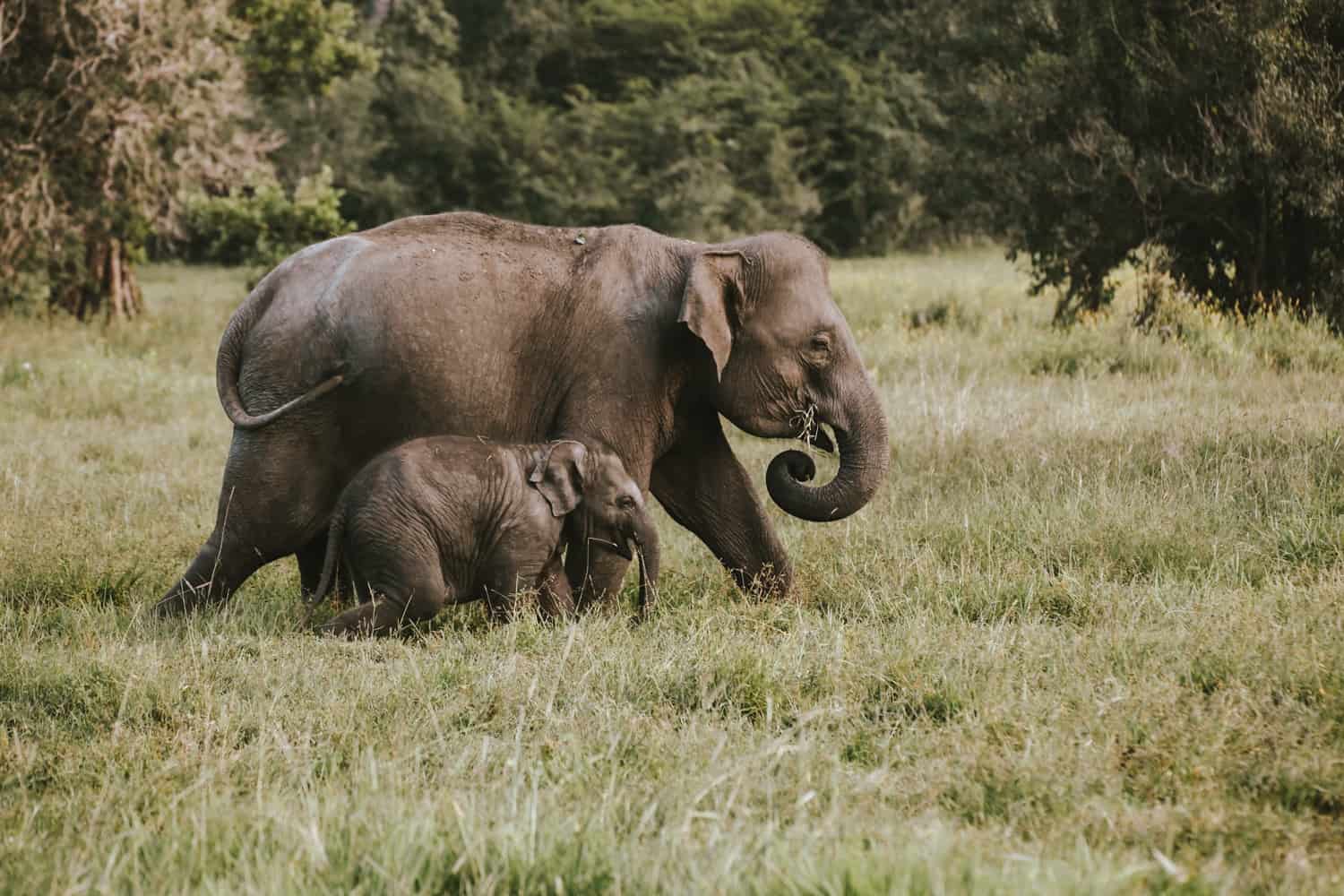 DAY 4 – SIGIRIYA / KANDY
In the morning of day 4, you may visit the world-famous UNESCO listed world heritage site, the Sigiriya Rock Fortress. It was built by King Kashyapa to defend against the attacks lead by his brother Moggallana.
Pro tips – It is best to climb it early in the morning, as it really hard to climb in the heat when the sun is up.
After visiting the Sigiriya Rock Fortress, drive to your next destination, Kandy. Once arriving in Kandy, you may visit the sacred Temple of the Tooth. The best time to visit the Temple of the Tooth is around 6.30 pm, as that is when daily rituals are performed in the temple.
(Travel time from Sigiriya to Kandy - 2 ½ hours)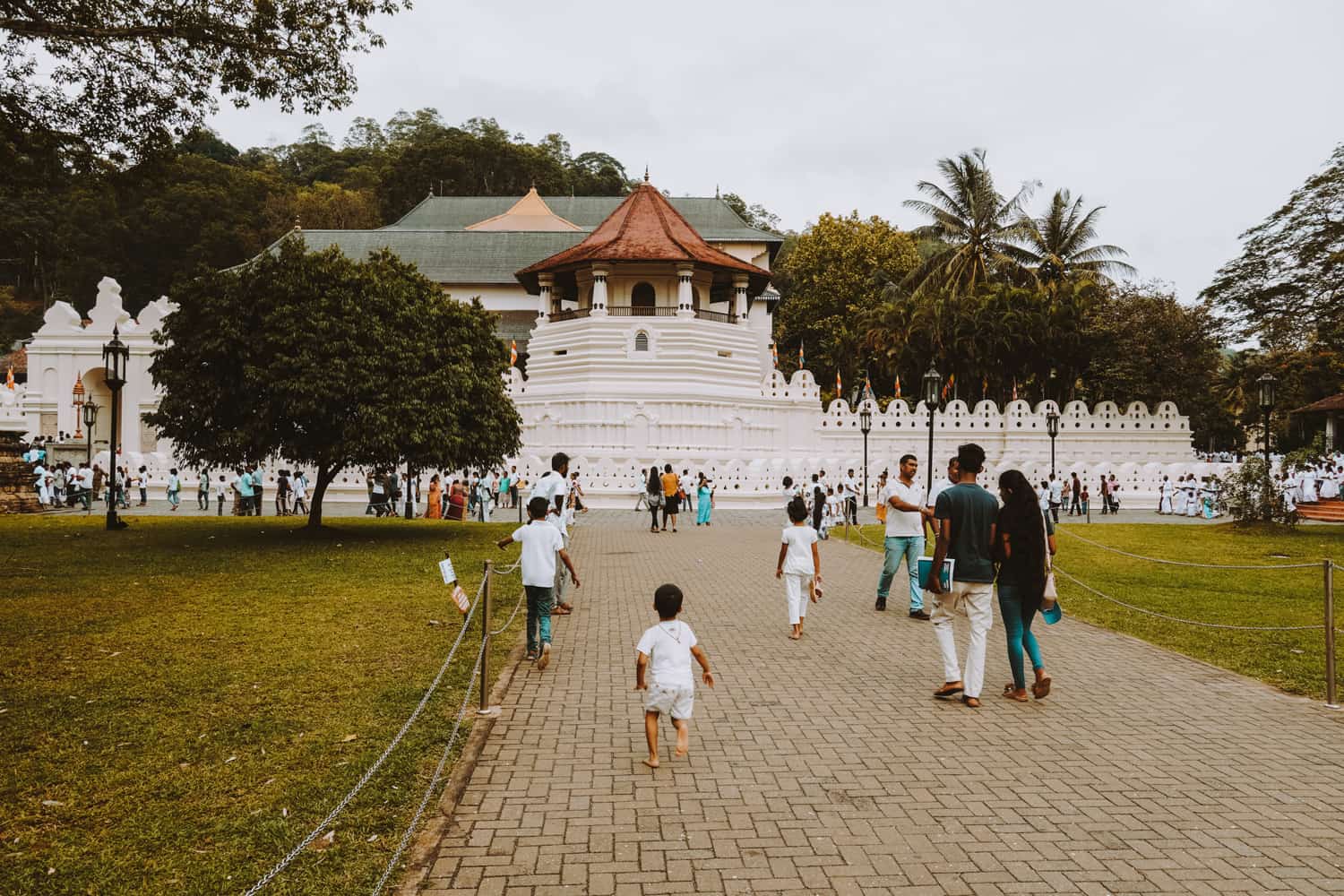 Day 5 – Around KANDY
On the 5th day of the tour visit the Peradeniya Botanical Garden. It boasts 4000 species of exotic plants. It will take about 2 hours to see everything in the garden.
If you would like to do some shopping in Sri Lanka, take a walk in the streets of Kandy. There are plenty of souvenir shops in Kandy. Some of the items of interests are silk sarees, batik sarongs, wood carvings, spices and gems.
In the evening you may enjoy a traditional Sri Lankan dance show at the Kandy Lake Club. The show starts every day at 5.30 pm.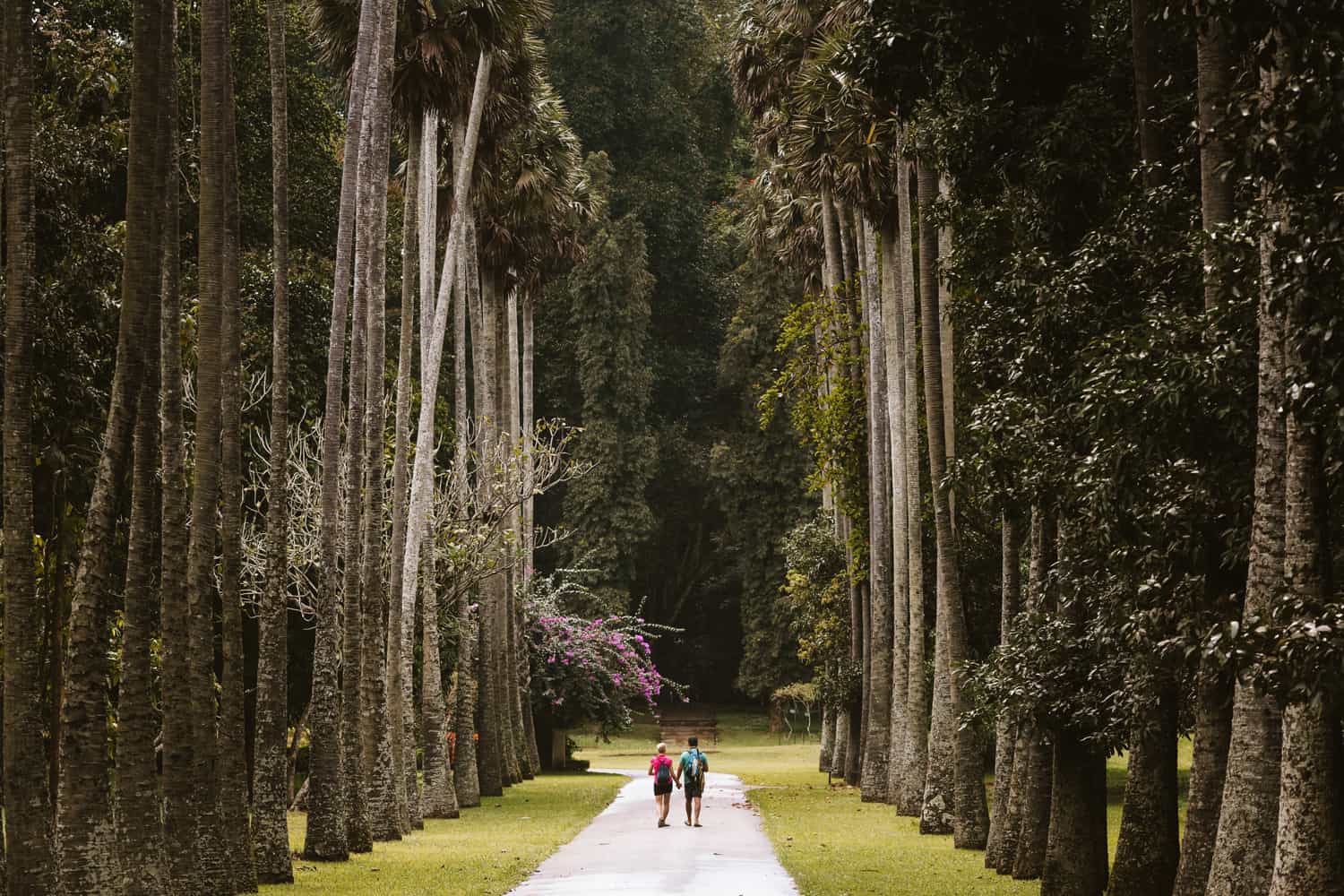 Day 6 – KANDY / ElLA
Once you are ready, ask your driver to take you to Ella. On your way to Ella, you may stop by a tea plantation and tea factory. There will be also time to stop and admire the beauty of Ramboda waterfall.
Note – If you like to take a train ride, spend a night in Nuwara Eliya after Kandy (before Ella). Ride the train from Nuwara Eliya (Nanu Oya station) to Ella. It is not recommended that you travel by train all the way from Kandy to Ella, as the Kandy – Ella train ride takes about 7 hours. Please refer to our article, "How to book train tickets in Sri Lanka", if you are interested in getting reserved seats for this train journey.
Travel time from Kandy to Ella – about 5 hours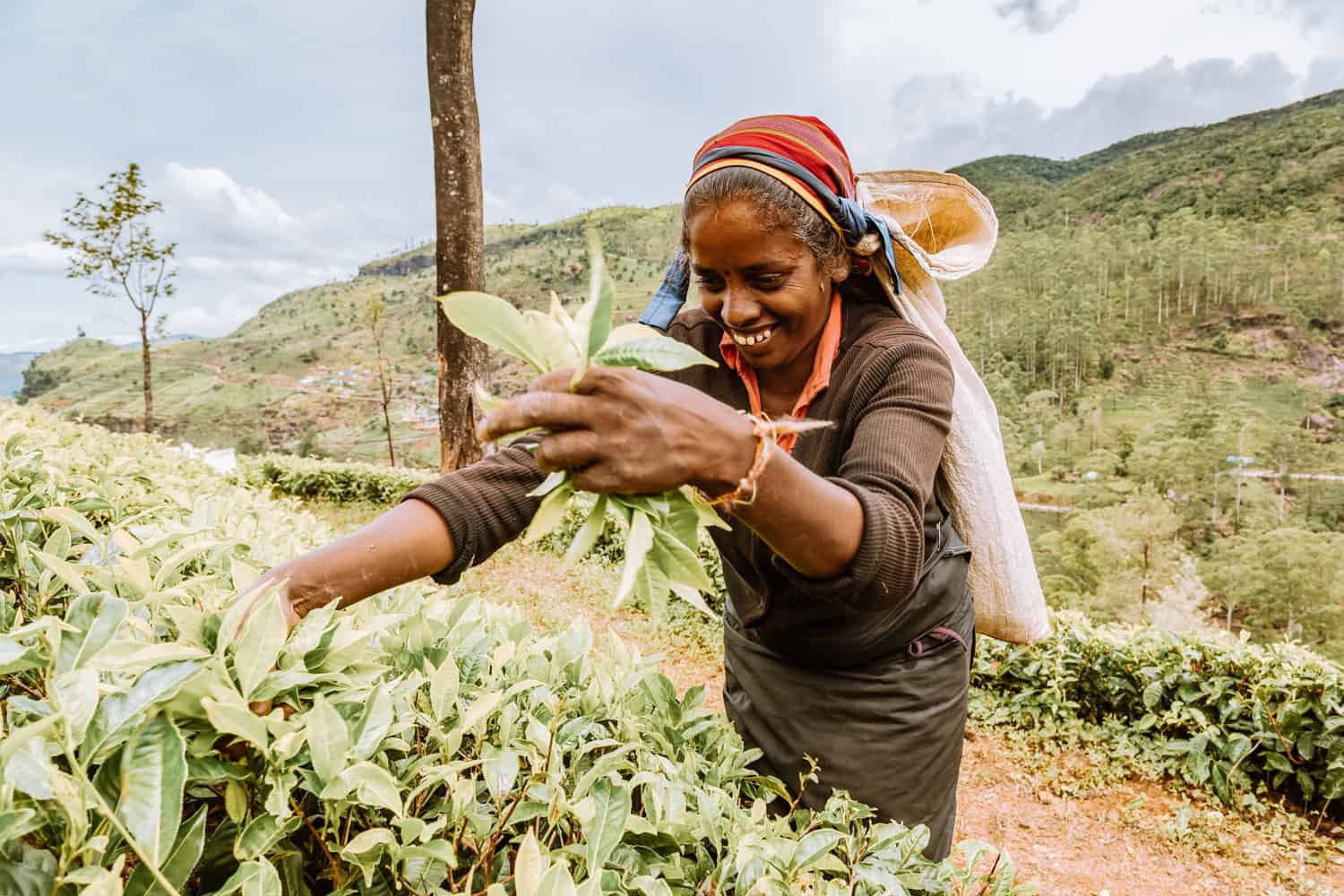 Day 7 –  Around ELLA
Ella is known for its amazing views and the nature trails. You may spend the day hiking the little Adam's Peak, 9 Arch Bridge or visiting the Ravana waterfalls.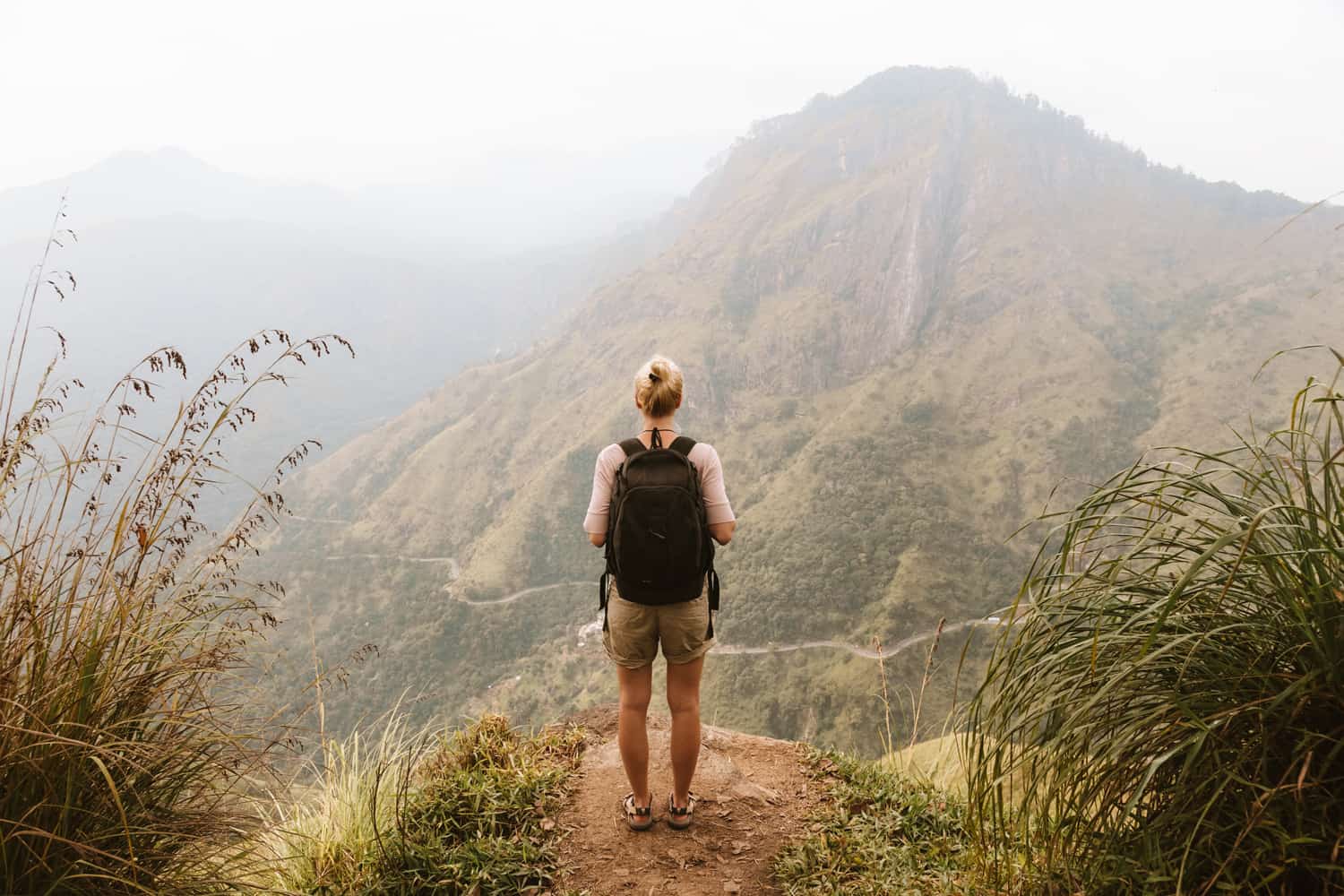 Day 8, 9, 10, 11 & 12 – ELLA / TANGALLE
Today, ask your driver to take you to Tangalle. It is a very secluded beach ideal for relaxation.
Tangalle beach is usually safe to swim in January, February and March. Be cautious when swimming in Tangalle in other months.
Travel time from Ella to Tangalle – 3 ½ hours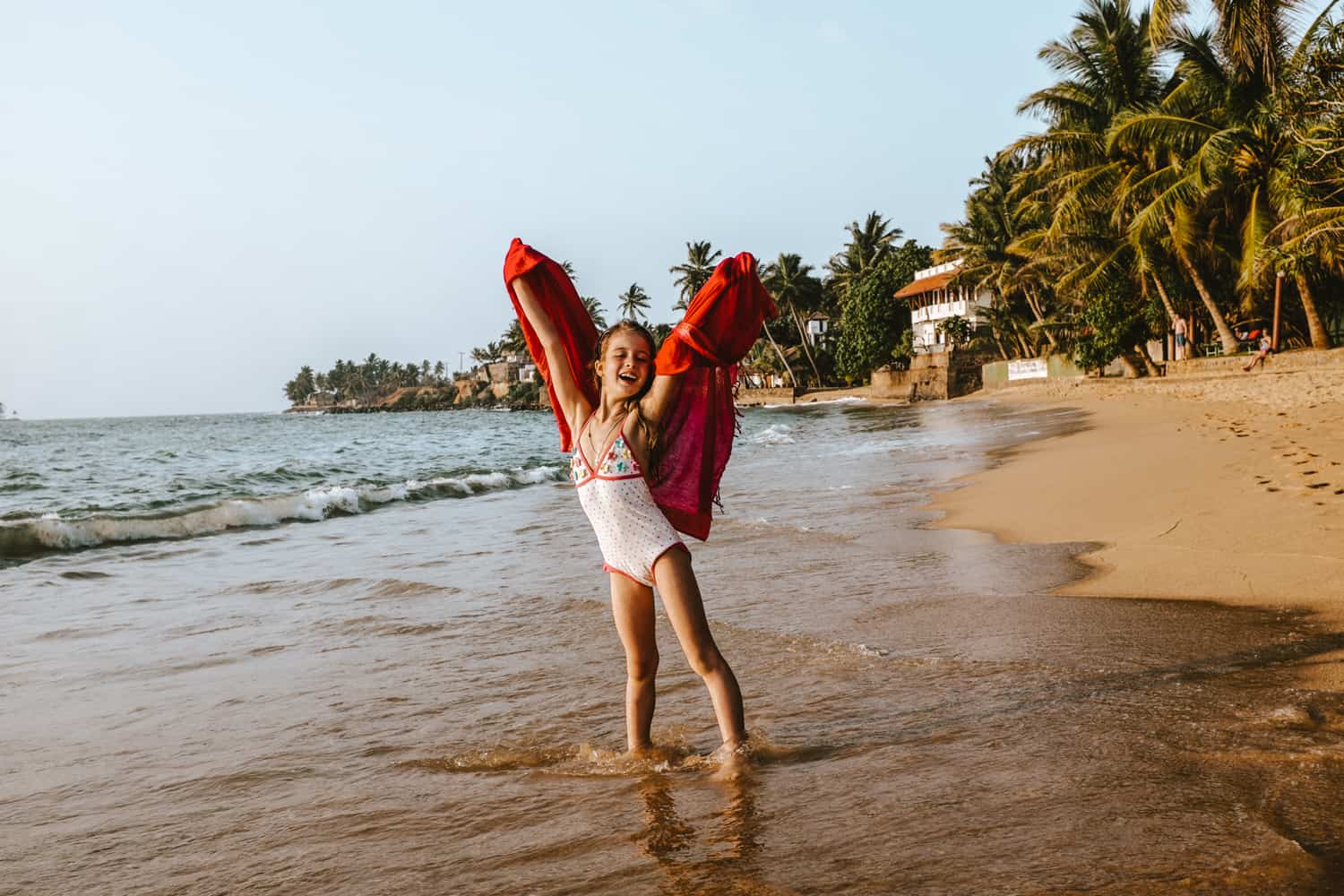 Summary
December is an excellent month to travel Sri Lanka. Plan your itinerary without overcrowding the schedule and pay attention to the weather patterns of Sri Lanka in December.
Feel free to leave a comment, if you have any questions regarding your Sri Lanka tour. I am always looking forward to answering all your questions.
Have a great time in Sri Lanka!