Someone might assume USD, Euro and GBP are widely accepted currencies in Sri Lanka after seeing most hotels and travel agents advertising their rates in these currencies. In reality, travel agents and hotels are the only establishments in Sri Lanka that accept payments in foreign currencies for their services.
Sri Lankan rupees (LKR) is the sole currency used in Sri Lanka. Even if you booked an all-inclusive Sri Lanka holiday, you would still need some cash in rupees for your miscellaneous expenses during your trip. Therefore, today's Travellers Isle article is of great importance for anyone visiting Sri Lanka for a holiday.
Without any further ado, let's get right into the topic!
Best ways to exchange money in Sri Lanka
Sri Lankan rupees is a closed currency. You will not get a good rate for them outside of Sri Lanka. Therefore, it is best to exchange your money when you arrive in Sri Lanka. Following is a list of the most reliable places to exchange your money in Sri Lanka.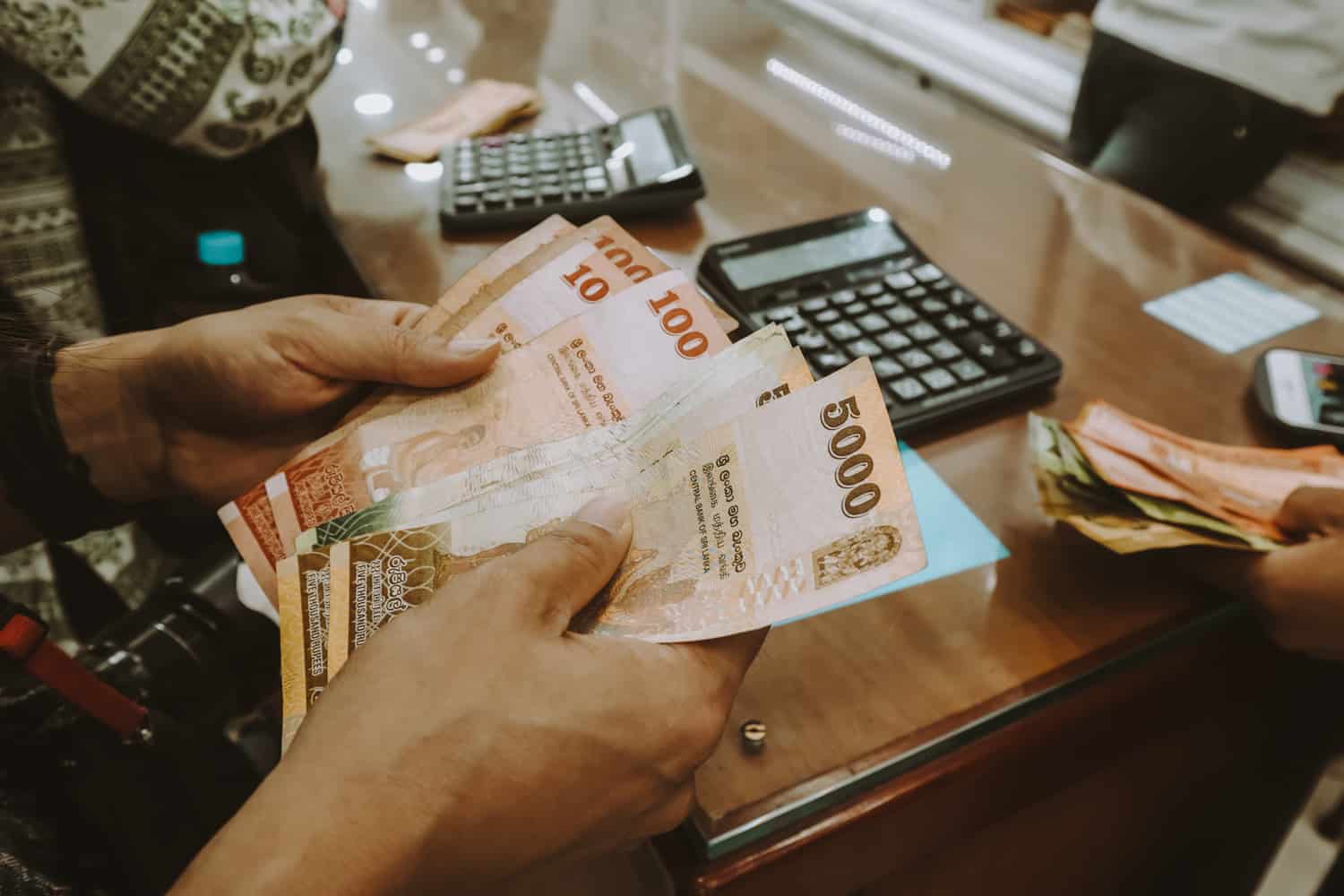 1. Colombo airport money exchange counters
Many of the local banks in Sri Lanka have money exchange counters at the Colombo International Airport, which are open 24/7. They are convenient and reliable.
Since these money exchanges are owned by local banks, the exchange rates that you get from them are similar to what you get from local banks, which we are going to discuss next.
2. Local banks
Almost all the local banks offer money exchanging facilities in Sri Lanka. The most popular banks in Sri Lanka are Commercial Bank, Sampath Bank, BOC Bank, Hatton National Bank and Peoples Bank. Please keep in mind most banks in Sri Lanka are only open from 9.00 am to 3.00 pm.
3. Authorized money exchangers
You can find authorized money exchangers mainly in Colombo, Negombo, Kandy, Galle, and Jaffna. Generally, these establishments offer slightly better exchange rates compared to local banks. You can find a full list of companies authorized for money exchange here.
4. ATM machines
There is a good network of ATMs in Sri Lanka. When you withdraw money from your bank account using these ATMs, you will receive the money in Sri Lankan rupees.
Unless your bank has heavy bank charges for overseas withdrawals, the exchange rate that you get from ATMs is similar to the exchange rate offered by the local banks.
If you are planning to use ATMs in Sri Lanka, inform your bank that you are going to Sri Lanka for a holiday before you leave the country. Otherwise, they might block your card when attempting to withdraw money from Sri Lanka assuming it is a credit card fraud.
Please keep in mind VISA and Mastercard are the most popular ATM cards in Sri Lanka. If you have a different type of card, you might find difficulty withdrawing money from ATM machines in Sri Lanka.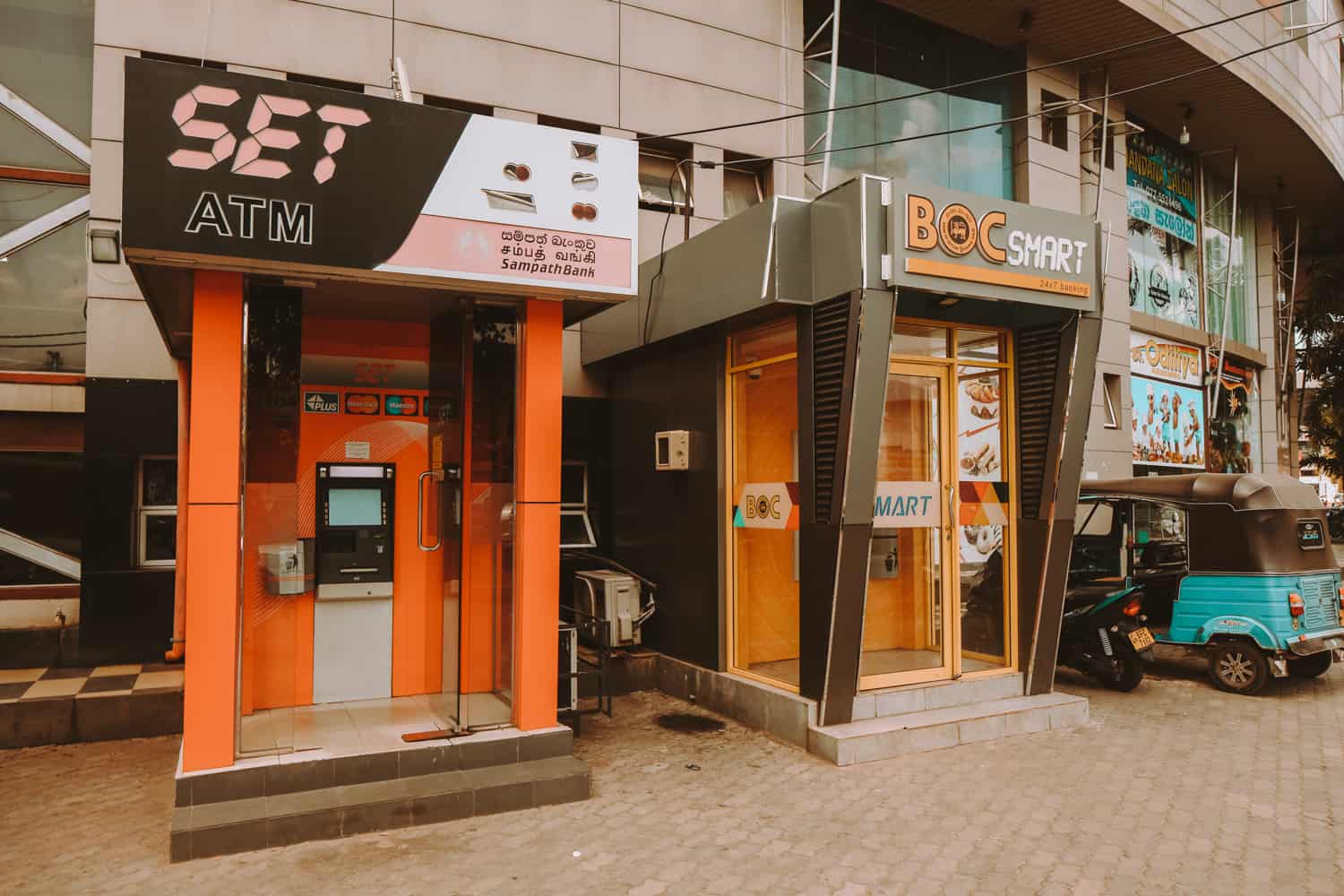 Note – Some hotels in Sri Lanka offer money exchanging services to their guests. However, our recommendation is to not to exchange money from hotels as their exchange rates are often very low.
Frequently asked questions
When I was brainstorming for this article, Roshel, who is one of our Tour Designers pointed out people who asked about money exchanges in Sri Lanka also had questions related to the formality of bringing money to Sri Lanka. So, I thought of answering those questions as well in this article.
1. What is the best currency to take to Sri Lanka?
Bring the currency that you use in your home country. There is no special benefit in converting your money to a specific currency before exchanging it to Sri Lankan rupees.
2. How much money can you take to Sri Lanka?
There is no limit to how much money that you can bring into Sri Lanka. However,
If you are bringing in more than $10,000 USD to Sri Lanka, you need to declare your money to the Sri Lanka customs.
If you expect to take out more than $5,000 USD, even if the total sum of money that you are bringing in is less than $10,000 USD, the full amount should be declared to the Sri Lanka customs.
Once you declared the money to the customs office, they will produce you a document that indicates how much money you brought into Sri Lanka.
Note - It is an entry requirement that you bring sufficient money for your Sri Lanka holiday. If you have paid for your trip in advance, you may provide your hotel reservation vouchers and paid invoices to prove that you already have arrangements for your trip.
3. How much money can you take out of Sri Lanka?
You can take out any amount of legally earned money from Sri Lanka. If you are taking out more than $10000 USD from Sri Lanka, you need to declare the full amount to the Sri Lanka customs.
Summary
I hope this quick read helps you to decide where to exchange your money in Sri Lanka. Feel free to leave a comment if you have any questions. I am more than happy to answer any questions that you might have.
I invite you to read a few more articles to get more information for your Sri Lanka holiday. A similar read to this would be our article, "Entrance fees for tourist sites in Sri Lanka".