Your honeymoon is your first romantic getaway as a wedded duo. It goes without saying that such a memorable, relaxing and intimate retreat should be planned with much thought and care! Asking questions like "Is Sri Lanka good for a honeymoon?" is important before committing to a vacation which is also the beginning of a new chapter in your lives.
The answer to your question lies in the fact that, every year, hundreds and thousands of tourists choose Sri Lanka as the backdrop of their honeymoon. Sri Lanka has also been recognized as one of the best honeymoon destinations in the world by wedding publications like Brides.
In this article, I am determined to answer your question "Is Sri Lanka a good honeymoon destination?" as objectively as I can. The best way to get about doing this is by explaining why many people choose Sri Lanka as their honeymoon destination. At the end of this article, if you agree to their reasoning, it will be safe to say that Sri Lanka is a great destination for your honeymoon as well.
Why people choose Sri Lanka for their honeymoon tours
There are many reasons why Sri Lanka is the perfect honeymoon vacation spot. As a year-round holiday destination, the island is characterized by diversity, luxurious honeymoon resorts, affordability, and scrumptious food.
1. The island's unique diversity
Sri Lanka is uniquely diverse; there is probably no other land of the same length and breadth that is environmentally and culturally more varied than this resplendent island. Her tall misty mountains and deep verdant valleys along with the warm sandy shores fringed with lacy sea waves all promise the perfect ambience for your romantic escape.
When planning your honeymoon itinerary, you will have an array of experience to choose from: observing wildlife from a safari jeep at any of the many national wildlife parks, waking up to the gentle heave and crash of the sea waves along the picturesque coastline, hiking across pristine rainforests and tea plantations tasselled with waterfalls, and delving into the country's rich history and heritage at historical sites dispersed across the island.
Wildlife encounters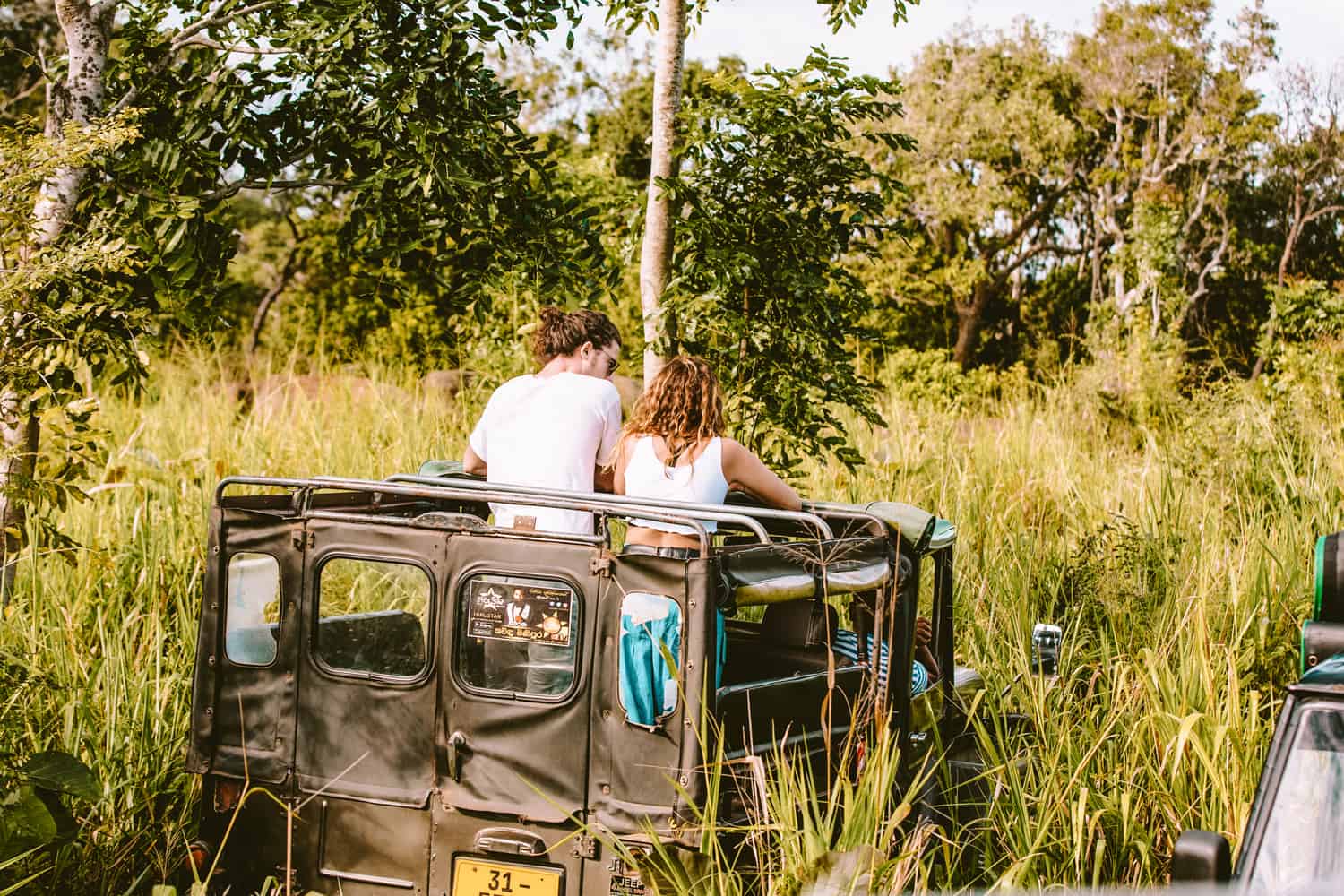 Be it in Sri Lanka's hill country or lowlands, there is always the opportunity to combine a wildlife adventure with your intimate holiday. What all national parks in Sri Lanka have in common is that they ensure plenty of wildlife encounters with endemic and/or endangered animals, plants, fish and birds. Visits to these parks include sightings of elephants, wild boars, crocodiles, water buffaloes, spotted deer, sambar deer, jackals, toque macaques, sloth bears, peacocks, and the occasional leopard.
The parks in themselves are diverse: the Yala National Park is known for leopard sightings, Minneriya is famed for its elephants, Horton Plains sits in the misty cool hills, and secluded Gal Oya introduces to you a rare spectacle: swimming elephants!
So, when it comes to Sri Lankan wildlife national parks, there is a vast array from which you can carefully choose your preference.
Picturesque coastlines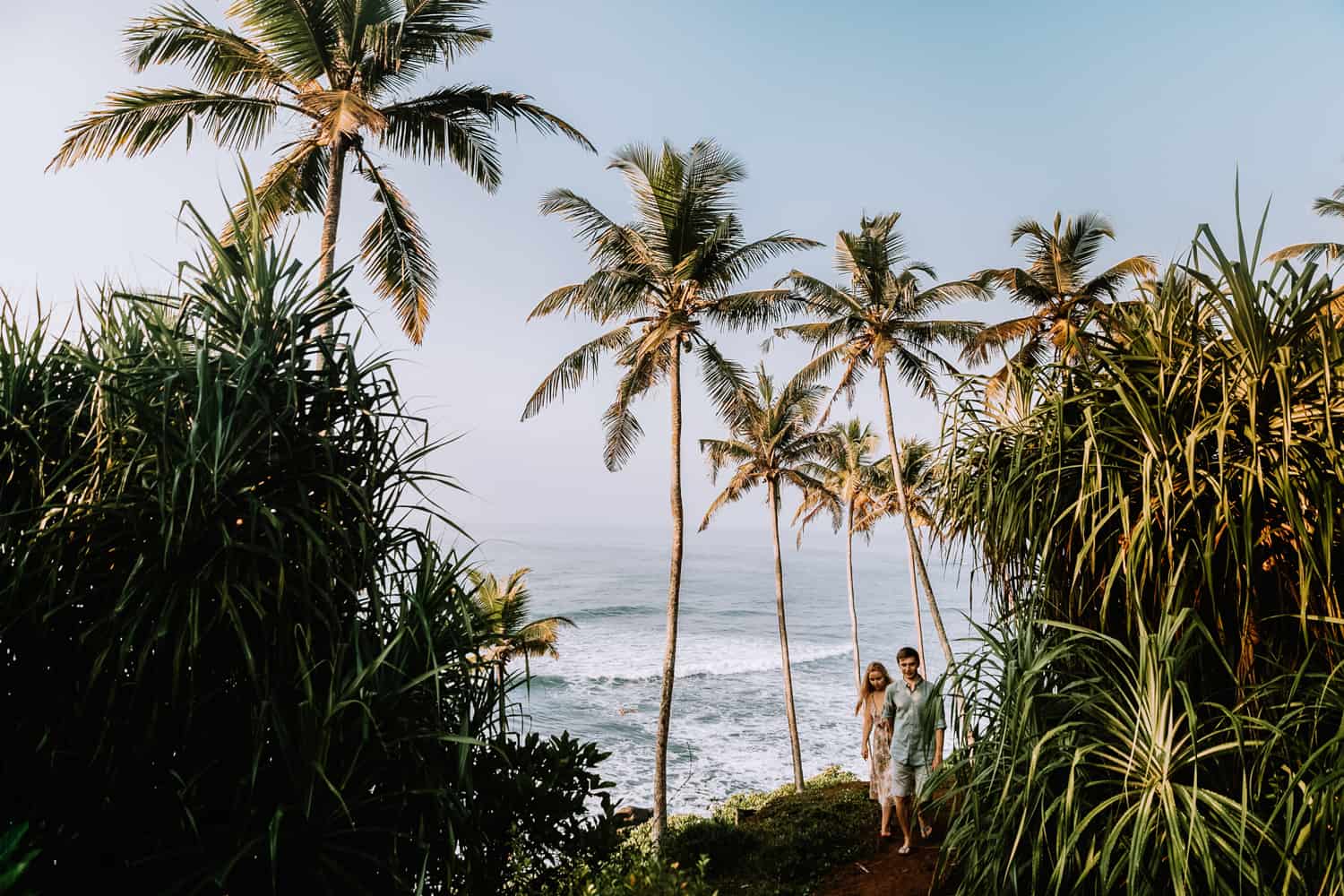 Walk along the wave-kissed shores and gaze into the expanse of the sea and skies on a romantic beach honeymoon in Sri Lanka!
My personal favourites from among the myriad coastal destinations are Trincomalee and Tangalle, on the eastern and southern coasts of the island respectively. Here, you can treat yourself to the grandeur of the sun rising from behind the horizon!
Along the south western coastal stretch of the island are other famous honeymoon destinations like Benthota, Unawatuna and Mirissa. In these rather rustic, romantic seaside towns, you can savour a lovely rendezvous against the splendour of the sunset!
Adventures in the scenic hills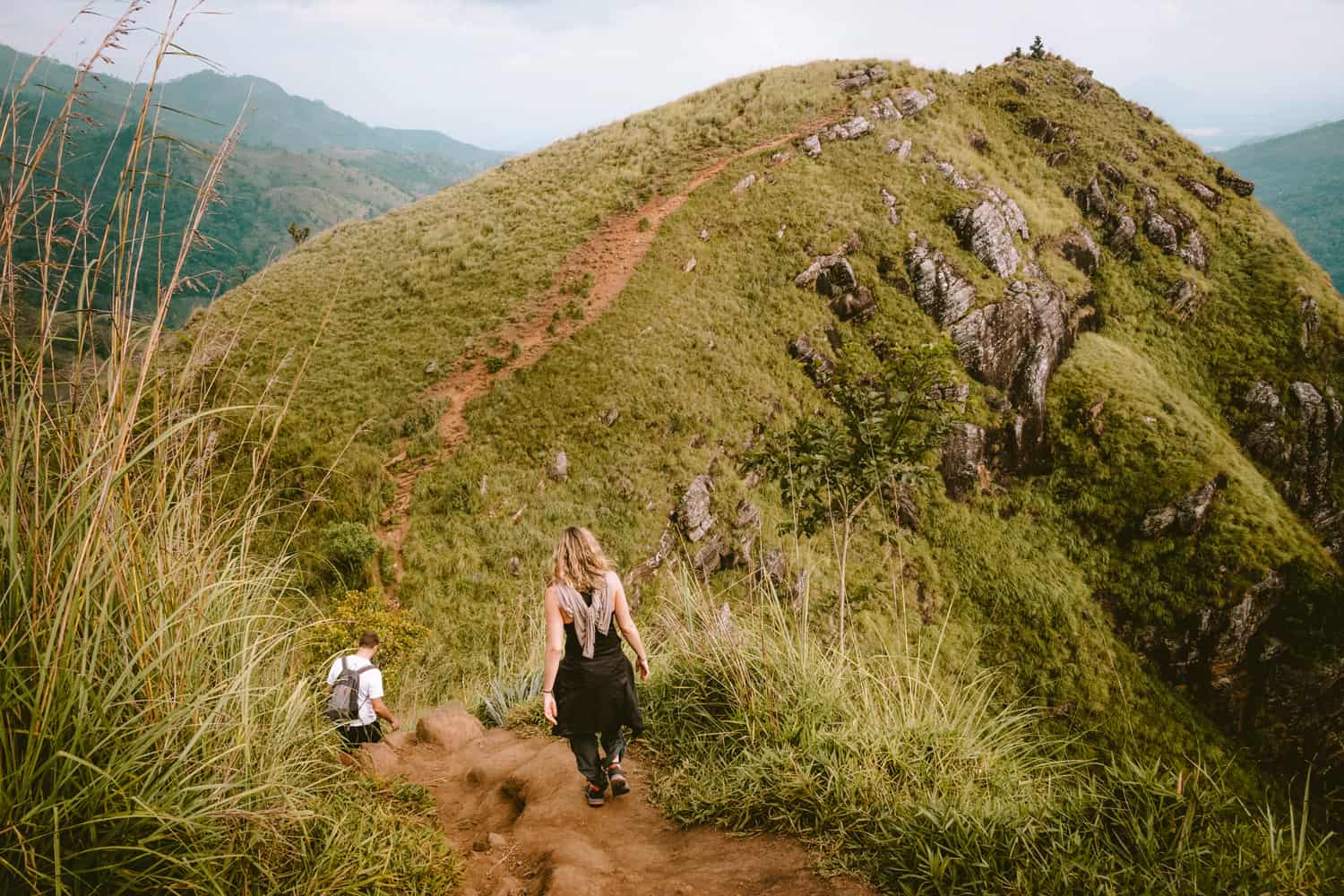 Sri Lanka's misty hill country is favoured among local and foreign tourists as a fairy-tale destination.
The most sought-after locations here are Nuwara Eliya and Ella. Enjoy a scenic train ride or a couple's cookery class in the mist-veiled, cool hill country!
Along the lesser-beaten tracks of Hatton and Koslanda, you can cherish awe-inspiring views of some of Sri Lanka's iconic waterfalls. Devon Falls, nicknamed the "Veil of the Valley," along with St. Claire's Falls multiply the beauty of the Hatton valleys tenfold! In Koslanda is the Diyaluma waterfall, the island's second highest. This majestic cascade is surrounded by bittersweet romantic folktales of star crossed lovers, upon whom, as the stories go, the Gods took pity on and created the memorable Diyaluma.
If you opt to celebrate your love in the mountains, you can trek along the picturesque hiking trails that lead to awe-inspiring look out spots from mist covered mountaintops!
These treks are characterized with variety; Little Adam's Peak is a comparatively easier hike than a hike up the Knuckles mountain range. A trek to Lipton's Seat falls across a tea plantation while, at Sinharaja Forest Reserve, you can walk across Sri Lanka's last remaining primary tropical rainforest. The Adam's Peak hike is tough, and more sacred compared to all the other hiking trails in the island.
All of them present to you fulfilling hiking experiences that are topped with breathtaking views of the Sri Lankan hill country!
If you and your better half prefer adventure over idyll, you can opt for snorkelling, diving, surfing, and whale and dolphin watching in the azure Indian Ocean that rings Sri Lanka.
Historical heritage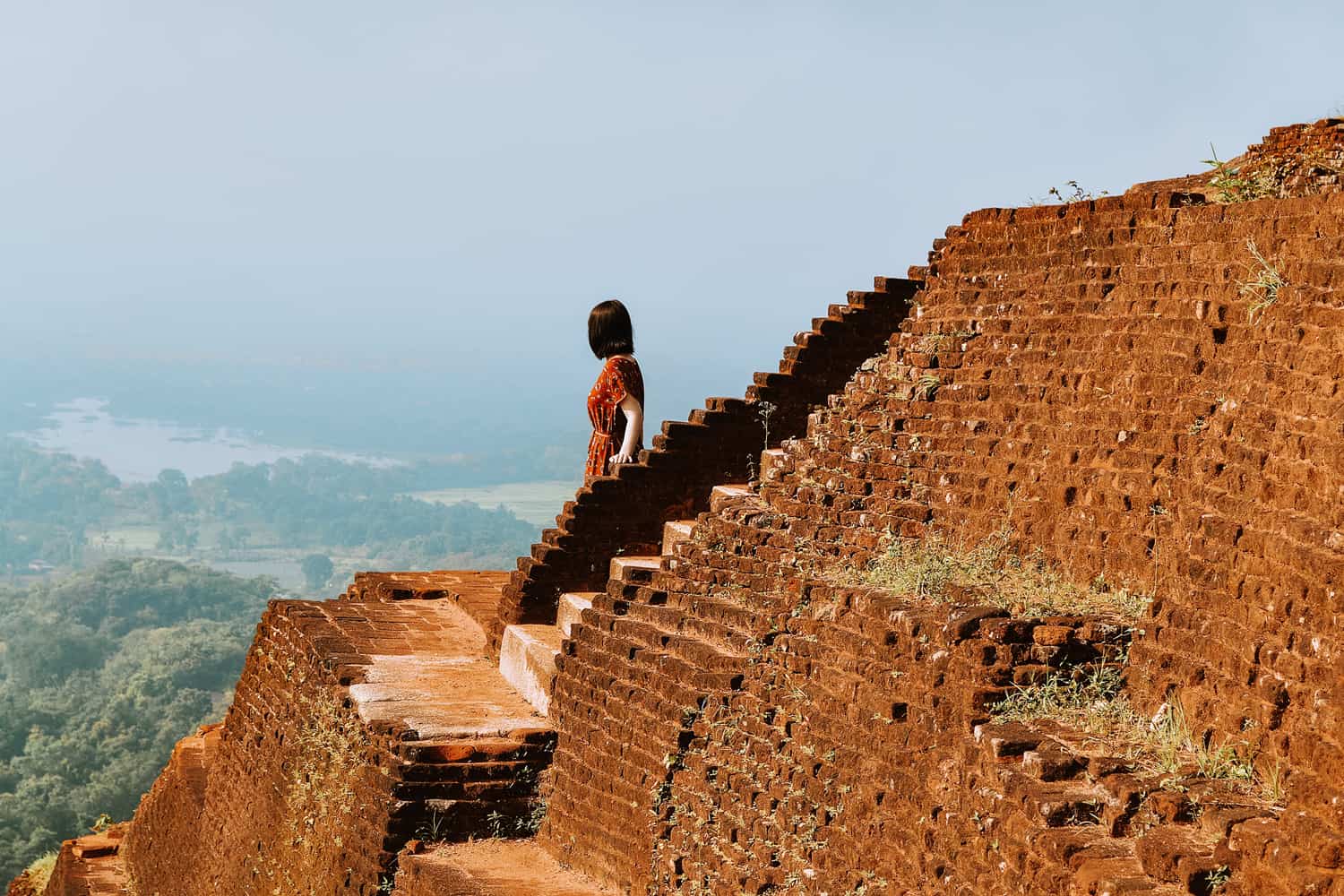 Memorialize your honeymoon against the backdrop of Sri Lanka's ancient sites! With a documented history of 3,000 years, it is not surprising that the island boasts innumerable locations of historical value.
Cities of Buddhist cultural value such as Anuradhapura, Polonnaruwa and Kandy, archaeological sites like the iconic Lion Rock Fortress in Sigiriya, and colonial coastal settlements such as the quaint Galle Fort are among the ancient UNESCO heritage sites in Sri Lanka.
Polonnaruwa and the Galle Fort are my favourites from among them; built centuries apart, they leave me with a sense of wonder, wistfully wishing that stone and brick could speak!
From the remote confines of secluded Koslanda, you can visit Buduruwagala and the Adisham Bungalow. Buduruwagala is a large rock surface on which are carved seven statues, including a 50 ft standing Buddha statue carved in the Mahayana style between the 6th and 9th centuries AD.  Adisham's Bungalow is a colonial house, which once belonged to Sir Thomas Villiers. Today, it shelters the Adisham Monastery of St. Benedict.
These historical locations collectively display the diversity of the colourful and intricate tapestry that is Sri Lanka. If you and your soulmate share an enthusiasm for history, Sri Lanka would be a treat!
2. Amazing Honeymoon Resorts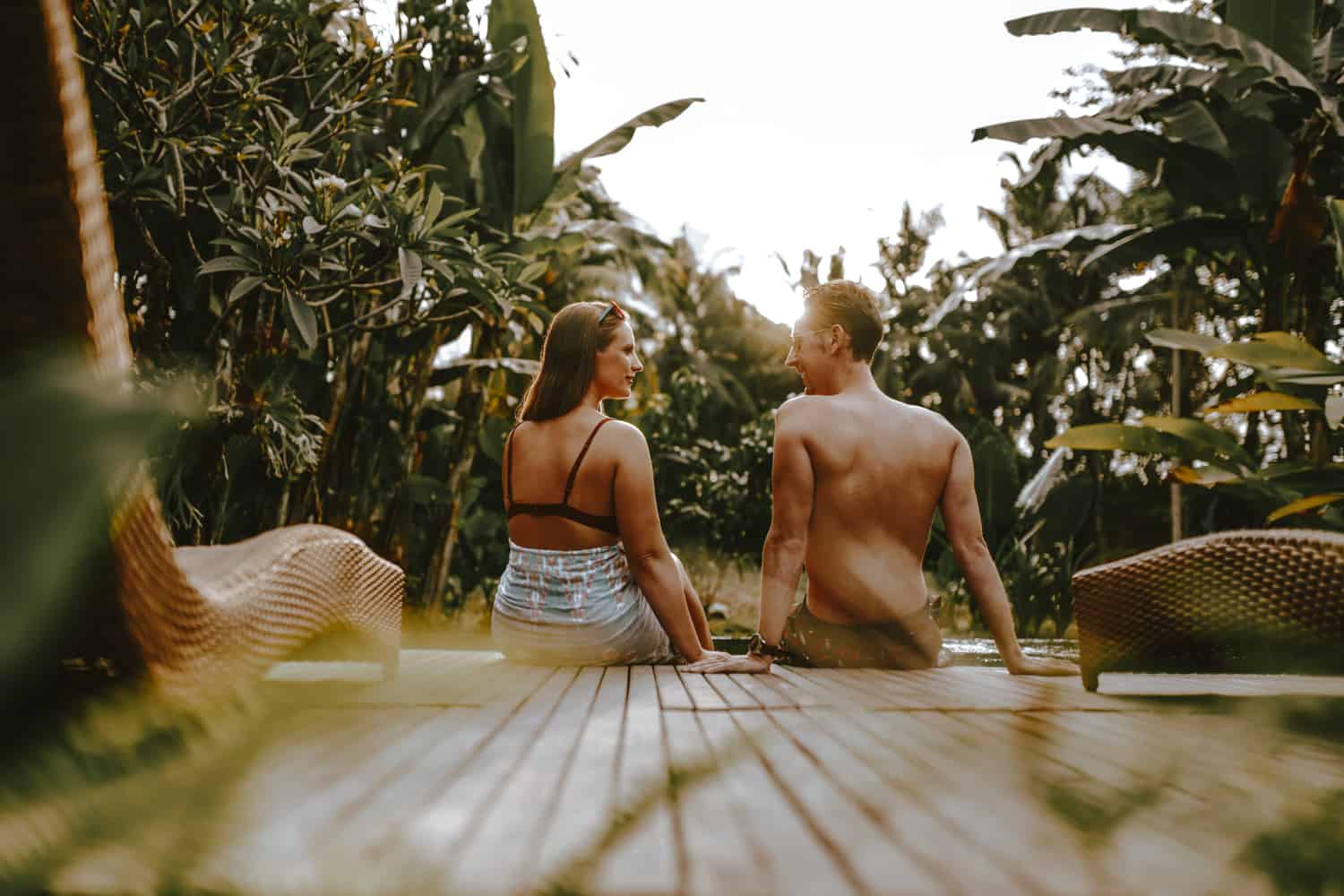 Dispersed across our island are five-star resorts where you can experience the best sights of the varying landscapes of Sri Lanka. I have detailed a few of them below.
98 Acres Resort and Spa
Head to 98 Acres Resort and Spa in Ella for a romantic rendezvous in the exquisite Sri Lankan hill country! This resort presents to you vistas of the Ella mountains, including Little Adam's Peak, fringed with neatly-trimmed tea bushes.
From the verandah of your hotel suite, you can indulge in the majestic beauty of a cool Ella sunrise over breakfast!
98 Acres Resorts and Spa also conveniently connects you to many of Ella's tourist locations and activities such as the Ravana Waterfall, Ravana's Cave, Dhowa Rock Temple and the 9 Arches Bridge.
Jetwing Saman Villas
Reserve a beach villa for a retreat ringed with the sapphire ocean, green palm fronds and azure skies at Jetwing Saman Villas. This resort is on a rocky headland in the southern coast of Sri Lanka, guaranteeing picture-perfect backgrounds for your honeymoon memories.
The luxurious villas at this romantic location are tailor made for love birds seeking a secluded hideout; each suite accommodates a maximum of 2 people.
Saman Villas offers are a range of dining locations within its scenic premises. Guests can enjoy their meals in the secluded serenity of the beach at spots overlooking the never-ending stretch of sea!
Jetwing Saman Villas is a staging base for visits to Kande Viharaya Buddhist Temple, Bevis Bawa's Brief Garden and Geoffery Bawa's country home Lununganga.
Uga Chena Huts
On Sri Lanka's south eastern coast, nestled between the Yala National Park and the Indian Ocean is the deluxe beach resort Uga Chena Huts.
Each of the fourteen thatch-roofed huts in the seven-acre expanse are larger, more luxurious versions of huts used in chena cultivation, one of Sri Lanka's traditional cultivation techniques.
From this romantic honeymoon resort, you can embark on nature excursions in the Yala and Bundala National Parks. The resort also arranges for personalized wildlife safaris under the guidance of experienced rangers.
Uga Chena Huts offers a range of dining experiences too in its nautical themed Basses restaurant and outdoor environs. Among these choices are dining near the beach under the velvet sky by a bonfire!
3. Affordability
Not only is an intimate getaway to Sri Lanka a luxury, but it is also an affordable one. The diversity of this island's geographical, historical and cultural landscapes can be experienced at a much lower cost than that spent on a romantic holiday in Europe.
Compared to Maldives, your honeymoon adventure in Sri Lanka will be less expensive. A four-night holiday in a four-star Maldivian hotel will amount to around 4000 USD, on average. In Sri Lanka, the very same budget will take you through a 14-day holiday within the Sri Lankan tourist peak season!
Also, the myriad places to visit and things to do in Sri Lanka makes it easier for you to create a fulfilling honeymoon itinerary that best suits your budget!
4. Year-round destination
Sri Lanka is generally considered a year-round tropical destination. However, you might want to plan your honeymoon itinerary working around the rainiest of months - May and November - which fall within the south-western and north-eastern monsoon periods, respectively. Travelling around Sri Lanka would still be an option in these seasons, hence the adjective 'year-round,' but it might not be conducive to you experiencing all that Sri Lanka offers.
5. Amazing food
Blend the delectable tastes of Sri Lanka's cuisine into your candlelight meals. This spicy-salty-coconutty food experience is yet another ingredient in making your Sri Lankan honeymoon a memorable one. Sri Lanka's meals of rice and curry, creamy milk rice, crispy-spongy hoppers, seafood, and street food will help you incorporate a unique taste experience into your Sri Lanka honeymoon.
Summary
"Is Sri Lanka good for a honeymoon?" you ask? Indeed, it is! The island's diverse landscapes, amazing honeymoon villas and suites, affordability, and flavourful cuisine present all manner of experiences to lovebirds seeking an intimate getaway, throughout the year!