Sri Lanka, the Pearl of the Indian Ocean is a paradise for tea lovers.
Enjoy the taste of our fine Ceylon tea and the fascinating process of tea making during your Sri Lanka holiday. It will be one of the most memorable experiences of your trip.
Being an avid tea lover myself, I have explored every nook and cranny of the Ceylon tea country to find the best tea experiences for our guests.
Let me guide you on where to go and what to expect during your tea plantation tour in Sri Lanka. I promise you this is the only article that you need to read about tea plantations in Sri Lanka to be prepared for your tea adventure.
Before we dive into the nitty-gritty details of tea making, let's briefly look at how it all started here in Sri Lanka.
Tea history in Sri Lanka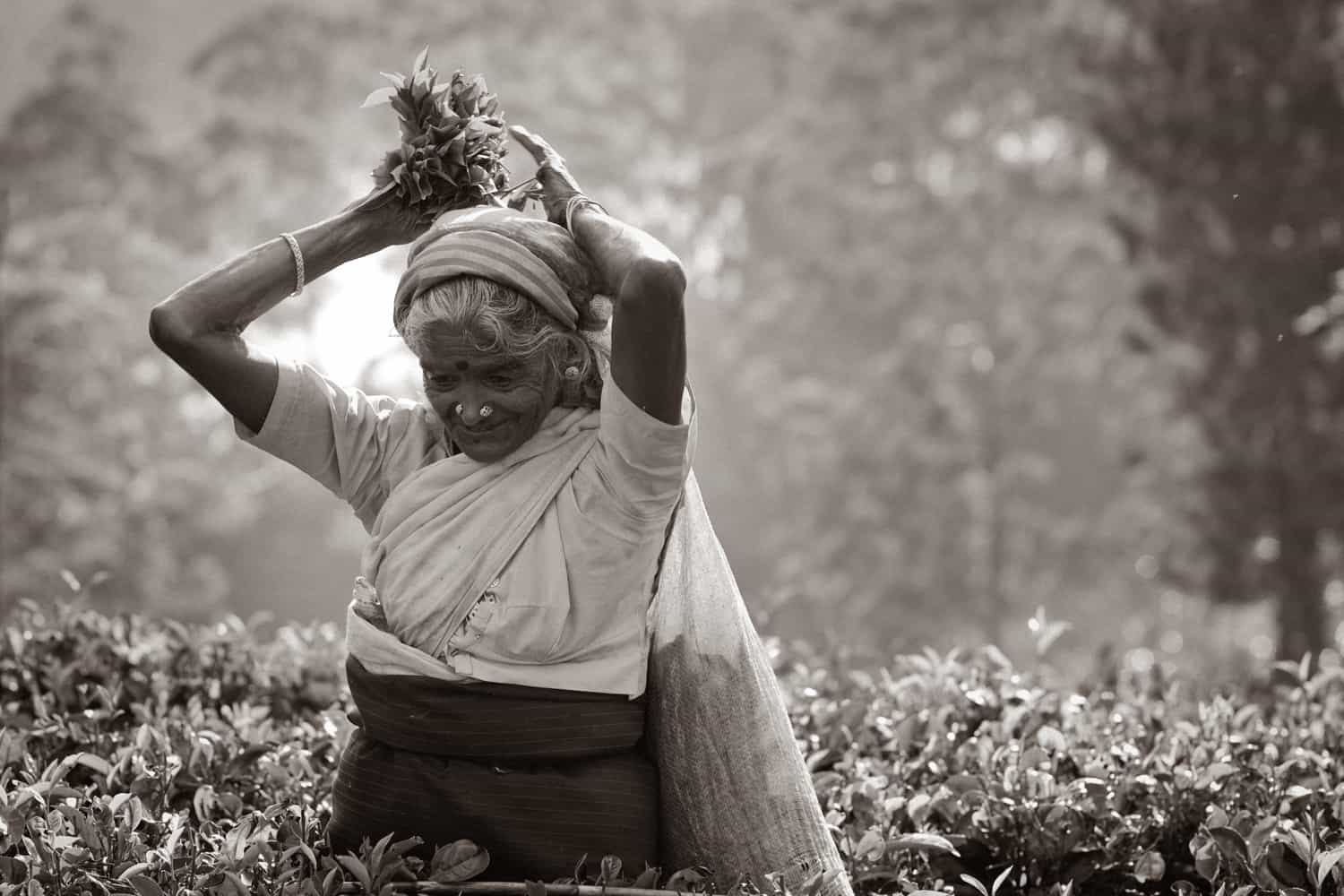 At the beginning of the British Colonial Era, coffee was the main crop that was grown in Sri Lanka. When the fungal disease, coffee rust, devastated the coffee cultivation in Sri Lanka, the British had to look for alternatives. Tea is one such alternative that was tested in the island nation in the colonial era.
The first tea plant was introduced to the country in 1824 in the Royal Botanical Gardens of Peradeniya.
By 1867 the Scotsman, James Taylor (called "the father of Ceylon Tea") produced the first commercial crop of tea at the Loolecondera Estate in Kandy. That is considered as the beginning of the tea industry in Sri Lanka.
As tea took off on the island it soon became the main commercial crop of the country, which today amounts to about 350 million kilograms exported each year!
If you are visiting Kandy during your Sri Lanka holiday, visit the Ceylon Tea Museum in Hanthana to learn more about our rich tea history. Built on the premises of a once fully functioning tea factory, the museum is an ideal place to get some insights into the different tea-making processes used in the past.
Popular tea regions in Sri Lanka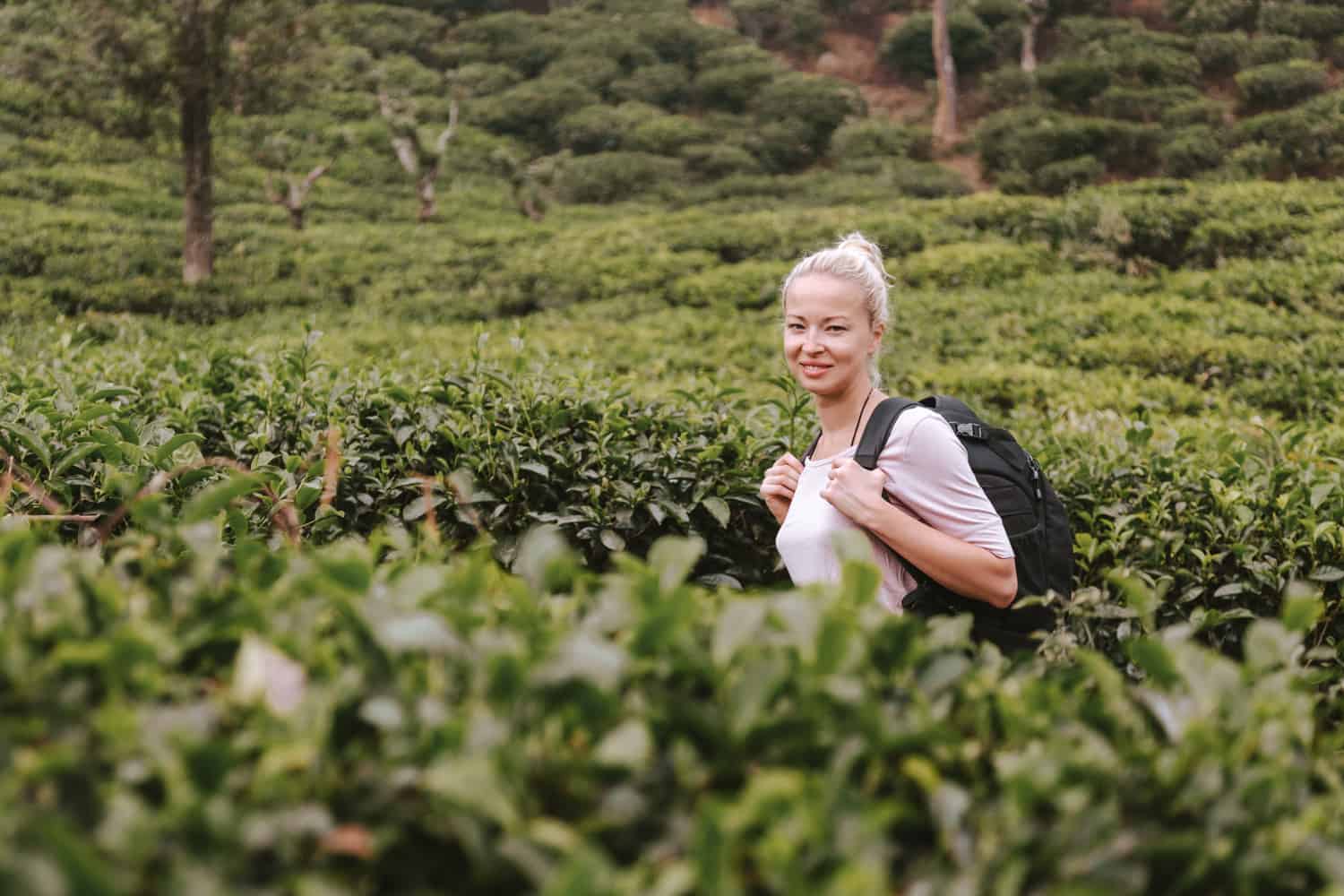 Ceylon tea is categorized based on where it is grown, as the elevations and the climate of the region are main contributors to the flavour profile of tea.
For instance,  a lighter, more subtle tea grows in the higher elevation tea plantations like Dimbulla and Nuwara Eliya. On the same note, the low grown tea types from the Galle-Matara areas will give you a stronger tea note.
Here are the main tea growing regions in Sri Lanka. For the ease of reference, I am categorizing them as high-grown, mid-grown and low-grown.
High-grown tea plantations in Sri Lanka
High grown tea is found in the central highlands of Sri Lanka at elevations over 6000ft. Nuwara Eliya, Uda Pussellawa and Dimbulla are the main high-grown tea regions of the country.
Nuwara Eliya – One of the major tea growing districts in the country since its first tea yields in the 1870s plantations. This small town, fondly known as the little England, produces some of the most relished tea types in Sri Lanka, such as Orange Pekoe (OP) and Broken Orange Pekoe (BOP).
Uda Pussellawa – While being a neighbour to Nuwara Eliya, the climate of the Uda Pussallawa region is quite different due to its location. The tea itself is slightly darker and appears more potent in flavour compared to the tea found in the Nuwara Eliya region.
Dimbulla – If you are travelling through Hatton to Nuwara Eliya, you are in the Dimbulla tea country. Tea from this region has a golden-orange hue and a clean and fresh aftertaste.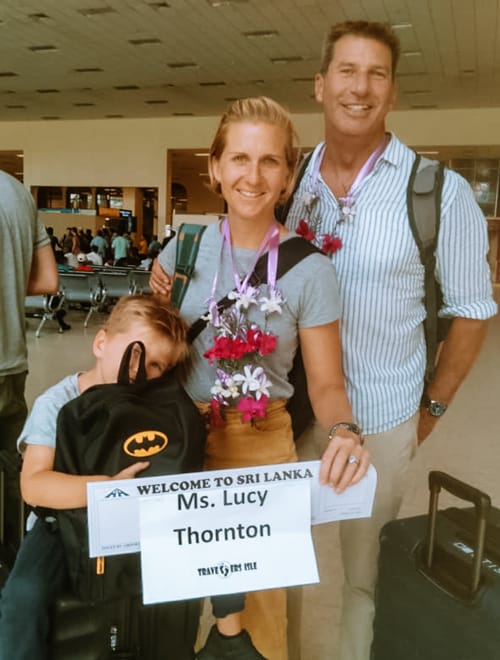 Would you like a Sri Lanka trip like Lucy's?
We had the pleasure of assisting Lucy's family on their two-week holiday in Sri Lanka, and they absolutely loved it. Would you also like a hassle-free family holiday? Please drop us a message specifying your requirements, and we will get back to you with a tailor-made Sri Lanka tour package within 24 hours.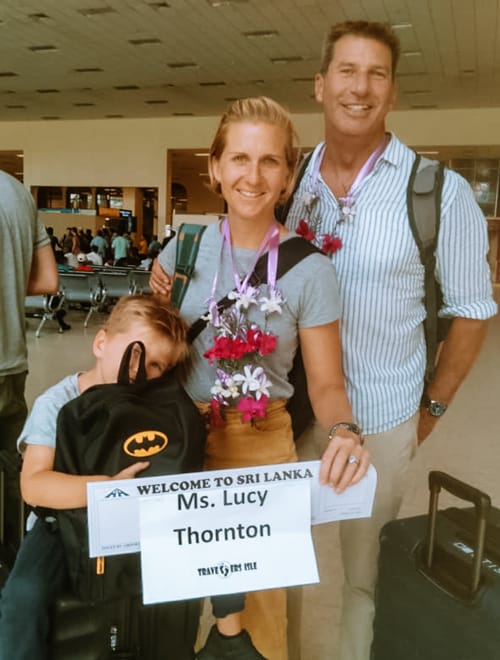 Would you like a Sri Lanka trip like Lucy's?
We had the pleasure of assisting Lucy's family on their two-week holiday in Sri Lanka, and they absolutely loved it. Would you also like a hassle-free family holiday? Please drop us a message specifying your requirements, and we will get back to you with a tailor-made Sri Lanka tour package within 24 hours.
Mid-grown tea plantations in Sri Lanka
Mid grown tea is produced at an altitude of 2000 to 4000 ft above sea level and is commonly found in the Central and Uva provinces of Sri Lanka.
Badulla – Badulla is a tea region located in the Uva province of Sri Lanka. The tea that you find in Badulla generally has a mellow, smooth taste which is a unique flavour profile that you do not find anywhere else in the country.
Kandy - The hill capital of Kandy that is well known for the Temple of the Sacred Tooth Relic is a popular destination among travellers to Sri Lanka. Kandy is another location for mid-grown tea with its bright and robust infusions.
Low-grown tea plantations in Sri Lanka
You can find tea plantations that belong to the low-grown tea category in the Sabaragamuwa and Southern provinces of Sri Lanka at elevations that do not exceed 2000 ft.
Sabaragamuwa – All the way from the west of Kandy to Udawalawae, passing through Horton Plains, you may see the tea-growing regions in Sabaragamuwa. Tea in this area grows at about 600m above sea level. Due to the long period of sunshine and dry weather here, this tea variety presents a noticeably different aroma with a hint of caramel.
Ruhuna – Another region famous for low-grown tea with its full and strong flavours, Ruhana offers intensely black and withered looking tea leaves due to its climate and topography. You can find this tea in the southern province close to the coast.
Best tea plantation tours in Sri Lanka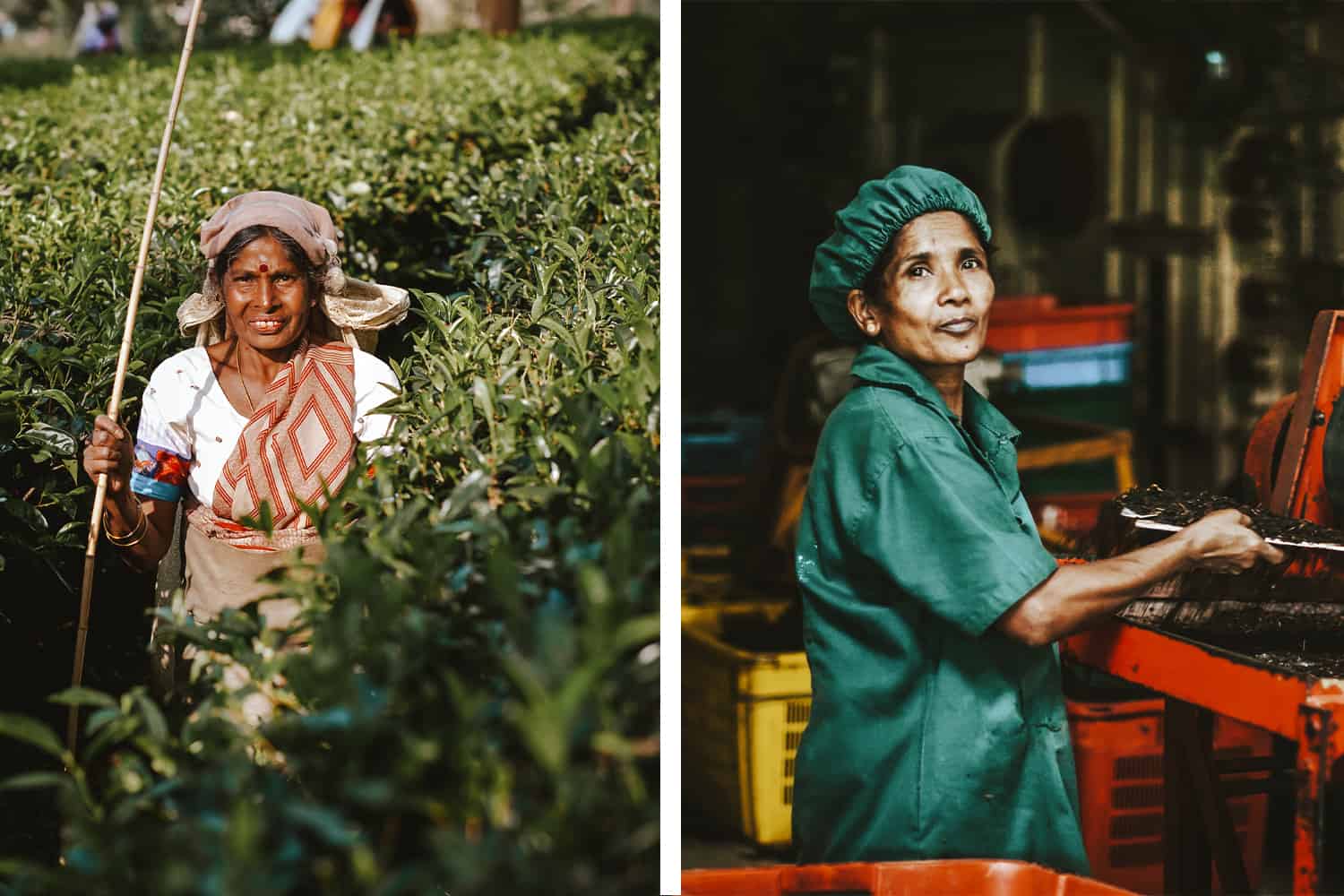 The thriving Sri Lankan tea industry is in place thanks to many small and large tea plantations distributed across the island. If you're a tea lover like me, your holiday will not be deemed complete until you visit one.
Upon arrival at a tea plantation you can have a guided walking tour across the vast tea fields. Observe the expert tea pluckers in action as they gently pluck two leaves and a bud from each tea bush.
You may then follow the tea leaves as they journey through the tea factory and undergo the various stages in processing. Your guide would escort you around the factory, explaining each step in tea processing and its purpose.
Most tea plantation and factory tours will end with a tea tasting session where you can indulge in the freshly brewed teas that are graded based on their strength.
Note that you can experience these comprehensive tea tours at only a few of the larger scale tea plantations in the country. Some factories offer their tours for free, while others may charge a small fee at the entrance.
If you intend to experience a well-organized tour conducted at a working tea estate, here are my recommendations for the best tea plantations tours in Sri Lanka.
Tea plantation tours in Nuwara Eliya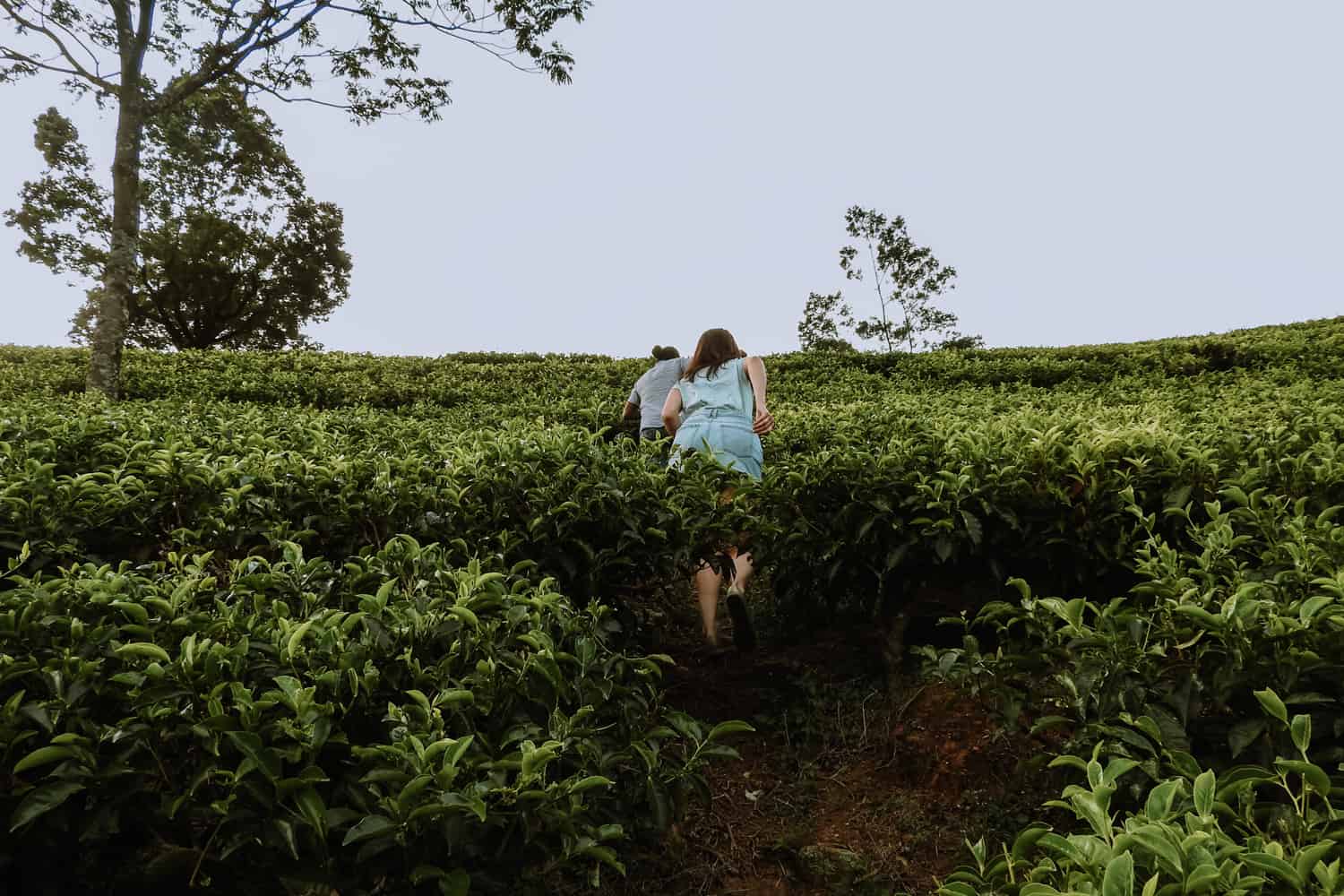 Nuwara Eliya is a great location to enjoy a tea plantation tour. In fact, most of our tea plantation tours take place in Nuwara Eliya. This is partly because you can find some of the most picturesque tea plantations on the island in Nuwara Eliya and because it is a central location that is easy to integrate into most Sri Lanka itineraries.
If you are keen to enjoy a tea plantation tour in Nuwara Eliya, visit any of the following locations. You are guaranteed to have an amazing tea tour.
Pedro Estate – Nuwara Eliya 
Established in 1880, the Pedro tea estate presents the perfect opportunity to explore a thriving tea plantation in Sri Lanka. Nestled in the backdrop of the Piduruthalaga mountain (Sri Lanka's highest mountain), Pedro estate in Nuwara Eliya is a great spot to observe the colourfully clad tea pluckers. Watch them pluck the tea leaves, and maybe even try your hand at plucking some! After the plantation tour, you may head to the tea factory to observe the processing of tea leaves.
Damro tea factory -Ramboda - Labukele
You can have a regular tea factory tour at Damro and visit their tea plantation while you are there. If you prefer a more immersive experience, Damro offers specially organized tours that take you into the depths of the tea plantation in a 4x4 vehicle where you get to observe the tea plucking sessions up close. You also have the option to try some tea plucking side by side tea plantation workers during this tea safari.
Blue Field Tea Factory - Ramboda
Blue Field is another tea factory that we often visit on our Sri Lanka tea tours. Not only do they demonstrate the manufacturing process, but you also get insights into brewing the perfect cup and identifying different types of tea. If you like to visit their tea plantation during your tour, simply inform your guide at the tea factory. He/she will be more than happy to arrange it for you.
Glenloch tea factory -Ramboda
Located at around 27km north of Nuwara Eliya, the tea factory tour of Glenloch provides an informative tea experience. You can observe some of the oldest machinery dating back to the colonial days still being used in the tea production process here. Upon request you will also be able to visit its verdant tea plantation.
Heritance tea factory hotel
If you arrange a stay at Heritance Tea Factory Hotel, you're in for a treat. The hotel was once a functioning tea factory, but today they provide luxury accommodation to guests alongside the model tea factory they use to educate tea enthusiasts.
They have specialized experiences where you go through A to Z of tea plucking. They will even go to the extent of decking you out in the local attire and guiding you through their organic tea field. You'll learn from the professional tea pluckers the art of collecting your own tea leaves into a basket.
Back at the Mini Tea Factory, their chief tea taster will inspect your collections and reject anything unsuitable. Afterwards, he would take you on a tour of the mini-factory as he explains the entire process of tea production.
In addition to tea plucking experiences, they can even arrange a special tea tasting session on request. Their chief taster will guide you through the elaborate tea tasting process, which is a skill in itself.
A trained tea taster can examine the tea leaves' colour, size, and shape and define their quality. They may also explain underlying tea notes and identify which regions they were grown in.
Tea plantation tours in Hatton
Hatton, a hillside town in the Nuwara Eliya District, is home to a few picturesque tea gardens worth the visit. Consider spending a few nights at an exquisitely refurbished tea planter bungalow to experience an authentic tea-inspired holiday if you're visiting here.
A stay at the luxurious boutique hotel Ceylon Tea Trails will not only provide you with the experience of residing at a planter's bungalow dating back to the Colonial period, but you are also at the liberty to sign up for some curated tea experiences.
With a couple of nights' stay at Ceylon Tea Trails hotel, you can experience the guided tea tours at the Dunkeld Tea Factory, where their resident planter would take you through the tea making process. The hotel also offers a tea planter's picnic lunch where you walk through the tea field to reach your picnic spot and take in the stunning vistas as you enjoy your meal.
True tea-lovers will enjoy staying at these estate bungalows built in the 1800s. They also come with Swiss-trained butlers, gorgeous antique furniture and a planter-in-residence.
From Hatton, you may arrange a tour of the Talawakelle Tea Factory, through which you may explore some of their thriving tea plantations spread across the Nuwara Eliya district.
Tea plantation tours in Ella
Ella has lately become a favourite destination for nature-loving travellers visiting Sri Lanka. The little hillside town offers plenty of hiking trails crossing through lush greenery and misty pine forests.
In my opinion, the tea plantations that you find in Ella are not as beautiful as the tea plantations in Nuwara Eliya. However, you may take a day tour to Dambathenna tea factory, where the tea plantations are stunningly beautiful.
If you're tight for time and would still like to experience a tea tour while in Ella itself, the Kinellan Tea Factory, Newburgh Green Tea Factory, Uva Halpewatte Tea Factory offer excellent tea factory tours.
Tea plantation tours in Galle
If your Sri Lanka holiday is mainly for the sun, sea, and sand the island has to offer, then you have likely planned a tour centred around the country's south coast.
If that is the case and the mountainous central regions are too far away for a day trip, you can still experience a low country grown tea plantation tour at the Handungoda Estate. They specialize in the manufacturing of Virgin White Tea, and you can experience a guided tea plantation tour followed by a tea tasting session at no cost.
Tea plantation tours in Kandy
Suppose you are travelling to Kandy City for some culture and heritage and heading back to Colombo. In that case, it is still possible to arrange a tea plantation tour in Kadugannawa at the Kadugannawa tea factory.
However, I must add that there are far better tea plantations tours you can experience in Sri Lanka if you can head towards the Nuwara Eliya region. Simply spend an additional night in Kandy and take a day tour to Blue Field, Damro or Glenloch Tea Factory.
Summary
There you have it. These are my top choices for a tea plantation tours in Sri Lanka. I hope I have made your island tea tour planning a bit more convenient with this information. A brief summary of the article is as follows.
Tea plantations in Sri Lanka can be categorized as high-grown, mid-grown and low-grown tea, based on their elevation. For most travellers the tea plantation tours in Nuwara Eliya are the most recommended as this beautiful tea plantation region is easy to incorporate to their itineraries. If you are not visiting Nuwara Eliya during your Sri Lanka holiday, you may still enjoy a tea plantation in Hatton, Ella, Kandy and Galle.
As always, I am looking forward to reading your comments. If you enjoy this article, you might also enjoy our article, "Is Sri Lanka worth visiting?".
Happy travels!