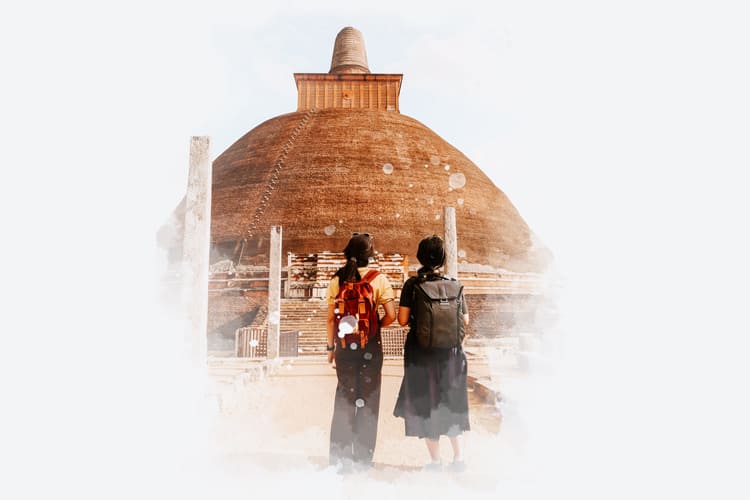 The Sri Lanka Culture Trip
Tour itinerary - 13 nights / 14 days
Sri Lanka > Culture trip
It is not just the beauty of the island mesmerizes its visitors, but the people, their beliefs and the great civilization from which they have come. The Sri Lanka Culture Trip is for the travellers who wish to explore the magical beauty and the rich culture of Sri Lanka.
Note - Travellers Isle specializes in arranging tailor-made tours in Sri Lanka and the Maldives. Please drop us a message to get an itinerary that reflects your interests, budget, tour duration and the weather conditions of the month that you travel.
Day 1 - Airport / Negombo
The guide will pick you up from the airport and drive you to Negombo, where you will enjoy your first night in Sri Lanka. On the 30-minute drive, you can enjoy watching the Sri Lankan people as they go about their daily business.
The first day of the tour remains unscheduled. You may simply relax in your oceanfront hotel enjoying a glass of wine while watching the sunset or go out see the fishing village and the busy fish market to witness the local life.
Travel time from airport to Negombo - 30 minutes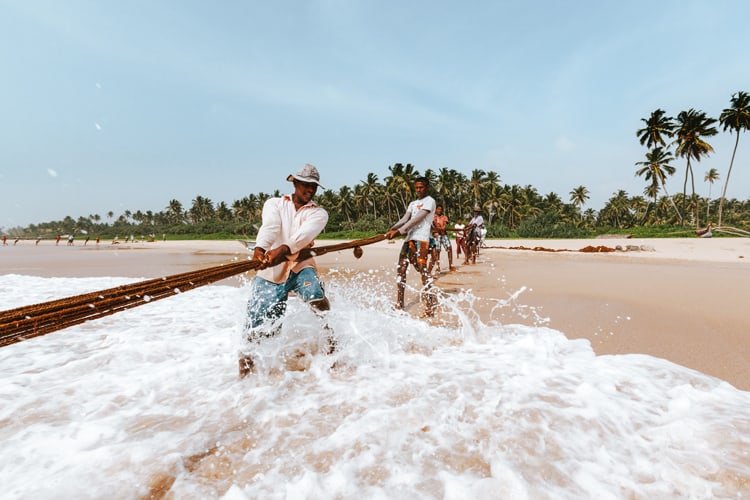 DAY 2 - Negombo / Kurunegala / Sigiriya
Once you are ready, your guide will take you to Sigiriya. On the way to Sigiriya you may stop by a pineapple plantation for a short break. Enjoy this luscious fruit fresh from the field. It does not get any better than this.
In the evening you may visit the Dambulla Cave Temple. It was built by King Valagamba in the first century BCE. This UNESCO listed world heritage site is known as the best-preserved cave temple in Sri Lanka. The inside of the temple is like an art gallery filled with beautiful ancient paintings and statues of Lord Buddha.
Travel time from Negombo to Sigiriya - 4 hours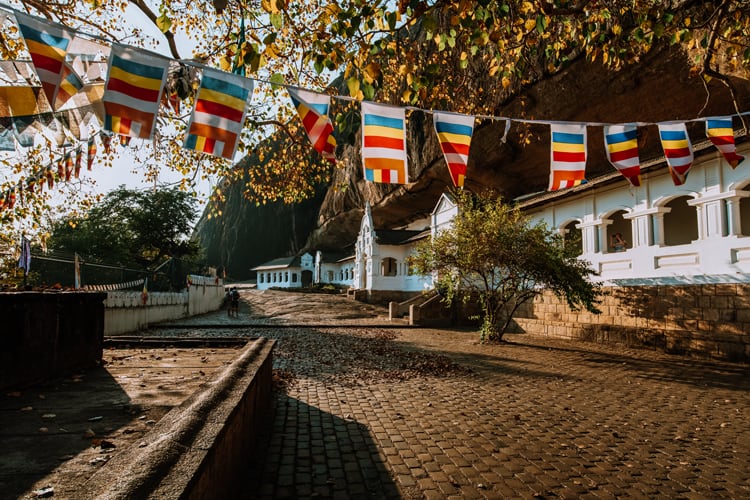 Day 3 - Sigiriya / Polonnaruwa / Sigiriya
You may spend the morning leisurely in your hotel. Your lunch will be prepared by a local family. While they prepare your food, you may enjoy a catamaran ride in their nearby lake or tour the village by a bullock cart.
After enjoying some delicious Sri Lankan food, your driver will take you to ancient Polonnaruwa. It is the second oldest kingdom of Sri Lanka. The tour among the ruins of King Parakrama Bahu's palace, Watadageya, Galpotha, and Parakrama Samudraya lake will give you glimpse of the glorious days of Polonnaruwa.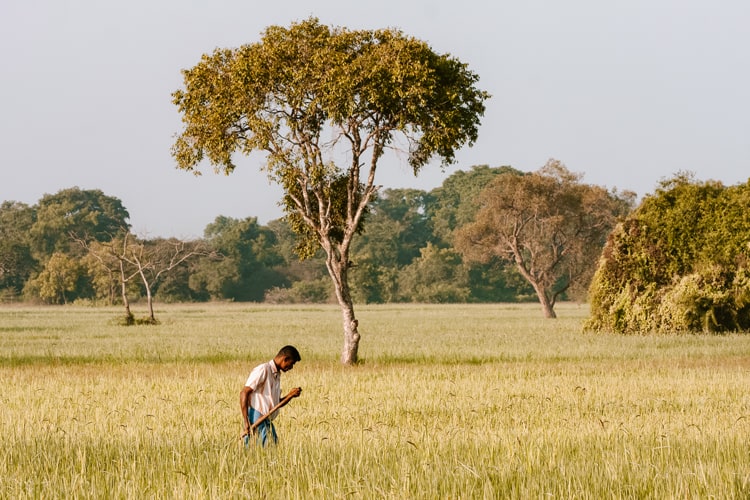 Day 4 - Sigiriya / Kandy
After breakfast, your adventures continue with a visit to another world heritage site, the Sigiriya Rock Fortress. Dating back to 477 AD, the fortress was the epicenter of King Kashyapa's kingdom. This historical site boasts ancient water gardens with water fountains, beautiful frescos and impressive rock buildings.
After visiting Sigiriya, your driver will take you to Kandy, the last kingdom of the Sinhalese. During your stay in Kandy you may visit the Temple of the Tooth, which houses the sacred tooth relic of Lord Buddha.
Travel time from Sigiriya to Kandy - 2.5 hours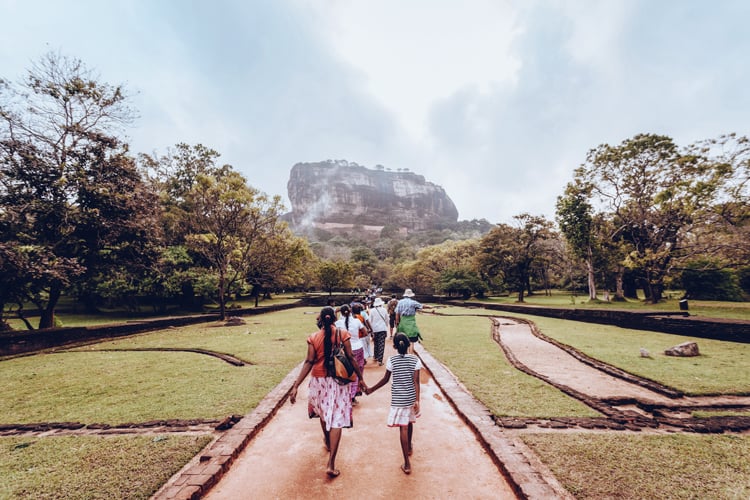 Day 5 - Kandy / Ramboa / Nuwara Eliya
On the 5th day of your tour, you may wish to explore the busy streets and local markets of Kandy.  Treat yourself with a colorful silk saree or a batik sarong and dress like a Sri Lankan.
After touring the city, your driver will take you to Nuwara Eliya. On the way to Nuwara Eliya, you may stop by the picturesque Ramboda Waterfall and a tea factory to witness the production process of Ceylon tea.
Travel time from Kandy to Nuwara Eliya - 3 hours
Day 6 - Nuwara Eliya / Nanu Oya / Ella
A visit to the Sita Amman temple where Tamil villagers go for prayers is planned first thing in the morning.
Then you will be heading towards Ella. Your vehicle to Ella is the local train. Your guide will transfer you to the train at the Nanu Oya railway station and meet you again in Ella. Ella to Nanu Oya train ride is the most scenic train ride in Sri Lanka. We would not be surprised if it is one of the loveliest and most enjoyable train rides in the entire world.
Train ride from Nanu Oya to Ella - about 3.5 hours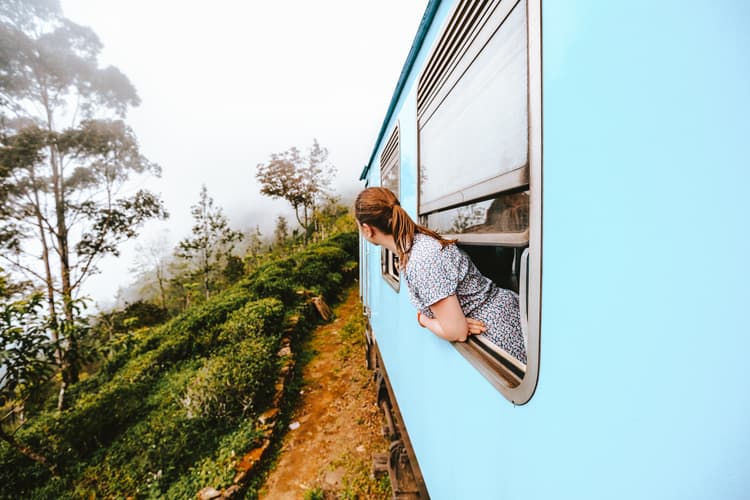 Day 7 - Around Ella
Ella is an adorable small village amidst the hills. You can enjoy your time in Ella simply admiring the view from your hotel, but there are so many other things to do there.
You may go for a hike in the Little Adam's Peak, visit the famous 9 Arch bridge, stroll through the tea plantations, visit the Lipton's Seat or take a cooking class to learn few traditional Sri Lankan dishes. The options are endless.
We recommend having the dinner from one of the boutique restaurants in the Ella town. They have such a fun vibe. You would not want to miss that dining experience.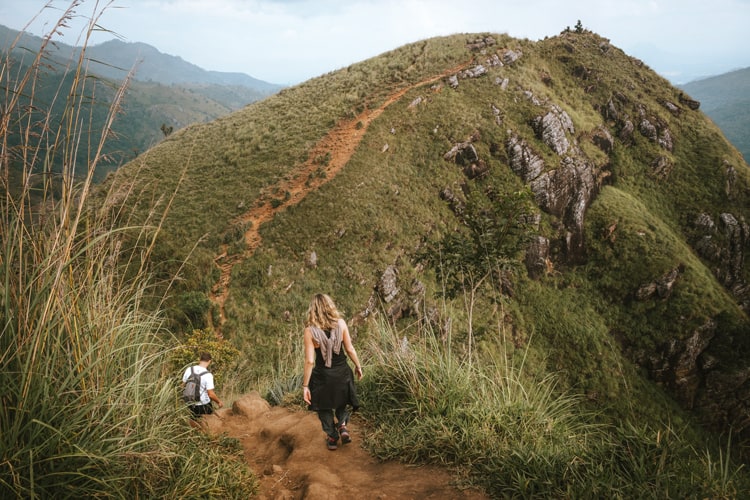 Day 8 - Ella / Udawalawa
Once you are ready, your driver will take you to Udawalawa for a jeep safari in Udawalawa National Park. The park is one of the best places in the world to watch elephants in their natural habitat. Along with elephants, you will see deer, buffalo, mongoose, jackals, water monitor lizards, crocodiles, sloth bears and an occasional leopard. You are not allowed to wander far from the jeep, but you will be able to observe the wildlife closely.
Travel time from Ella to Udawalawe - 2  1/2 hours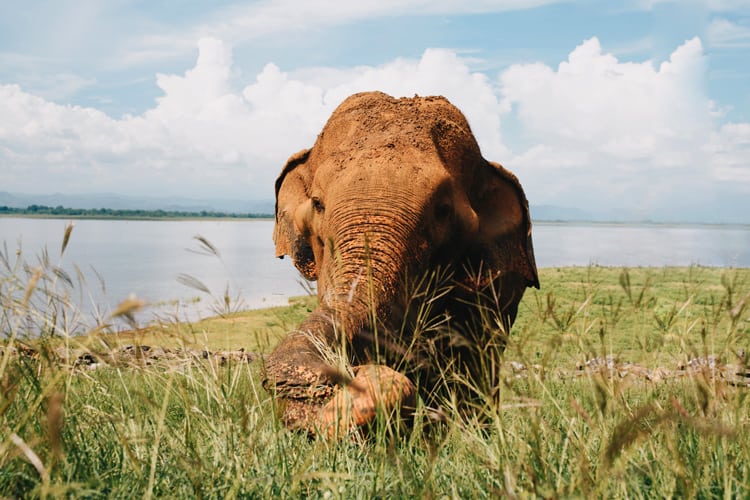 Day 9 – Udawalawe / Ahangama
Your host of the day is a local family, living in a rural village. Once you reach there, you can immerse yourselves in their day to day activities such as going to the farm, shopping for groceries from the local market and cooking dinner.
You will not have the comfort of a hotel, but what is better than sharing some unique moments with a local family? There is no better way to come to know a country than to spend quality time off the beaten track and getting to know the real people who live there.
Travel time from Udawalawe to Ahangama - about 2.5 hours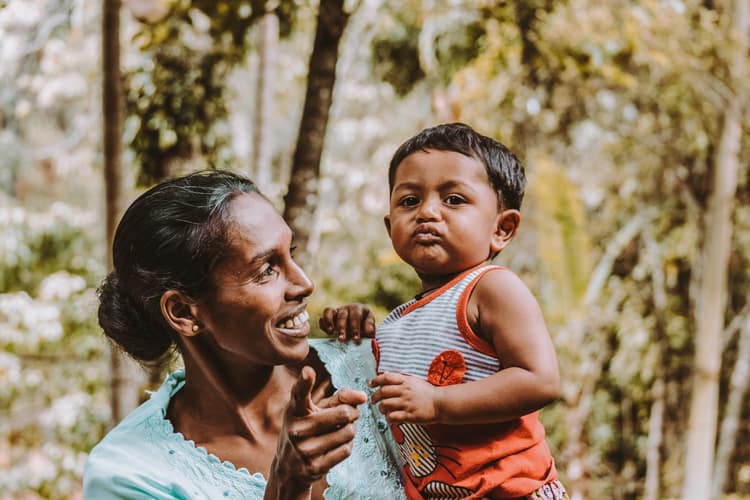 Day 10, 11, 12 & 13 - Ahangama / Bentota
After sharing a regular breakfast of locals with your hosts, your driver will take you to picturesque Bentota for the last few days of your tour.
You may spend your time in Bentota simply relaxing by the golden sandy beach. Enjoy the sea breeze lying on a hammock while sipping a tender coconut. For those a bit more adventurous, there are plenty of activities to do in Bentota, such as sea swimming, jet skiing, wind surfing and water skiing.
Travel time from Ahangama to Bentota - 2.5 hours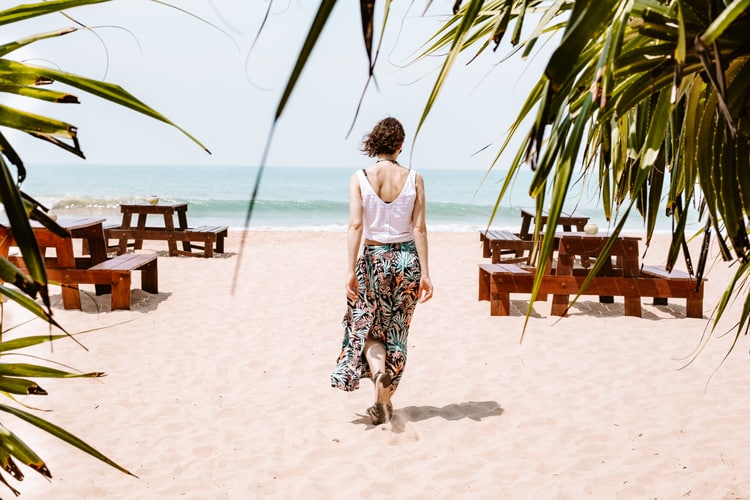 Day 14 - Bentota / Airport
After enjoying breakfast, you might want to take a last look at the ocean or take a last walk on the beach. Then, your guide will take you to the airport. The tour is over, but it will never be forgotten. You have made memories that will last a lifetime.
Travel time from Bentota to airport - 2  1/2 hours
End of the tour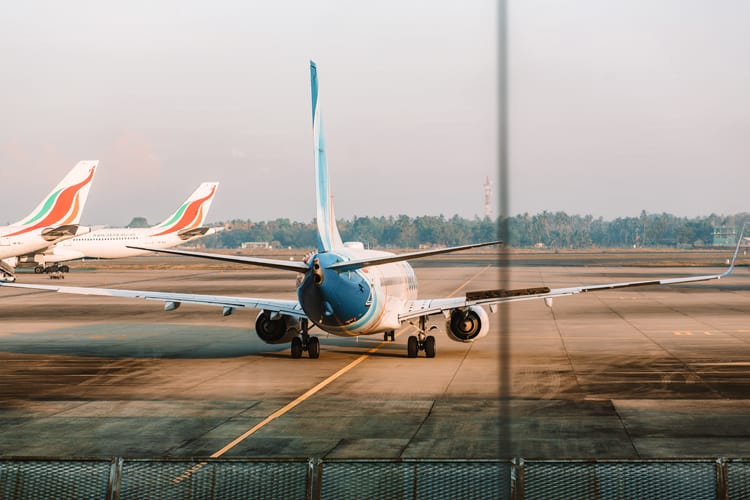 Frequently asked questions
1. How much does it cost?
The tour cost depends on the month you travel, number of adults and children participating the tour and the quality of the accommodation that you choose. Please drop us a message specifying your requirements, so we can send you the exact cost for this tour.
2. Will you be able to customize this itinerary according to my needs?
Absolutely. Travellers Isle specialize in tailor-made holidays. We are more than happy to customize this itinerary according to your needs.
3. For which months is this itinerary most suitable?
December, January, February, March, April, July and August are the best months for this itinerary. For other months, itinerary should be adjusted to avoid bad weather.
(In July and August, the sea of the southern beaches is too dangerous/rough for swimming. If swimming in the ocean is a high priority, the itinerary should be modified with an east coast beach.)
4. Is it possible to replace the beach stay of this tour with the Maldives?
Yes, we can easily plan the beach stay of this tour in the Maldives. Please check our Sri Lanka and Maldives holidays section for more information.
More Tips for Your Holiday